A recent report and survey by the Rockefeller Foundation found that among over 1,000 American adults polled, there is a strange combination of defeatism regarding the female leadership in Corporate America paired with the belief that things are actually better than they are.

90% of those surveyed thought that there were more women CEOs in the Fortune 500 list of companies than there really were. At the same time, 26% percent thought that it was unlikely there would be gender parity in the C-suite before humans colonized Mars and 40% thought that it would be more likely that space travel would become routine in their lifetime than women representing half of Fortune 500 CEOs.

What's encouraging about the poll is the fact that the respondents didn't believe this gender disparity was justified. Those polled overwhelmingly said that men and women are equally qualified to lead businesses (96%) and it's important that men and women have the same opportunities for career advancement (82%).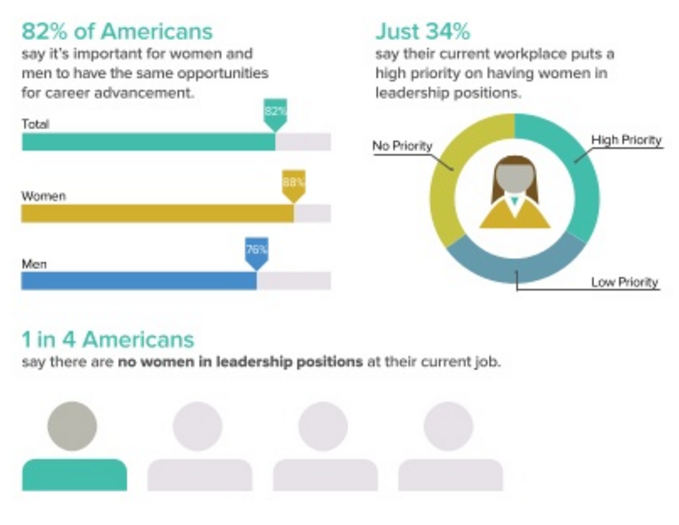 Perhaps those surveyed were cynical about the possibility of change because of their personal experiences in the workplace. Among those surveyed, a full 25% said there were no women in leadership positions at their current jobs and only 34% said their workplaces put a high priority on having women in leadership positions.

When asked about why women were held back in the workplace, survey respondents said that social assumptions and perceptions played a large role in gender inequality. 92% said that "traditions and expectations for male leadership in workplace cultures contributes to women's lack of representation in top positions", with other reasons being that women are perceived as prioritizing family over career (89%) and that women are perceived to be less effective leaders than men (78%).

Most Americans understand that there are some gender issues in the world, and in particular, in the workplace. And here's no denying that women have a made a lot of progress. Women have had the right to vote since the 1920's, we now outnumber men in college, and of course we enjoy many more legal protections against workplace discrimination than we had just a generation ago.

But in an election year where one of the front-runners for the U.S. Presidency is female, it may be tempting to dismiss gender equality in the workplace as a historical problem. The Rockefeller survey shows that not only is the problem far from solved, but that it's also more socially nuanced and complex than we might imagine.

In response, the foundation is launching a campaign calling for 20% of the Fortune 500 companies run by women by the year 2025 under the hashtag "#100x25". You can follow them at @RockefellerFdn and join us in sharing your support for the campaign on social media.

Fairygodboss is committed to improving the workplace and lives of women.
Join us by reviewing your employer!