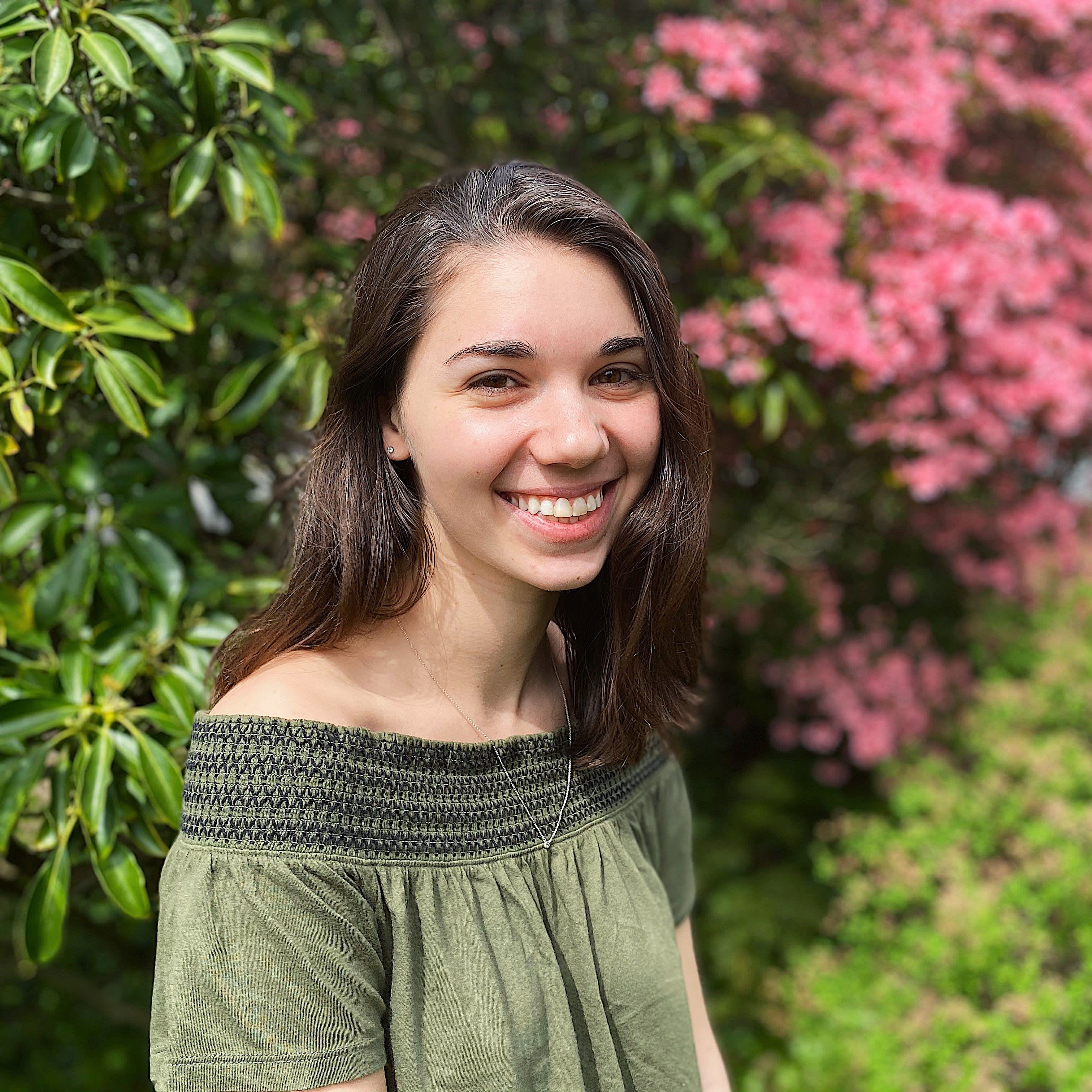 5.42k
Staff Writer & Content Strategist @ Fairygodboss
It's hard to keep up with exactly what companies are doing with their "return to office" plans. Some keep slowly pushing their deadline back, while others are happily — and sometimes forcefully — welcoming back employees with masks and open arms. Some employees can't wait to get back to their commute and in-person meetings, but others feel...well...significantly less enthused. Here are 13 tweets that show exactly how people "office culture" right now.
1. The woman who called out "office culture" with not a single regret.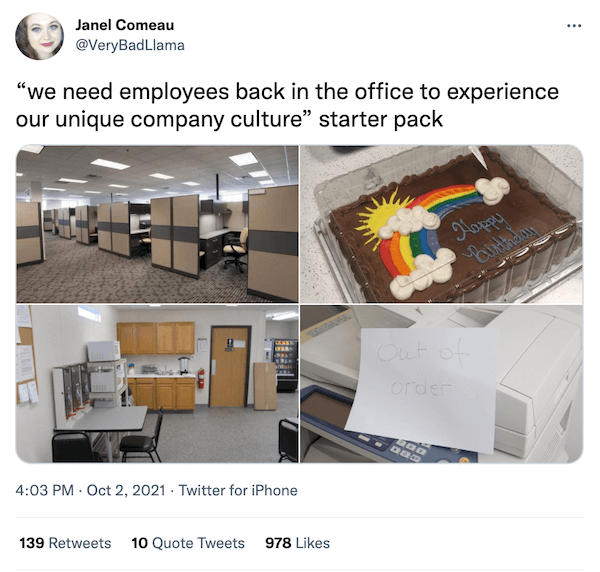 via @VeryBadLlama / twitter.com
2. When hybrid workplace fans unite.

3. For the ones who are concerned about....you know, the pandemic that's still raging.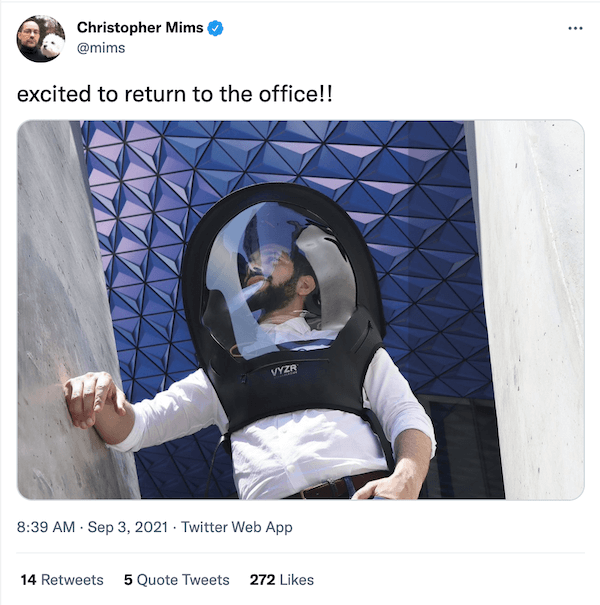 via @mims / twitter.com
4. For companies that really value those in-person human interactions.

5. The guy who's having a ball on his first day back.

style="width: 300px; width: 300px;">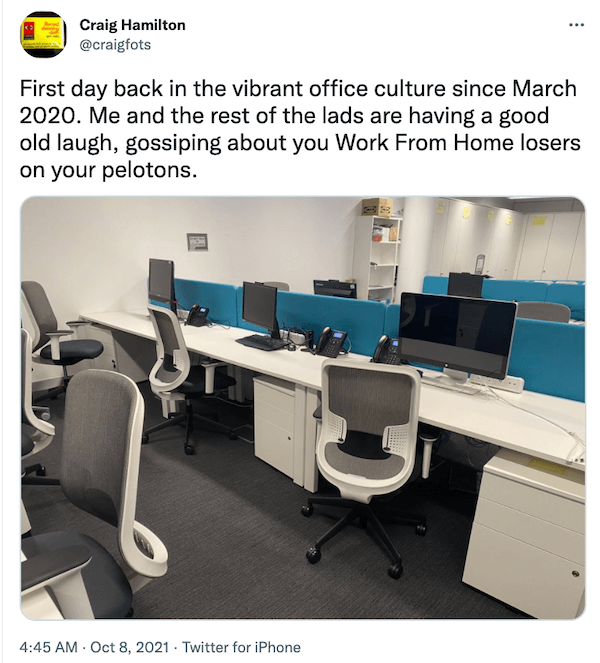 via @craigfots / twitter.com
6. From management that's hacked the Great Resignation...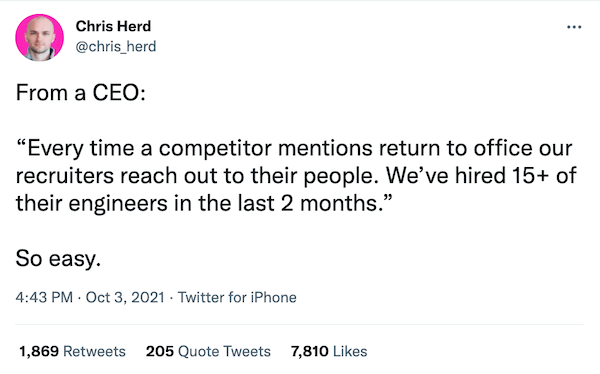 via @chris_herd / twitter.com
7. ...To the people who pointed out the important truth about who really wants to go back to the office —and who doesn't, and why.


8. The guy who called out the salads (and CEO) we hate to love and love to hate.
9. Because it's really all about that first-day-back outfit.

10. For those who miss the little things about the office.

via @ClaireWolters / twitter.com
11. The guy who showcased the true beauty of office company culture.
12. Calling out the disparity between what employees and employers want.

13. And, of course, the truly important questions about what going back to the office means for our loved ones.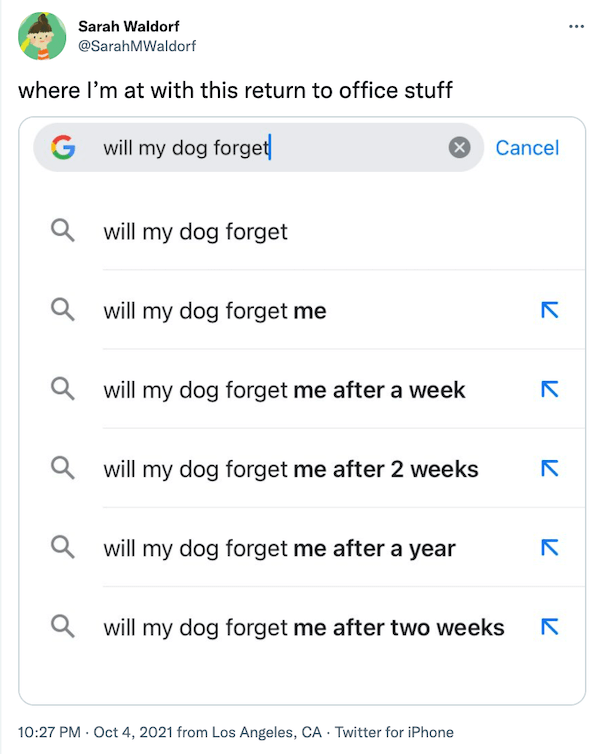 via @SarahMWaldorf / twitter.com
This article does not reflect the views of Fairygodboss.