The systemic erasure of Black voices has been a part of our country's fabric for far too long. (Read: Since its origin.) As we do the work of unweaving that fabric — not just in this current moment, but in a sustained way for days to come — it's critical that Black voices are amplified and listened to. And the need to listen is especially crucial for anyone who's committed to deepening their allyship.
As a non-Black person, listening doesn't simply mean turning to the Black folks in your life with the expectation that they'll explain things to you. It means taking active steps to educate yourself using the (many, many) existing resources already out there from Black activists, educators and authors alike. How well-represented, for instance, are Black voices on your reading list?
Podcaster Ally Henny shared some steps that'll help decolonize your bookshelf.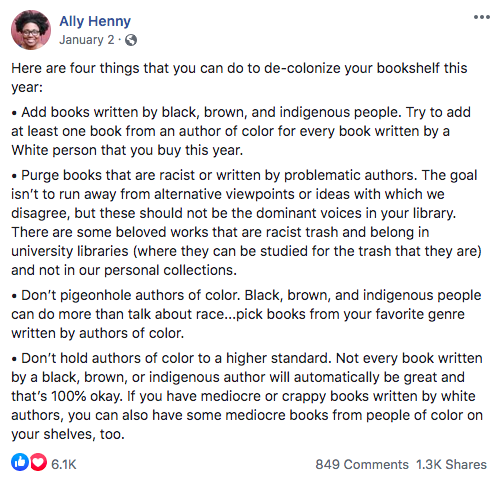 Looking for suggestions for important, informative books from women of color writers? Below, here are 16 books that anyone — and especially anyone who's looking to become a better ally — should add to their shelves. Please note: I myself am a white woman who's committed to interrogating my privilege, deepening my education and expanding my allyship to BPIOC communities. I am learning, too, and this list should simply be seen as a starting point. Have suggestions for additional book titles that belong on this list? Let's please treat this as a conversation; add them to the comments! I'd also like to add that The ZORA Canon is an excellent resource for more WoC book recommendations.
Also, another word to allies: Don't forget that this work is about more than simply educating ourselves. To contribute to the anti-racism movement in any meaningful way, we must also take action — including by donating to BPIOC orgs and supporting Black-owned businesses.
Lastly, please note that although I mostly linked to the following titles' Amazon pages, I would highly, highly encourage seeing if there's a Black-owned bookstore in your area and ordering from them instead!