2.3k
When you put in your notice, there are some emotions you expect: relief, excitement and maybe a little anxiety. But there are also some unexpected things that can happen—not just for you, but also for others around you.
1. You'll be reinvigorated.
Of course, quitting comes with a fair amount of excitement—and motivation. But that motivation isn't just about your new job. After you give notice, you may suddenly find yourself feeling driven to make the most of your final days at your current job, too. You could very well feel reinvigorated and even happy to complete tasks that have long seemed rote. Those responsibilities that you were once apathetic amount will have new meaning, and you, in turn, will gain a fresh perspective on them.
You may have no problem completing projects you've been procrastinating on for months, and you could even feel excited about coming into the office every morning.
2. Your boss may want to keep you around.
While you shouldn't necessarily expect a counter-offer, you should be prepared for your boss to offer one. This is particularly likely if you're highly valued and work for a small team or startup. Your manager won't want to lose your talent.
Be wary of acting on a counter-offer, though. If you've taken the plunge and decided to quit, you certainly have your reasons for doing so, and they probably extend beyond the money (or whatever else your current employer can offer you). Also, keep in mind that there are definite downsides to sticking around after you've given notice. For example, your employer may question your loyalty and treat you differently. And, if layoffs become necessary, you could be on the chopping block.
3. Your coworkers may treat you differently.
You can expect a range of reactions to your departure, and they won't all necessarily be positive. Your closest colleagues could feel some amount of FOMO and be envious that you're leaving. Depending on when and how you tell them, they could even feel betrayed. This may seem unfair to you, but try to see it from their perspective: you're moving on to bigger and better things, but they've been left behind.
Other coworkers, even ones you've barely spoken to, could come out of the woodwork and suddenly want to be your best friend. This is flattering, but be careful—you don't want to make any promises or commitments to people who have never paid much attention to you in the past.
4. It will feel bittersweet.
You've waited and waited for this moment, but when you finally walk into your boss' office and tell them you're quitting, you feel…sad.
This is only natural. Even if you really, truly despise your job, leaving will come with some mixed emotions. Things you once hated suddenly don't seem so bad and have a new, shiny veneer. Coworkers who you found difficult, tasks that were tedious, meetings that ran too long, even the fickle coffee maker that poured out practically undrinkable sludge — you're looking at them with rose-colored glasses. You may even second-guess your decision.
Remember, though, that you've considered this from all angles, possibly for a long time. While it feels different when you actually do it, know that many people experience a wave of nostalgia when they finally put in their notice. It's completely normal to want to stay with what's comfortable and feel a little sad, but after you embark on a new adventure, those emotions will slowly dissipate.
What's your no. 1 piece of quitting advice? Share your answer in the comments to help other Fairygodboss'ers!
About the Career Expert: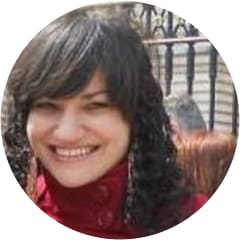 Laura Berlinsky-Schine is a freelance writer and editor based in Brooklyn with her demigod/lab mix Hercules. She specializes in education, technology and career development. She also writes satire and humor, which has appeared in Slackjaw, Points in Case, Little Old Lady Comedy, Jane Austen's Wastebasket and The Haven.