In cities across the United States, there have been more than thirty days of sustained political action since the murder of George Floyd. While some of us may be continuing to join our neighbors in daily protests, others may be waning in their activity. As the organization Allies for BLM — Orange County pointed out in a recent Instagram post, that is normal — but it's not productive allyship.
"Allies tend to show a surge of support for the Black community, but then get burnt out with the constant flow of information," the organization wrote. "How do we prevent this and continue to show support?"
Below, we've included the four steps Allies for BLM suggests taking for sustained allyship that is not only more impactful but more responsible and self-aware. You can click on any of the screenshots below to see the group's full post.
"It's a privilege to be able to turn off the TV and social media and not think about this issue," they noted. "It's tiring to discuss racism, but even more tiring to experience it. So take the steps to continuously show support for the Black community."
1. Buy from Black-owned businesses.
Next time you place an order or make a grocery list, do some research to buy from Black-owned businesses or brands. Find a few products you love and continue to buy them.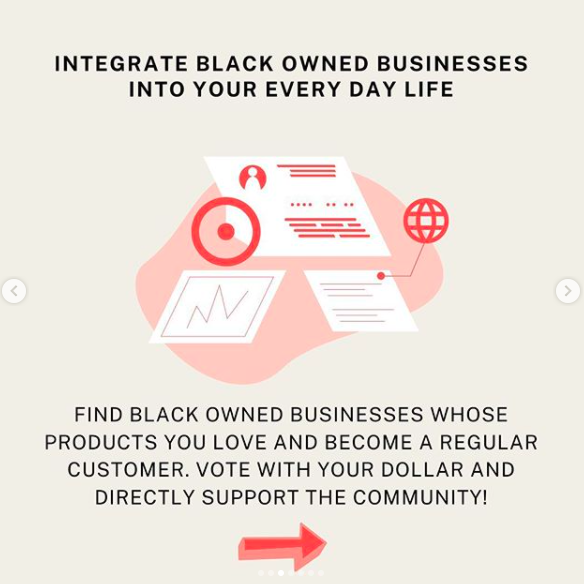 2. Set donations to auto-pay.
If you've recently made a donation to an anti-racist organization, consider making it a recurring donation. This not only keeps you supporting the cause year 'round— it also helps the organization budget.
3. Integrate education into your everyday life.
Challenge yourself to read or watch anti-racist resources regularly. Set up a book club or conversation group to hold yourself (and your friends or family) accountable.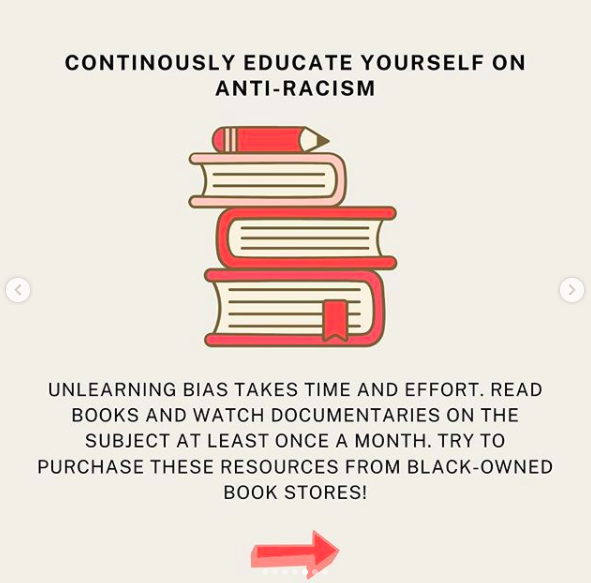 4. Keep the conversations flowing.
Remember that you have an obligation to speak up and have difficult conversations with your family and friends. Do it as regularly as necessary.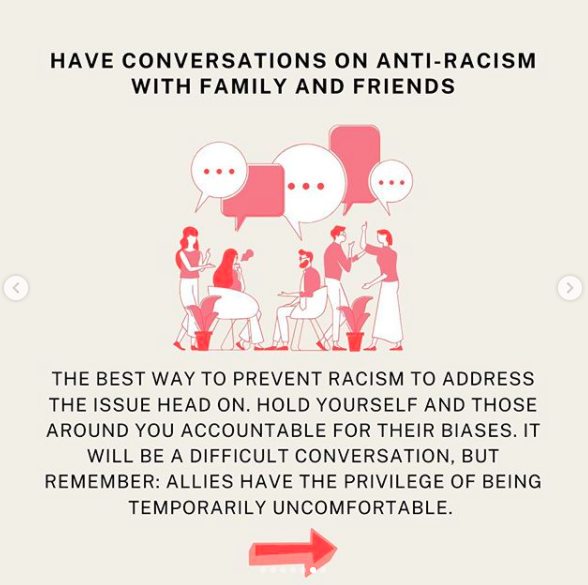 There are, obviously, many other ways to practice anti-racism in a sustainable way. Some I suggest? Consider finding a community group whose action you'd like to join, set up a regular commitment of your time (maybe a volunteer position or weekly commitment to protest), sign up for a class with an anti-racist educator and keep diversifying every part of your life — from the newsletters you get in your inbox to the acquaintances you get coffee with.