For the 31st year in a row, Working Mother magazine has named Johnson & Johnson to its list of 100 Best Companies—organizations that, as they put it, "[go] the extra mile to support working-mom employees and nurture their careers."

Truth is, Johnson & Johnson has been a (more than) equal employer of women since its founding in 1886, when eight of its 14 original staffers were women!

Today, the company is proud to offer working moms such family-friendly benefits as 17 weeks of paid leave after giving birth, eight weeks of paid leave following the adoption of a new child, and insurance coverage for children with special needs.
7 Ways Johnson & Johnson Supports Working Mothers and 21st Century Families

1. Parental Leave

All new parents — maternal, paternal and adoptive — have the opportunity to take eight additional weeks of paid leave during the first year of the family's birth or adoption. This new policy is in addition to the current leave policies, which means new moms who give birth can take up to 17 paid weeks off.

2. Breast Milk Shipping

For nursing mothers worldwide, Johnson & Johnson launched a temperature-controlled delivery service that lets mothers simply and safely ship breast milk back home while traveling for business purposes.

3. Fertility Benefits

Fertility benefits aim to reduce the financial burden on couples choosing this path. Johnson & Johnson offers a maximum benefit of $35,000 to our employees and their families.

4. Adoption Benefits

We're proud to provide adoption assistance benefits of $20,000 to each adopted child under the age of 18.

5. Surrogacy Assistance Benefits

Johnson & Johnson's surrogacy assistance benefits offers up to $20,000 of reimbursement per child for eligible services related to the surrogacy process.

6. Coverage for Children with Special Needs

We provide coverage for speech, occupational and physical therapy for children with special needs. In January 2017, we are expanding those benefits to include Applied Behavior Analysis (ABA).

7. Child Care Benefits

Our first child development center opened in 1990. Today we're prod to have six child care centers across Johnson & Johnson campuses and to offer a discount with a national provider.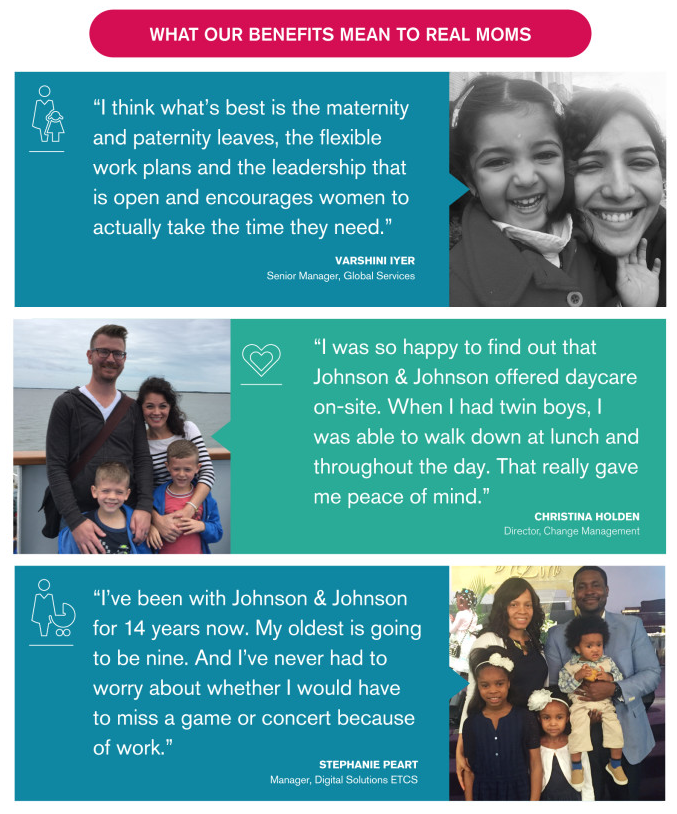 Finally, here's a fun fact from history: Johnson & Johnson opened its doors in 1886 with more women employees than men (8 women and 6 men)!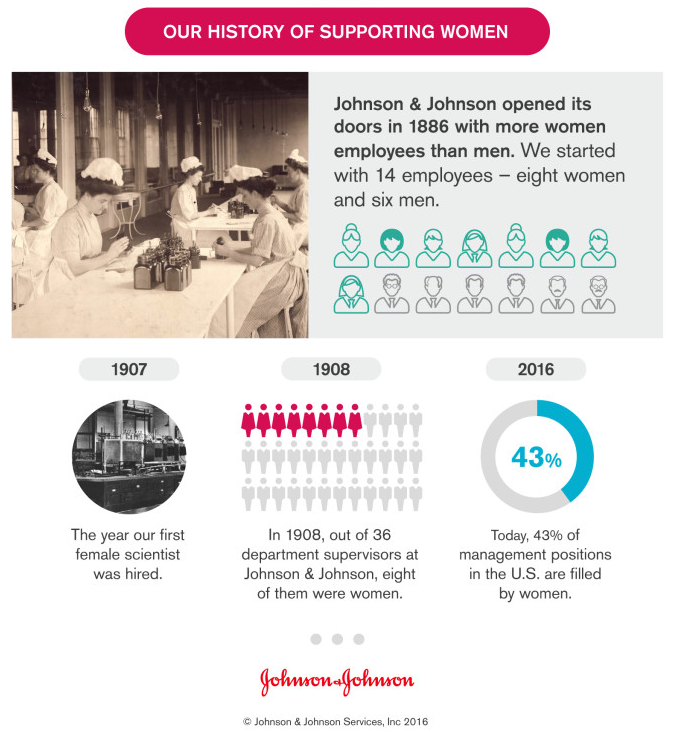 A version of this article was originally published by Johnson & Johnson here.
Fairygodboss is proud to partner with Johnson & Johnson. Find a job there today!

Fairygodboss is committed to improving the workplace and lives of women.
Join us by reviewing your employer!