10
Actress Blake Lively, a working mom phenomenon with decades of red carpet experience, just clapped back at a commenter's sexist comments about her latest clothing choice.
While on a press tour for her new movie A Simple Favor, Blake wore a Ralph Lauren pantsuit that anyone would say is drop dead gorgeous. However, one Instagram user took the liberty of commenting something less than flattering about the star's suit.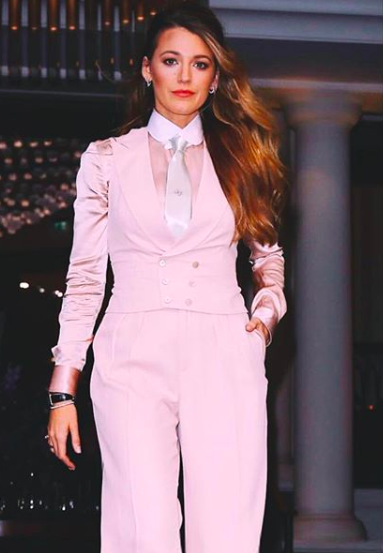 "It's suit number 1,356 for Blake Lively's promotion of 'A Simple Favor'. This time custom pink Ralph Lauren Collection," a fashion blogger wrote on Lively's post. The sexist comment on Lively… wearing pants – I guess? – elicited a response from the actress.
"Would you note a man wearing lots of suits during a promo tour? So why can't a woman? Just sayinnnn. No double standards ladies," Blake commented back.
The blogger instantly backpedaled, calling the comment a bad joke.
"You know I love you, and I personally have really enjoyed this tour. If you look at my website, I have said that I have admired your total commitment to rocking suits during this promo tour. That number just an attempt at humor. I'm sorry it didn't translate. Looking forward to the Paris premiere," she wrote.
Lively instantly clarified that she wasn't trying to tear the blogger down. Instead, she's trying to embolden women to wear whatever they want – and make sure other women are supporting it.
"I don't expect everyone to like it. Fashion that creates a difference of opinions is the fun part. I totally understand the missed humor. I do the same thing sometimes. Just looking' to encourage women to do what men do without being teased for it. Yes, even in a space as material as fashion. It all starts somewhere...and everyone's voice counts."
As a woman constantly annoyed by the complete double standards of fashion – especially in the workplace where men can wear the same suit for a week while women are shamed for outfit repeating – I've been cheering for Blake's suits from the sidelines for a while now. And I'm glad she's out there educating ladies who still think it's strange for women to wear, well, whatever.
Now if we can just find a way to stop expecting women to wear makeup at work... that would be great.