Chelesa Fearce is someone with her eyes on the prize — a Nobel prize, to be exact.
The WiSTEM2D leadership team at Johnson and Johnson were so inspired by Chelesa's story they invited her to share it on a mid-year video call with the members of their organization. "There have been no Black people who have won the Nobel Prize in chemistry, and for those who have won, it's been only five women out of 183 people," Fearce said to the audience. on the video call. "Hopefully, fingers crossed, I can win a Nobel Prize in chemistry. That's what I would like to change the world with."
Listening to her, one is left with little doubt that Fearce, an MD PhD student at Yale University and Vice President of Yale School of Medicine's Medical School Council, will accomplish this and more. Her lilting voice and warm smile belie a steely determination — one that's driven by a deep need to improve the lives of others. It's a need she can trace back to her experiences with homelessness growing up, having spent the majority of her teenage years bouncing between homeless shelters as her mother battled cancer.
"When I was in the fourth grade, my mother was diagnosed with Non-Hodgkin's Lymphoma," Fearce said. "During that time, I went to go stay with my grandparents in Mississippi, but when I came back to Atlanta in the sixth grade, we were experiencing homlessness and were on-and-off experiencing it for about six years, up until I graduated from high school."
Around this same time, Fearce's little brother and sister were born. And her desire to help protect and care for them made her see her education as her family's way out.
"I basically kept the faith and tried to be a good role model for them," she said. "There were times when they would say to me, 'Chelesa, when am I going to have my own room?' or 'Can I have food, can I have this or that?' And I just felt heartbroken because I was not able to give it to them. But I told myself that I needed to keep the faith and just drill down, be resilient and focus on my education so that I could be a good role model for them and so that, in the future, I could give them everything they wanted."
Some nights, Fearce and her family would stay in their car; other times, they'd stay in a hotel or at a friend's house. They'd stay in shelters, too, although these often posed complications with her schooling. At the high school, for instance, Fearce would receive much-needed free lunches, but by the time she was in the 11th grade, she was enrolled in only college classes. This made knowing when she would eat next tricky.
"I'd wake up at 6 a.m. to get to school around 9 .a.m., and sometimes I wouldn't return home to the shelter until around 9 p.m.," Fearce recalled. "They actually have a certain time where you can take a shower and when you can eat food, and of course I would miss those times because I was taking college classes and it was so late at night."
Still, Fearce persevered. Having teachers she could look up to helped — and one of them, in particular, left a sizable mark. Even before reaching high school, Fearce had already felt a special draw toward the healthcare profession, inspired in part by an aunt who'd been diagnosed with schizophrenia. But it wasn't until she was a sophomore in high school that she felt encouraged to see a future for herself in science.
"I had a teacher who was a Black woman — it was my first time I'd had a Black women teacher — and she was a chemistry teacher," Fearce said. "Just seeing her do it, it became one of my favorite classes."
Ultimately, Fearce graduated from high school as Valedictorian of her class with a full scholarship to attend Spelman College, a historically Black college for women in Atlanta. There, her desire to pursue work that could make a radical impact in the areas of mental health and psychiatry — mental illness being, she pointed out, both a key driver and byproduct of homelessness — continued to coalesce.
She received important mentorship from professors, many of whom were women and particularly Black women, and was able to complete multiple internships and programs, including one with Johnson & Johnson. Through its WiSTEM2D group, Johnson & Johnson partners with Spelman to help increase the number of women entering and graduating with STEM2D degrees. And as a WiSTEM2D member, Fearce said that programs like this "helped foster my love for biochemistry."
Following her graduation from Spelman, Fearce went on to complete two years of research on drugs for neurological and psychiatric disorders at the National Institutes of Health before being accepted into over 20 graduate programs, including Yale's. (True to form, one of her top reasons for choosing Yale? Besides the fact it offers one of the top psychiatry residency programs in the country, her program is also one of very few to be led by a female director.) Although Fearce jokes that it feels like she's "going to be in school for forever," working toward something she believes so deeply in keeps her going and reminds her to have faith in herself.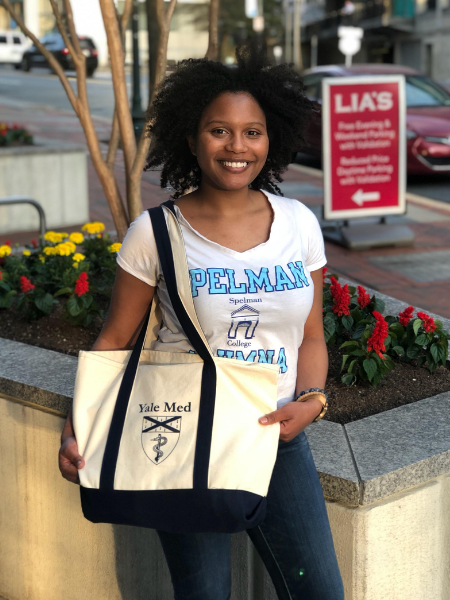 "I have found myself doubting myself on the journey to get here, and I have other people who look up to me that say, 'Chelesa, we believe in you,'" she said. "So I just have to believe in myself."
The WiSTEM2D team at J&J were thrilled that Chelesa found time to share her remarkable story and hope it may inspire others to be their best selves. Sharing stories like hers are a vital part of J&J's ongoing commitment to provide learning and development opportunities for women throughout their careers.