6.01k
Staff Writer & Content Strategist @ Fairygodboss
Ten years ago, ping-pong led the way when it came to office perks. Big tech companies that boasted in-office perks like massages, gourmet lunches, coffee bars and video games were the target of in-person office envy. These perks lured employees in, adding flashy benefits that made an hour and a half commute seem more than worth it.
But as much of the workforce moved out of the office and into their homes, gone were the in-person perks that made working at these "perky" companies special. Some offered virtual happy hours or team-building activities as a half-hearted replacement.
As some employers attempt to lure employees back into physical office spaces, trying to sell that the office is great for "collaboration" isn't cutting it. Instead, they're returning to perks. According to a recent survey from commercial real estate firm CBRE, 60% of large companies around the world are redesigning their offices to make returning to in-person work more attractive. Some are building auditoriums; others are opting for outdoor spaces. Almost 70% of them have onsite baristas or coffee shops.
But after over a year and a half of remote work, is this really what people want?
For some, yes, these perks matter and can make a difference about where they want to work. Yet these are people who were already thrilled by the idea of returning to an office; those who are looking for social connections at work and within the physical working space.
But there are many others—an overwhelming majority of younger workers—for whom these perks look like a half-baked attempt at manipulating people back to the office. For these employees, remote work has fundamentally changed their relationship with work. No free coffee can replace the freedom they have while working from home. No office gym or gourmet lunch can beat their walk around the neighborhood, the quiet of their home office, the time they get to spend with their family, their newfound productivity or better mental health.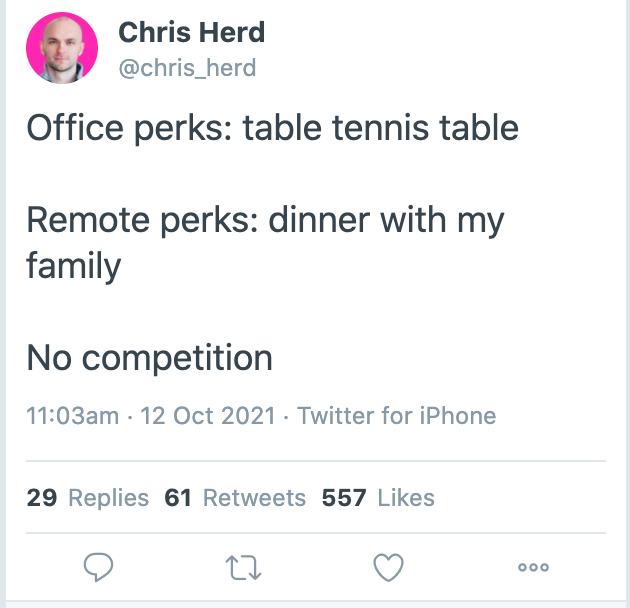 Source: @chris_herd via Twitter.com
According to a study from Kansas State University, younger workers (ages 21 to 34) value respect more than having fun at work. This means Gen Z and millennials care more about respect from their manager and colleagues, and respectful communication, than ping-pong tables, free lunch and board games with their team.
It's not just Gen Z and millennials who are fighting against traditional office perks. According to Glassdoor UK, about "60 percent of employees now place more emphasis on perks related to physical and mental wellbeing, such as apps, private healthcare and access to online therapy."
While free laundry or streaming services can be great, modern employees are asking for perks that serve their new, holistic way of working. They want perks that benefit them when they're not working in an office, that value them as holistic human beings rather than just company workers. They want wellbeing, autonomy and support—and if employers want to keep up, they may want to consider switching that ping-pong table for flexible working hours.
What's your no. 1 work perk, in-office or not? Share your answer in the comments to see what other Fairygodboss'ers have to say.
This article reflects the views of the author and not those of Fairygodboss.