10
If you don't know Hilary Duff from her teen days playing the angsty Lizzie McGuire, you probably know her as Kelsey Peters in TV Land's Younger. Duff is used to the spotlight and she's certainly used to public controversy. I mean, she transitioned from Disney star to pop star to adult actress. Every move she made was overanalyzed by both People and Tiger Beat. Talk about pressure.
But despite her experience with the paparazzi and everything else, I doubt she was prepared for the internet debate she sparked with one controversial post-baby decision.
What happened? Hilary went on the Informed Pregnancy podcast to talk about the recent birth of her daughter, Banks Violet.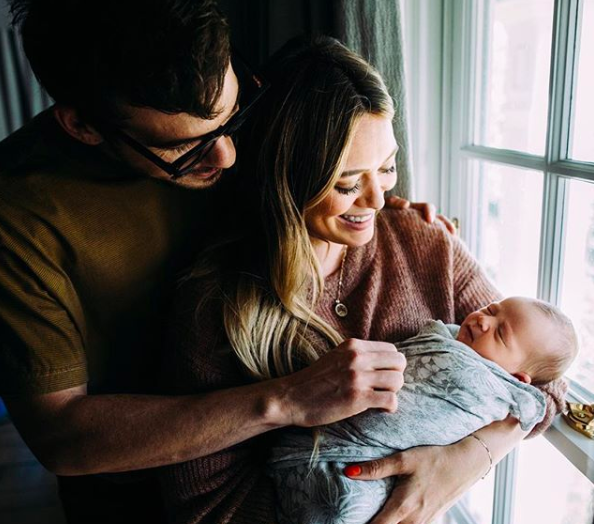 Hilary Duff, Matthew Koma, and Banks Violet. Source: @hilaryduff
She and her boyfriend, Matthew Koma, welcomed Banks on October 25th. Duff has one other child, her 6-year-old son Luca Cruz Comrie. And yes, he's also adorable.
On the podcast, Hilary let slip that she made a 'delightful' smoothie out of her placenta.
Yes, you read that correctly. According to The Sun, she said: "I haven't had a smoothie that delightful since I was like 10-years-old. It was calorie-filled with juice and fruit and everything delicious." She has also kept some placenta ice cubes for future smoothies.
And of course, the internet freaked out. First, there was a joke or two.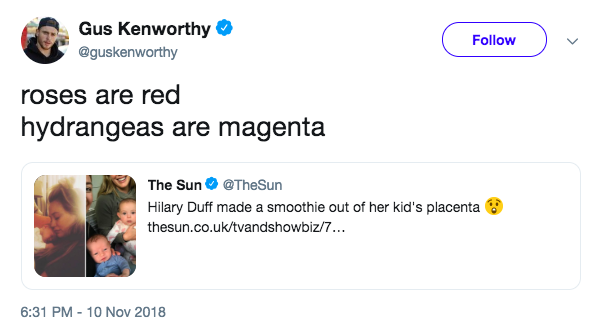 Source: Twitter
But then, talk about her placenta smoothie blew up into a full-blown debate. Some Twitter users criticized her 'disgusting' decision to eat her placenta.
There was heated discussion about whether or not eating the placenta has health benefits — and whether or not health benefits justify a smoothie made out of body parts.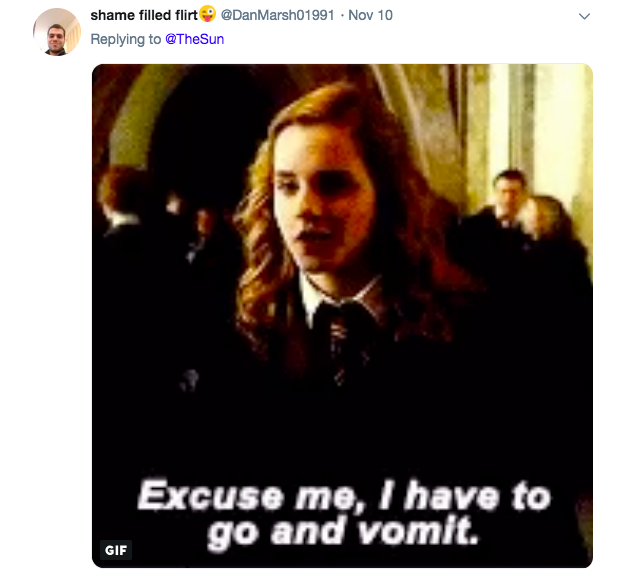 Source: Twitter
Others criticized Duff for being so public about the decision.
Seemingly forgetting that we as a society actively pay attention to what movie stars do morning, noon and night.

Source: Twitter
But many people (and lots of moms) came to Hilary's defense.
They argued that there may be benefits to consuming your placenta, and that even if not, it's a personal choice — and often a tradition.

Source: Twitter

Source: Twitter

Source: Twitter
Personally, I think this seems like a lot of outrage over a smoothie. I mean, as long as they're your body parts, I don't really care what you do with them. This just seems like more proof we can't leave women alone about... basically any decision they make. Hilary, if you want to chug some placenta, you do you. If y'all want to argue with me about this in the comments, feel free.
Don't miss out on articles like these. Sign up!
More on pop culture:
--
Una Dabiero is an editorial associate at Fairygodboss. She likes pop culture, reading things that make her think, and hearing women's stories. Don't follow her on social media (please), but do follow her on the FGB community.