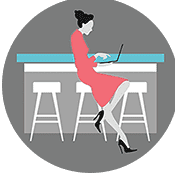 368
Career reinvention for moms
If you're like many job seekers today, you spend hours upon hours painstakingly updating your resume. However, a recent study shows that recruiters will only spend an average of seven seconds scanning it. Therefore, it's vital that the information you present on your resume highlights your most significant achievements.
It can be tempting to throw some buzzwords on your resume like "team player," excellent communicator," or "go-getter." However, this generic language doesn't demonstrate how you are the top candidate for the job.
Here are four action phrases to use on your resume to instantly make it stand out.
1. Collaborate.
Collaborated on team of six customer service representatives to develop new protocol for delivering faster, friendlier customer experience.
Using the phrase "collaborated" allows you to demonstrate your teamwork skills and your experience working with others toward a common goal. This is especially valuable in a remote or hybrid context, where you'll need to navigate working with others when you may not all be in the same place.
2. Mentorship.
Developed and mentored in a new employee mentorship program, resulting in roughly 30% reduction in employee
turnover in two-year period.

Using words like "mentored" (or "mentorship"!), "coached" or "trained" demonstrates that you are skilled at helping others and teaching people new skills or tasks, which is extremely valuable in any industry or organization.
3. Design.
Co-designed an app to streamline customer service web chat portal, resulting in 50% reduction in wait time.
Problem-solving and creativity are also two incredibly important skills that employers look for in potential candidates. When you use the word "designed," you're flexing both of them.
4. Juggle.
Juggled multiple projects and stayed ahead of deadlines when office went remote due to COVID-19; developed project tracking system in Excel that was implemented department-wide as a best practice.
Self-management and time management are also important skills to demonstrate on your resume, especially if you want to work partially or completely from home. However, even if remote work is not your goal, it's still important to demonstrate to a potential employer that you're efficient and self-motivated.
Anyone can include generic language and buzzwords on their resume. However, taking the time to give examples of your specific achievements not only showcases your relevant skills but also helps you stand out among a sea of applicants.
What's your no. 1 piece of advice do you for making your resume stand out? Share your answer in the comments to help other Fairygodboss'ers!
--
This article was written by a Fairygodboss contributor.
Lee Cristina Beaser is a career coach, Certified Professional Resume Writer (CPRW) and founder of The Career Counter, where she empowers women to achieve happiness and fulfillment in their careers.