What's the difference between military service and a civilian job? Pamela Glover, who served in the United States Navy from 1982 to 1988 and is currently a Senior Lead Administrator with Robert Half in Northbrook, Illinois, has this to say: "In a civilian workplace, nobody's life is on the line. Nothing you do is going to be so detrimental that you can't fix it."
If that makes you think that transitioning from a military career to a civilian one represents a major perspective shift, Pamela would likely agree.
After spending six years in the Navy before taking an honorable discharge in order to start a family with her husband — who also served in the Navy at the time — Pamela made that transition the same way she faced challenges during her years of service: She met it head-on.
Of course, being a woman in the Navy — especially in the 1980s — came with inherent challenges that helped steel her to adversity and figure out the best ways to move around, over, under or right through barriers.
"At my first duty station, in Guantanamo Bay, Cuba, you had mostly men on base," she said. "Being the time that it was, there was a lot of that old-school mentality, and sometimes you had those who weren't happy with you being there. And I'm an African American woman, and there are stereotypes that come with that, even before coming into the military."
But overcoming two labels that might not have fit well with many around her was a test Pamela welcomed, speaking to it as if doling out valuable advice for women everywhere.
"I think the mental challenge was recognizing that you are a woman among mostly men, but you still have a job to do, and you're still capable of doing it. You made it through boot camp and everything else just like the guys did," she said.
Though double standards were the norm back then, Pamela didn't let that faze her.
"One of the things the military did was help give me a tougher skin. You just have to know who you are," she explained. "And for me, it was realizing that if someone had an issue with who I am, it was their problem that they needed to deal with. I don't have to get caught up in that."
When Pamela transitioned out of the Navy, she found a different world awaiting.
"In the military, everything is black and white. It's either right or it's wrong. No matter what your job is, there are manuals and correspondence that you look to, and that's the way it's done. No matter what different commands you go to, it's done the same way. There are no gray areas," she said. "The civilian community was very different."
Given her background and experience in the Navy, Pamela's contrasting description of the civilian workplace feels fitting.
"There are a lot of colorful areas, as opposed to being black and white," she said. "I found in the civilian community that what each company deems professional — differences in the way people can dress to the way they can behave — is different and varied, and it just becomes way more colorful."
Though as Pamela mentioned, perhaps the biggest change was the big-picture perspective, especially when it comes to what's defined as a crisis. That doesn't mean she takes work emergencies less seriously now.
"A crisis is still a crisis, and if you make a mistake that causes you to lose a client, that's potentially thousands of dollars walking out the door. We still want to be top notch here. I still need to be able to step up and do my work to the best of my abilities. But at the end of the day, nobody dies from this.
"With that perspective, there's a peace and calmness to it. I don't freak out when something goes wrong. I like to be the thermostat, not the thermometer. I don't want to react; I want to set the pace. That's how I try to live, in my life at work and outside of work."
In her non-work life, Pamela still keeps military personnel in mind. She and another veteran working with Robert Half started collecting coats to donate to veterans during the harsh Chicago-area winters.
"We would start collecting coats in October, going through to Veterans Day. We bring in about 200 coats every year, plus hats and gloves, to the VA."
There, she says, veterans who may be coming in off the streets or are dealing with other issues can get what they need to help make the winters more comfortable.
Her successful transition from military to civilian work also positions her to mentor younger workers. She has taken women new to being Lead Administrators with Robert Half under her wing in Tennessee, Colorado and Texas. Naturally, lessons from Pamela's military background helped her mentees not only navigate the responsibilities of the office, but also infused in them an edge against the adversity they might face — which is applicable to all women in the workplace, military experience or not.
"You can't get caught up in what other people think you should be or should not be. It's about having a great sense of self and doing things to the best of your ability. You're doing a job just like everyone else here is doing a job."
Ultimately, it seems mentoring young professional women stems straight out of her military service.
"You want to be able to cultivate an environment where we can all grow and flourish." And when a bit of boldness is called for, she's ready for that, too.
Though not a veteran herself, Renee Whalen, a Managing Director of Strategic Accounts with Robert Half in Pennsylvania, comes from a military family and works with veteran's organizations like The COMMIT Foundation to help former military members adjust.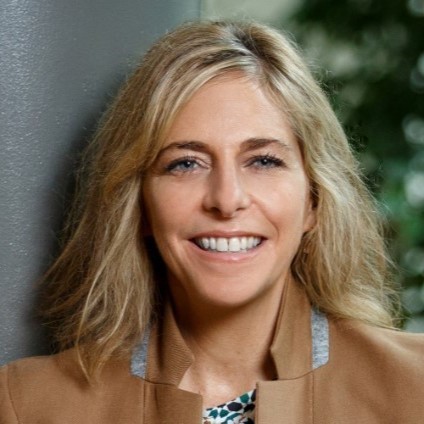 Renee Whalen. Photo Courtesy of Robert Half.
"Even high-performing veterans like a former Navy SEAL can face confusion with the transition and a loss of confidence as a result. COMMIT helps those types of individuals," Renee said, mentioning a 20-year Army veteran she mentored who was accustomed to negotiating with the leaders of countries but needed help navigating the civilian landscape.
"They just need that little push and reiteration of what the civilian world is like. And if they were successful in the military, they're likely to be successful here," she said. Through COMMIT, Renee coaches veterans through networking, job searching, interviewing and negotiating offers, and her advice is usually the same:
"It's normal to feel this way. It's normal to be nervous. Finding and starting a new job is always going to involve some stress, but keep your confidence level up and you'll get through it like you have in other high-stakes situations."
--
This article was written by the team at Robert Half. Fairygodboss is proud to partner with Robert Half. Find a job there today!