10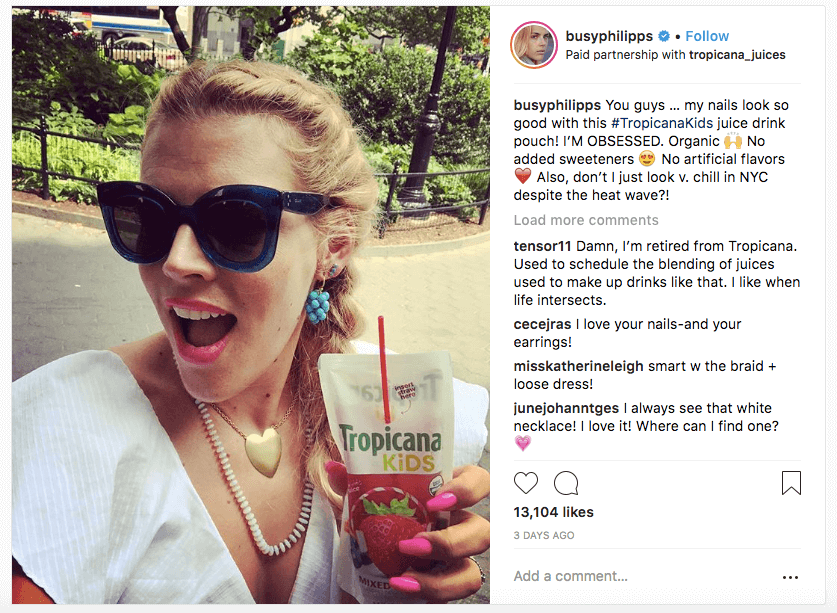 You may not be surprised to learn working mom, actress and soon-to-be author and late night host Busy Philipps is, indeed, busy. (Sorry, I had to.) After all, her parents dubbed her Busy, even though she was named Elizabeth, because she never sat still as a little girl. Old habits are hard to break, as they say.
But what's unusual about the mom to daughters Birdie, 10, and Cricket, 5, is she's refreshingly transparent about the support network that helps her manage her Busy life (sorry again)—including her husband, film director Marc Silverstein.
When it comes to the mental load—the odious household management that almost always falls to moms—Busy admits she has it easier than most, in an exclusive interview with Working Mother. "It's really hard, but we've been fairly lucky in that what we do is unique. When [Marc] was directing his movie last year, I was just working on my book, so I was able to take over in a bigger way in the house. Now I'm gearing up to have a really insane fall with my TV show and my book coming out. And he's kind of chilling on work, which we have the luxury and are able to do. So our situation is not normal, and we're able to balance in that way."
It's a shockingly truthful admission in a world where celebrities tend to pretend their lives are a collection of perfectly choreographed moments—without any choreographers—when we all know it takes an army of nannies and personal assistants and stylists to pull off such a complex show.
Then again, it's not common for men to scale back their careers to support their powerful wives, even in the most financially secure situations. Here, Busy gives her husband the credit he deserves: "Marc is a very evolved feminist," she says. "He truly is."
So just how busy is Busy? (Guys, I can't stop.) Her book of autobiographical essays, This Will Only Hurt a Little, hits shelves on Oct. 16, and her late night talk show will debut on E! the same month. The working title, is, appropriately, Busy Tonight. That's in addition to promoting Tropicana Kids, a new line of organic fruit juice drinks ("We're obsessed," she says."This is something that's been in our fridge all summer."), and staying Busy on Instagram (I know, too easy), where she's amassed 1.1 million followers, who love the star's candid confessions about how damn difficult motherhood can be.
When asked if she's too hard on herself, her answer is a perfect example: "Every day of my fucking life. What are you talking about? Yes, of course. That's why I am who I am."
Last month, she tweeted about how she almost signed up to be Room Parent at her daughter's school, but quickly backtracked when she realized how Busy she'd be (GUYS STOP ME) with her show and book release.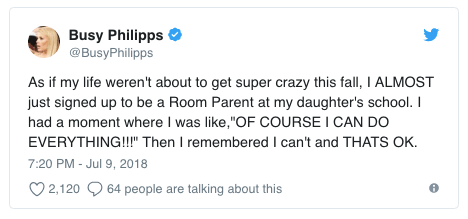 It's a moment every working mom knows all too well: when you really, really want to help, but it's just not physically possible to take on another task—unless sleep suddenly becomes optional for the human body. Well, Busy has a message for you: "It's OK to have the moment where you can't do it all, so I'm going to say no."
"I think, especially for working parents and working mothers, you get the feeling like, 'I should be able to do it all,' but it's all right to put the brakes on and know that you're going to do the other things much better if you don't overextend," she advises overworked moms everywhere.
As for how she gives herself a break, she says, "I listen to people I respect, like my friends and Marc and my therapist and even our daughter's nanny gives me a lot of positive affirmation. I sound like I need a lot of it."
Don't we all. That's where she hopes her new talk show comes in handy. "I want it to be something really pleasant for people to watch before bed, so you don't have nightmares," she says, calling the show's 10 p.m. time slot working mom-friendly. "Your kids will be in bed, and it will be time for you to chill out, have a glass of wine or margarita and unwind. We all need to unwind, not only from our long work days, but also the world is exhausting right now, and it feels really overwhelming. And you need a break."
Amen, sister.
This article originally appeared on Working Mother.
Working Mother is a mentor, role model, and advocate for the country's more than 17 million moms who are devoted to their families and committed to their careers. Through our website, magazine, research, radio and powerful events, Working Mother provides its readers with the community, solutions, and strategies they need to thrive.