10
There's no questioning Jamie Lee Curtis' greatness — she's the daughter of actors Tony Curtis and Janet Leigh, and she's every bit as successful as her parents. She got her start in the 1980s, when she went from hit comedies like Trading Places and A Fish Called Wanda to thrillers like Blue Steel. By the '90s she scored a huge hit with Freaky Friday opposite Lindsay Lohan. And in case you needed a refresher, she just broke new ground for women at the box office with her role as Laurie Strode in Halloween.
On the 40th anniversary of the original movie, Laurie Strode is back in the simply titled Halloween. David Gordon Green's sequel to the 1978 horror film opened with $77.5 million, earning it the title of the largest box opening for a film starring a woman over the age of 55 as the lead.
It's not Curtis' first rodeo in the Halloween franchise, as the 2018 sequel marks her fifth appearance. She also stars in the original, as well as in Halloween II in 1981, Halloween H20 in 1998 and Halloween: Resurrection in 2002, where Laurie met her demise. For years, the Halloween franchise has been criticized for being anti-feminist. Flash forward, the new film embraces Laurie as a survivor preparing for the day Michael Myers breaks out of the psych wart to hunt her down again — this time, she's armed and ready. And none other than the Golden Globe-winning actress, Curtis, plays the heroine.
"Jamie Lee Curtis is an absolute force of nature in this film," Universal Domestic Distribution President Jim Orr said. "We knew that we had something special with this actress and this role in a film that's decades in the making."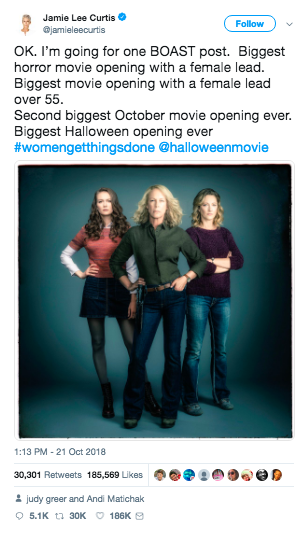 Photo via Twitter
Laurie has become an icon for girls because she's withstood violent attacks and fights for her life. Curtis herself has touted Laurie's "her resilience and her strength."
"This movie picks up 40 years [on] from the first movie only," Curtis has said. "So all those other movies that I have been in have no relevance to this movie. They exist and there may be people who love them, but for this movie, David very gently trimmed away all of those other story lines and other interpretations."
It's only fitting, then, the first feminist rendition of the Halloween franchise would have quite the feminist opening, with Curtis proving that, even in the entertainment industry where ageism is rampant, women's careers don't stop because they hit some arbitrary age barrier.
--
AnnaMarie Houlis is a feminist, a freelance journalist and an adventure aficionado with an affinity for impulsive solo travel. She spends her days writing about women's empowerment from around the world. You can follow her work on her blog, HerReport.org, and follow her journeys on Instagram @her_report, Twitter @herreport and Facebook.