10
It's no secret that choosing what to wear to work can be a major stressor. Not only are women expected to put extra effort into their appearance, but they're also expected to say up to date with fashion — even when they aren't interested in it.
Thankfully, Thrive Global CEO Arianna Huffington has our back. At Fortune's Most Powerful Women Summit this week, Huffington repeated an outfit that she had worn to past events. While it may seem like a fashion faux pas, Huffington believes that re-wearing outfits is an easy way to move women forward at work.
"Feeling that we have to wear something new every time we have a speech, every time we do something important" isn't a good way to spend energy, Huffington said at the event. "So I deliberately use my Instagram to show myself, for example, at the Time 100 dinner, next to (a photo of) me at the White House Correspondents Dinner, wearing the same long gown."
By tagging her Instagram posts with the hashtag #repeats, Huffington is drawing attention to when she repeats outfits and is simultaneously encouraging other women to do the same.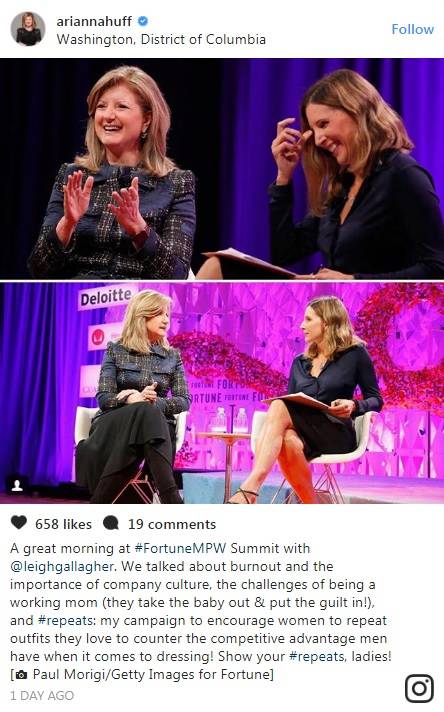 (Source: Instagram)
Huffington acknowledges that men and women face different expectations when it comes to work attire. When Huffington spoke at a panel in 2016, the female panelists showed up in full makeup and heels. The male panelist showed up in jeans and a t-shirt, and nobody thought anything of it.
"As women, we've collectively broken many glass ceilings, but still seem to be laboring under the cotton-silk-rayon-makeup-and-heels ceiling." Huffington wrote in a blog post last year.
Huffington is currently the CEO of her newest start-up, Thrive Global. Thrive Global's mission is to end stress and burnout in the corporate world and implement solutions to enhance well-being, performance and purpose. One of the ways to eliminate workplace stress? Reclaim the time and energy you lose when picking out clothes.
"Female employees can often feel the pressure to get their appearance just right," Kaytie Zimmerman wrote for Forbes. "Sometimes the criticism is that women don't look polished enough, with the general attitude being that the woman doesn't care about their job if they aren't wearing makeup or high heels."
Though notions about women and their professional appearance may be antiquated, they're present in unconscious biases that women regularly face at work. Company dress codes for women — both official and unofficial — create a bind.
"You constantly feel under scrutiny for things unrelated to your intelligence and work performance," professional chef and consultant Jenny Dorsey told Forbes. "Young women without children, especially single ones, are many times seen as an acceptable target of inappropriate comments about beauty."
Repeating outfits, like Huffington does, can help alleviate that pressure. It's a way for women to own their professional presence and gives them more time to focus on things that matter to them.
"I'm not suggesting we go full Cuban by wearing t-shirts all the time, or raiding Mark Zuckerberg's hoodie closet," Huffington wrote. "Only that we make it easier on ourselves and dress in a way in which we can still feel chic and good about ourselves without spending a huge amount of energy, mindshare and time — not to mention cash."
More time, energy and money in our wallets? Consider us in. If Arianna Huffington says we can achieve it, we believe her 100 percent.