Women can do anything — but not everything. As the largest online career community for women, we at Fairygodboss realize that balance is a myth, and that picking what to prioritize when everything feels important on a day-to-day basis isn't always easy. In the #MakingTime series, women share with us how, for one day, they chose to spend their most precious resource: time.
--
Who: Eva Sadej
What: CEO & Founder of the mobile dental service Floss Bar
Where: Greater New York City area
--
4:30 AM: Early Start
This particular morning is a speedy start for me as I will be in front of the camera bright and early for an interview with Fox Business News. I brush my teeth in the shower to save time and then put my face on to get camera ready while sipping my Nespresso coffee. When it comes to being a female entrepreneur, streamlining routine is key.
5:30 AM: Fox Business News Interview
I hop in an Uber from my FiDi apartment to Fox News Studio in Midtown. As I mentally prep for my feature, I reflect on my accomplishments and my family's support throughout my journey of putting my Wharton degree on hold to pursue my startup. My dad always wanted me to be the weather girl. I think a feature interview on Fox News ain't too shabby though.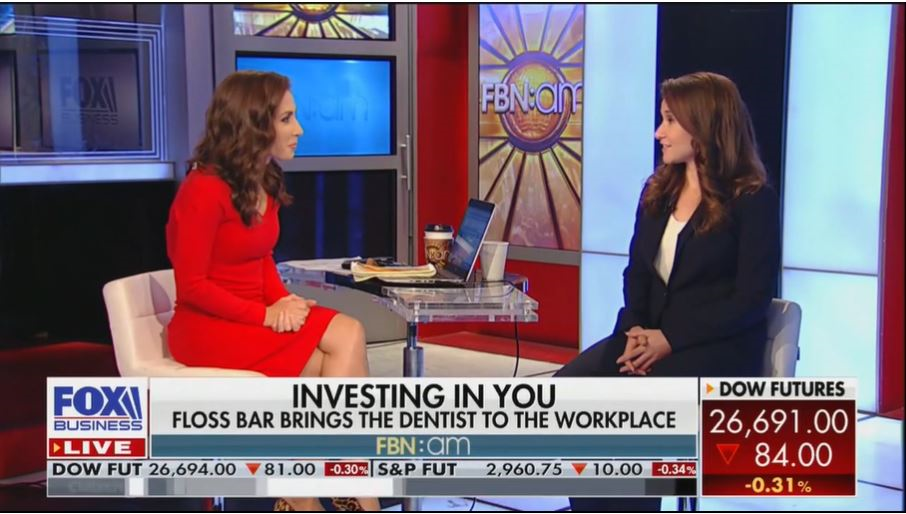 7:30 AM: Breakfast and Commute to Office
Basking in the afterglow of a successful interview, I call an Uber back downtown to our office in Soho. I whip out my laptop and use this time to tend to important emails that came through while I was on set. My sister meets me there with a sandwich baggie of congratulatory raspberry pancakes – her boyfriend's daughter's specialty. I eat these while we discuss operations updates before we jump into our call. It is true that food tastes the best when it's made with love.
9 AM: Operations Leadership Phone Call
I lead the first call of the day and mitigate operations plans with the team. We go through a run-down of the next two weeks and finalize who is stationed where, coordinate staffing with the provider relations team, and make sure that equipment is distributed strategically for each event.
10 AM: Meeting with Finance on Insurance Billing
I jump on the next call with only seconds in between – this is typical. The finance team is migrating to an electronic Insurance Billing system, and I make sure the right team members are involved in the switch. Dental insurance billing is simple compared to medical billing, as there are less codes, but with our mobile model, supervision legalities can get complicated so these meetings with our lawyer, billing team, and finance team, are imperative.
11 AM: Marketing Meeting with Dental Insurance Partner
Staying in the insurance realm, I flow into my next call with one of the top two dental insurances in the country. We discuss our game plan for our upcoming client route, and regroup on strategy.
11:30 AM: Operations Emergency! Visit Client Site Nearby To Help Resolve
The meeting is immediately followed by an emergency call by one of our operations associates – they were shipped a new compressor for an event close by and a crucial hand piece was missing. Since they already started seeing patients for the day and with all our teammates running around or at farther away events, I come up with the fastest solution—I go and look for the handpiece myself. Humility is an invaluable trait for entrepreneurs, and my no-job-is-too-small mentality has always been a part of who I am.
12 PM: Eva Ends Up In a Dumpster?!
A CEO going through trash is never a good thing. Need I mention I was still wearing heels at this point. But a high-priority client sometimes means I have to roll my sleeves up and swoop in (to a dumpster) to save the day. I find the handpiece accidentally thrown out with recycling and walk it to our onsite provider.
1 PM: Ramen for Lunch
My lunch time varies every day, as I prioritize calls and needs of teammates. Today, I head out on a walking meeting at 1pm with one of our team members to a nearby noodle place. I opt for the healthier option—Udon—as I check in with the team member's morale and work capacity level. I care deeply for all of my employees, so even in the middle of a crazy hectic day, I make sure I find the time to connect, and discuss goals. I take in the moment of sunshine and fresh air as we walk back to the office to eat and conquer the second half of the day.
2 PM: Business Technology Check In
In this industry, using technology in innovative ways to promote efficiency is how we get ahead. I put the dumpster incident behind me and calmly take on the next call. Our meeting ends early and I am able to spend the next 45 minutes powering through emails.
3 PM: Weekly Call with Sales Team
Another call to connect with the team! We discuss sales strategy and hiring of a junior sales person. We are hiring!
3:30 PM: Board Meeting Prep
I finalize a power point while our chief of finance puts the finishing touches on a report. This is a critical point in the day so I put my email and phone notifications on mute to make sure the meeting will go smoothly. I review structure of the meeting with our Director of Strategy, and shortly after we dial in.
4 PM: Board Meeting
Smoothing over remaining tension from our recent acquisition, the board meeting goes well. This company is like my child, and I will do whatever it takes to take it to the next level.
6:30 PM: Executive Team EOD Check-In
Before it is time to leave, I chat with the team left in the office to share what we all have in store from the next day and what we need from each other. I make sure the team doesn't have any blockers from me so everyone can have what they need to get their jobs done.
7:30 PM : Off to see "Hamilton" on Broadway (Stuart Surprised Her!!)
From PR interviews, client emergencies and a supportive boyfriend, a day in my life without surprises, good or bad, is rare. Stuart, my boyfriend, whisks me off to the Broadway show "Hamilton," and we enjoy the last moments of the day together. After the show, we head back to FiDi and grab dinner at one of our favorites. I wind down in our apartment by working through some last emails in bed.
--