Dana Lenoir is driven by a passion for helping others. While that passion used to manifest itself in dreams of being a veterinarian, it's now a part of her everyday life as a Senior Engineer at Toyota Motor North America, Research & Development, where she works with Evaluation and Vehicle Performance Development teams to make cars safe.
"Knowing that the vehicles we work on directly affect millions of drivers and help people move safely is incredibly rewarding," she said. "It's the best part of my job."
During the COVID-19 pandemic, Lenoir has found another impactful way to put her big heart and engineering skills to work. She and her husband started a mask-making project that's produced more than 683 masks — and even their two year old is helping.
Recently, Fairygodboss talked to Lenoir about her engineering journey, what she loves about Toyota R&D and the interesting community service opportunities it offers. She also told us more about her mask-making operation, balancing community service with being a working mom and her advice for other women who are looking for ways to help during the crisis.
How long have you been at Toyota and what about it first made you want to join?
I've been with Toyota for nearly eight years at Toyota's Research and Development Center in Michigan. After graduating from Worcester Polytechnic Institute in Massachusetts with a degree in biomedical engineering, I hoped to build prosthetic limbs for a medical development company. Before that, I wanted to be a veterinarian. I've always wanted to work in a field where I could help others. When I got the opportunity to help make safer cars for one of the largest automakers in the world, I knew it was a perfect fit for me.
How long have you been in your current role, and what were you doing previously?
I've always worked in Evaluation and Vehicle Performance Development. I started off in Safety Evaluation — yes, crashing cars! Four years ago, I transitioned from Safety to Overall Vehicle Performance where my team and I lead and support evaluation groups to develop safe, competitive and reliable vehicles. Knowing that the vehicles we work on directly affect millions of drivers and help people move safely is incredibly rewarding; It's the best part of my job.
What projects or programs are you currently working on? What about this type of work most excites you?
I'm currently working on full-size trucks, the Toyota Tundra and Tacoma, and I love it! Outside of work, my husband and I enjoy driving and off-roading our own trucks. It's so much fun to contribute to the next generation of vehicles that I know my friends and family are going to love to drive.
One of the best things about Toyota is being given the space and autonomy to work on new product directions. I love that if you're determined to do something, you are actively encouraged to find a way to make it happen. The 2020 Toyota Camry wasn't originally planned to have an all-wheel drive (AWD) version, but our team was passionate about developing it for the North American market. When we were approved to move forward, we immediately jumped on the challenge and got to work. Likewise, an incredible, driven team came together to introduce a new generation of the mid-size sedan using the Toyota New Global Architecture platform.
How does Toyota empower women who are pursuing careers in engineering? Do you participate in any employee networks or programs for women in engineering?
I think it's incredibly important to build a community of strong women around you. At Toyota, I've met a group of women (and men!) that I truly admire through my favorite network, the Parents of Toyota group. This group grew out of a very grassroots effort, to now encompass chapters across the organization. It provides support, motivation and advice on day-to-day challenges working parents face, in addition to networking, mentoring and community outreach opportunities.
The group has been a lifesaver for me. I'm able to reach out to other like-minded new moms who know all about the balancing act of parenthood and engineering. It's so refreshing to be able to have open and honest conversations about what we're struggling with, inside and outside of work. I have made great friends and built lasting relationships that have taught me how to be both the best parent and engineer I can be.
What is your favorite part about working at Toyota?
An amazing thing I discovered once I joined was that Toyota supports the community programs I'm involved in and passionate about. Toyota allows me the flexibility to volunteer and support the organizations I'm committed to through the Toyota4Good program. Part of our Toyota Way foundation is respect for people. You feel that here in the community efforts and in the way the company has gone above and beyond extending resources to critical areas impacted by COVID-19.
How have you used your talents to give back during the COVID-19 crisis?
I've always loved to sew and throughout the years, I have managed to collect a large stash of "scrap" fabric. As soon as I heard that local organizations were accepting homemade masks, I immediately got to work! My immediate thought was: "Ok, so these things are in short supply. How can I help?" That's my instinct. It's that same passion I bring to my work as an engineer — figuring out how to help people and making it happen.
Through that first stash of scrap fabric, I was able to make 400 masks before having to go out and purchase more fabric. To date, I've sewn 683 masks in total, helping people in my local area and over 30 different organizations at no cost.
How have you found time to balance work and your mask-making project?
Managing work, a two year old and mask production is no simple task! My husband is a huge help with ironing and preparing masks for sewing. We both have training in the Toyota Production system and like good engineers, we enjoy finding ways we can improve our process to "mass produce" masks. We even incorporate our daughter in the process!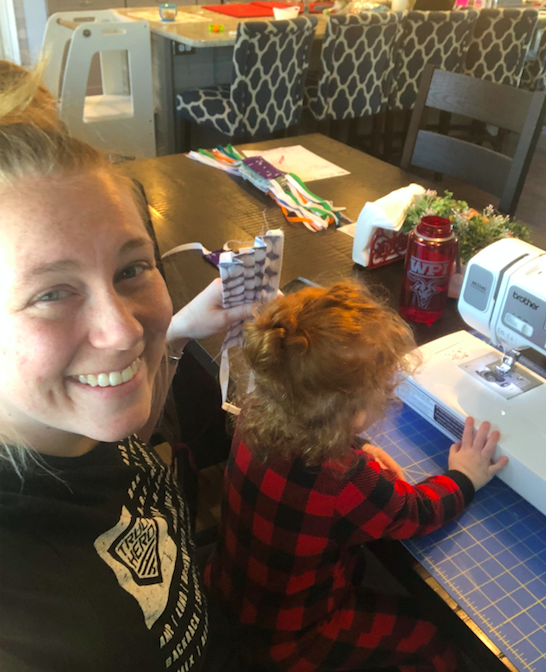 Lenoir and her daughter. Photo Courtesy of Toyota Motor North America.
Luckily for us, Toyota doesn't ask us to sacrifice family time. We're given the flexibility to set schedule expectations that work for our family, so we're present for everything we do. Despite new work from home mandates, the focus on supporting one another has never been more important. The support we have received from leadership has been amazing. I'm thankful to work for a company that prioritizes our health and wellbeing.
What advice would you give other women during the crisis on how they can give back or help?
I love the quote from Mr. Rogers: "Look for the helpers. You will always find people who are helping." No matter what your skills are, use them to help someone. Even if it's just one person, be that person's helper. Raise your hand, stand up and be brave. Sometimes being the helper means personal sacrifice, but I can't imagine a greater feeling of satisfaction than helping someone in need!
--
Fairygodboss is proud to partner with Toyota North America. Find a job there today!