10
As an anchor for CNN, Poppy Harlow makes speaking to important people look easy. But as she recently revealed, there was one major interview she did months ago that was out of the ordinary for multiple reasons.
Back in February, Poppy interviewed Supreme Court Justice Ruth Bader Ginsburg at Columbia University. The thing is, the meeting took place just five days after she had given birth to her second child, son Luca, now 5 months.
And as we all know, going back to work after having a baby is challenging because your body needs time to recover.
But Poppy did what she had to do—even down to the type of undergarments she was wearing.
She told Cosmopolitan.com that while talking to the Supreme Court Justice, she was wearing an adult diaper.
"But here's the crazy thing. I'm sitting on the stage, interviewing Ruth Bader Ginsburg—and wearing a diaper. Any woman who has had a baby will understand this. You have to wear, like Depends, after the baby is born," she said.
The diapers, of course, were to absorb vaginal discharge and bleeding, which normally occurs after having a baby.
Though some people called her "superwoman" for doing the interview so soon after giving birth, Poppy viewed what she did in another light. "I'm like, 'If you only knew.' I tell you this at the risk of grossing people out. That is what it's really like to try to 'do it all.'"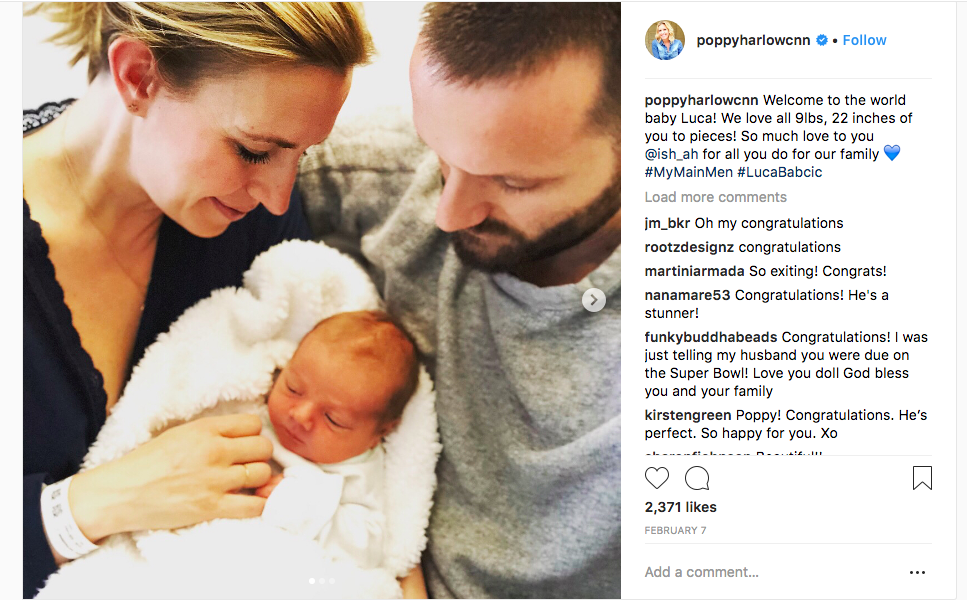 As Poppy mentioned to Cosmopolitan.com, she first found out about the interview opp while three months pregnant with her son. She initially declined since she was worried she might be in labor the day of the meeting, but the university asked her to reconsider, because helloooo, it's RGB. When they promised a backup reporter just in case she couldn't make it last minute, she changed her mind and accepted.
Cosmopolitan.com recently interviewed Poppy and seven other CNN anchors about juggling work and family as part of their coverage on the network's unprecedented baby boom.
This article originally appeared on Working Mother.
Working Mother is a mentor, role model, and advocate for the country's more than 17 million moms who are devoted to their families and committed to their careers. Through our website, magazine, research, radio and powerful events, Working Mother provides its readers with the community, solutions, and strategies they need to thrive.