1.16k
Social media can have a way of making things look easy and glamourous, but it has also become a tool that allows women to share their tribulations surrounding motherhood to help other moms feel less alone. Recently, 23-year-old mother Olivyah Bowens took to Instagram to confess that motherhood isn't always what she expected it to be.
"No one teaches you how to love a child you didn't plan to have," Bowens wrote in a caption of a photo that depicts her two-year-old daughter Ozara mid-tantrum while Bowens looks disinterestedly into the camera. "No one shows you how to traverse the emotional complexity of loving a child you weren't happy about being pregnant with."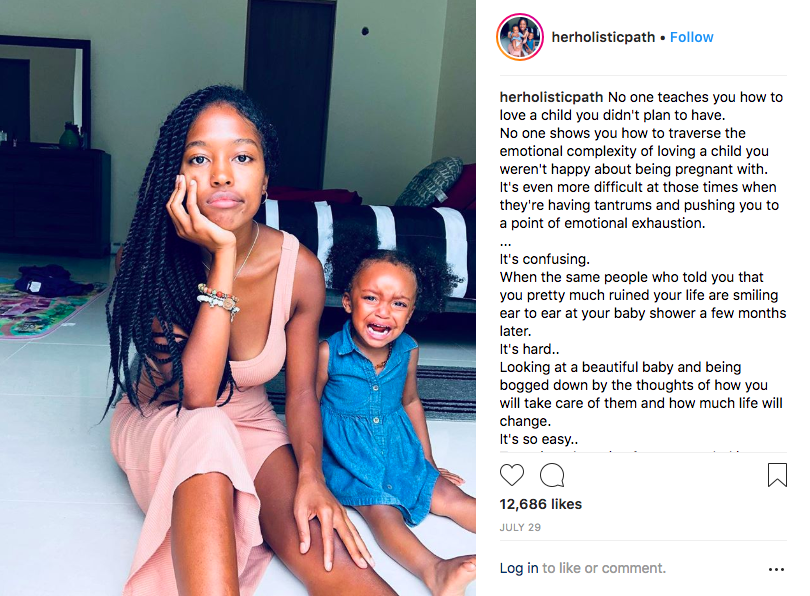 In addition to raising two children of her own, Bowens works as a professional doula and has published labor advice for expecting mothers. She described the difficulty of reckoning with loved ones who criticize your pregnancy, but show love and support for your child. "When the same people who told you that you pretty much ruined your life are smiling ear to ear at your baby shower a few months later. It's hard," she said.
She acknowledged the practical concerns about raising a child, in addition to deeper, introspective musings about being a mother.
"It's hard. Looking at a beautiful baby and being bogged down by the thoughts of how you will take care of them and how much life will change. It's so easy to project the pain of your wounded inner child onto your baby. It is the lethal cycle of undealt with trauma," Bowens said.
While becoming a mother has aroused certain fears in Bowens, it has also incited a desire to overcome others:
"This stage of motherhood has forced me to look at my reflection in my daughter's eyes and realize that no I don't enjoy being a mother all the time, but this child has been the catalyst for major growth. She is the mirror that allows me to look into my past and see the fears still controlling me now."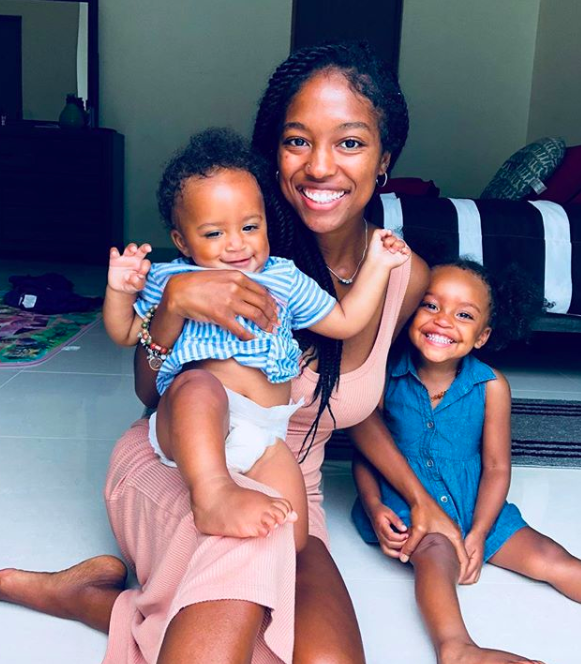 She perfectly captured the ambivalence of being a mother. She acknowledged that though becoming a mother led her to make sacrifices, it has allowed her to discover another side of herself as well.
"The reality is I don't want to be a mother everyday. I don't want to feel held back from chasing my dreams and goals. I don't want to be exhausted," said Bowens. "But I KNOW this little girl has brought me face to face with things that would have otherwise been ignored in my bubble of childless freedom," said Bowens.
She closed out her caption with a few words of encouragement for fellow mothers: "Dear mama, who is going through an unplanned pregnancy, don't feel guilty, don't feel afraid, don't feel ashamed. That baby chose YOU to be its mother at the perfect time. Surrender to the journey of unpredictability and let this new being show you a whole new part of yourself that you didn't know was there."
Thousands of people liked and commented on her poignant reflection, and many mothers expressed gratitude for her candid portrayal of motherhood. They shared stories about having their own concerns they felt after encountering their own troubling emotional trajectories after having a child they didn't plan for.
Bowens responded to their comments, highlighting the importance of sharing personal stories, even when it feels difficult:
"Sistas, thank you for the abundant support! I was hesitant to share this, but I knew deep down that other mothers were going through the same thing. I hope this helps shed light on areas that need healing and helps you on each of your journeys. I'm blown away at the positivity and love and support."
--
Kayla Heisler is an essayist and Pushcart Prize-nominated poet. She is a contributing writer for Color My Bubble. Her work appears in New York's Best Emerging Poets anthology.