321
10+ years of content marketing experience
Today, Fairygodboss kicks off a topical new series: Celebrating Male Allies. Since men still hold most positions of leadership, we believe it's critical that they raise their voices to help advance women at work — whether that be by participating in women's ERGs, making sure their female colleagues have a seat at the table and more.
On a rolling basis, we'll feature extraordinary male allies across industries — those who are helping elevate women and pave the path to gender equality in the workplace.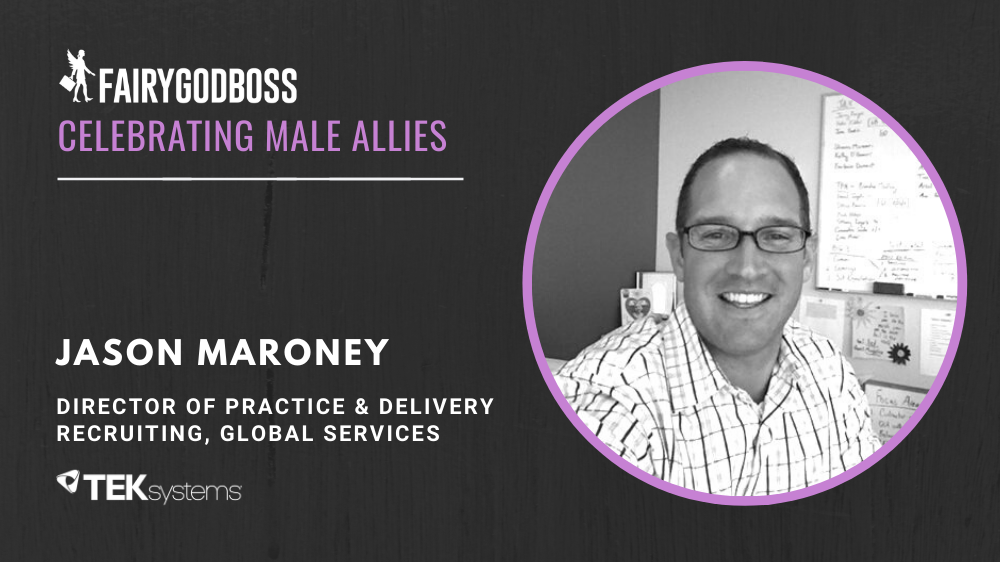 Our first male ally is Jason Maroney, the Director of Recruiting at TEKsystems Global Services. We interviewed Jason about why he believes gender diversity at work is critical, plus what men can do today to be stronger allies.
Tell us a little bit about your role. What are your key business priorities, and why do you think gender diversity is important in the workplace?
My role is to oversee talent acquisition for our professional services offerings within the IT consulting space. Our team is responsible for making sure that we have the right level and quantity of premier talent to exceed our customers expectations and to deliver world class projects and customer service.
Gender diversity fits squarely into this charter because in IT consulting, we recognize the need to be more diverse and to be a true consultative partner in solving real world IT and business problems this requires diversity of thought and people.
What is one of the biggest obstacles to workplace gender diversity that you see?
I see a couple of different obstacles, including:
A lack of women going into IT via education or job opportunities, resulting in a limited supply stream.
The need for more flexibility when hiring, including flexible work schedules and remote opportunities.
The need for risk taking to bring on more female hires, even if they do not have the exact match or years of experience, and allowing for more mentoring or a training curriculum.
In your opinion, what's the first step men can take to be stronger allies?
Men need to change the conversation and their thought process. They need to be more open to hiring a different profile, take some calculated risks on how to hire more diverse candidates and challenge the status quo.
What is one piece of advice that you would give to ambitious women in the workplace?
Be aggressive, in a polite way of course, but know that you are needed and wanted. Ask for the job, show the hiring manager you are willing and eager and will stop at nothing short of excellence. Many organizations, like TEKsystems are willing to hire and hire aggressively and even offer programs like our full stack web development boot camp specifically for women.
Why is your company a great place for women to work?
The sky is the absolute limit at TEKsystems. We are starved for leaders and specifically female leaders. We need diversity of thought and experience that women can provide. We have and will continue to put our female colleagues in a place where they can succeed and grow. We offer training, competitive salaries, development opportunities and continually foster an environment where women can not only fit in but thrive.
Tell us about one of your female role models. How has this person made an impact on your career?
Carm Lalley. I had the pleasure of reporting to her for a few years. She really challenged me as a recruiting leader to change the paradigm, to make sure that every interaction we were looking at how we can solve for the need and lack of diversity.
She also challenged me on my blind spots or biases, which we all have but how to recognize them and how do you change or overcome those biases. She was and is an excellent role model.
Lighting Round: What are your passion projects? What do you do when you're not working?
My #1 passion is my children. I have five and they are all so different and special. I am engrossed with what drives them and what they are passionate about and how can I help in their pursuit of these goals/passions. For example, my 16 year old daughter loves lacrosse. I know nothing about lacrosse, but I have taken a major interest in the sport as a result of her interest. I find myself playing catch with her, asking a lot of questions about the rules of the game and bottom line, just trying to be supportive of her and her sport.
Lightning Round: If you could have dinner with one famous person -- dead or alive -- who would that be?
Abraham Lincoln
Lightning Round: What's your favorite book?
Unbroken: A World War II Story of Survival, Resilience, and Redemption by Laura Hillenbrand
Lightning Round: What's one food you could eat every day for the rest of your life?
Pizza. That's an easy one
Do you know a male ally in your workplace? Send them our questionnaire here.