For Molly Dymond, finding work that fed her passions wasn't just a nice-to-have bonus — it was a career essential.
So when, as a university student seven years ago, she saw that passion reflected back to her by a campus recruiter for DICK'S Sporting Goods, she knew she was onto something. What she couldn't have known was that the path it was leading her down would ultimately see her become a Senior Campus Recruiter at DICK'S herself — albeit with a few stops along the way.
"I asked how I could one day work for DICK'S," she recalls. "The advice given to me was to get retail experience in our stores. I was told it would set me apart, so that's exactly what I did."
Dymond went to work as a cashier at one of the retail giant's 700+ store locations before receiving an internship in Corporate Merchandising. Next, she joined the team full-time within a merchandising function, was promoted and ultimately pivoted to a recruiting role in 2018.
Though her area of focus within the company has changed, the basics haven't — namely, that she gets to be surrounded every day by highly motivated, collaborative individuals who care about seeing each other succeed. They're not just coworkers, as she's quick to clarify — they're teammates, something that carries genuine meaning within DICK'S culture. Below, she shared why exactly that's a culture she plans to stick around in, as well as the most memorable piece of career advice she's ever received.
How long have you been with your company? What about it made you first want to join?
I have been with DICK'S Sporting Goods for five years as of June 2020. I wanted to join this organization when the campus recruiter visited my school, the University of Pittsburgh, and told me all about a place that not only supports and empowers its people, but also cares about its communities and truly supports athletes. Having access to what I needed to play sports as a kid was because of DICK'S Sporting Goods, and I couldn't think of a better place to work. Meeting the passionate people of this organization is what brought me here, and it continues to keep me here.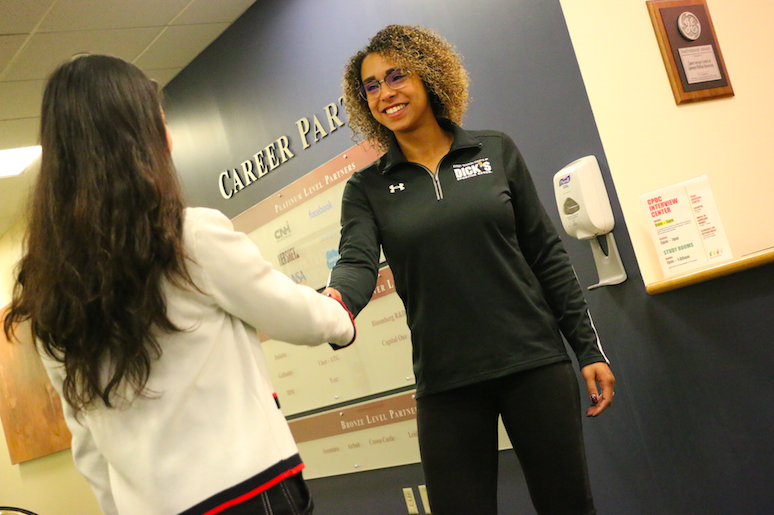 Tell me about the roles that you've held at DICK'S, as well as your current one. What about this role most excites you?
My journey with DICK'S Sporting Goods began in 2013 when I asked how I could one day work for DICK'S. The advice given to me was to get retail experience in our stores. I was told it would set me apart, so that's exactly what I did. I worked as a cashier until I received an internship in Corporate Merchandising in 2014, graduated from the University of Pittsburgh's College of Business, and ultimately received the coveted offer to join the team full time as a Merchandising Trainee in 2015. From there, I transitioned back into the stores as a Footwear Manager, where I led a team of 12 teammates as we served and inspired athletes through the pure love of shoes. After a brief while, I rejoined the Merchandising organization as an Assistant Inventory Planner in the largest Team Sports department in the company, Baseball. I earned a promotion to an Associate Inventory Planner, within Baseball, in 2017. In 2018, I moved into my current role on the University Relations Team as a Campus Recruiter. I joined a small but mighty team to help attract, recruit and retain top collegiate talent.
What excites me most is the opportunity to "pay it forward" by creating confidence and excitement for students, as my recruiter did for me. To see the talent we bring in, develop and grow into the future leaders of DICK'S Sporting Goods is truly inspiring. I am most excited to make a real difference in people's lives.
What's something you're especially good at work?
I am an analytically driven individual. While I may not have been great at math, growing up I have worked hard to be the go-to person for data questions and dashboard creation. I truly enjoy developing tools to make people's jobs easier and to help establish best practices for not only our team, but our HR function.
What's the first and last thing you do at work every day?
Email and email. My position is about constant, consistent and transparent communication. I remember when I was a job-seeking student, all I did was refresh my email waiting for recruiters to get back to me about a job. I pride myself in not only having a timely response, but an honest one. Being "ghosted" is one of the most frustrating experiences, but what's possibly worse is being lied to. While I'm only one person (who still has a pretty intimidating inbox), I make it a habit to check my email right when I log on and before I log off, to ensure I'm not missing anything.
A lot of people believe that developing your career means changing companies, and not infrequently. What has enabled you to develop/advance your career without job hopping?
The opportunities I've been presented with at DICK'S have continued to push me to limits I had not known were possible. As I continue to develop, the organization has a surplus of development courses and trainings to assist me in reaching my personal and professional goals. Not only that, but the encouragement I've received from my managers and fellow teammates to try something new or outside my comfort zone has made me want to continue to grow my career at DICK'S Sporting Goods.
Ultimately, what has led you to stay at DICK'S?
The support and empowerment to succeed. I made a pretty big career move leaving Merchandising, where I knew the career path and felt confident in the work I was producing, into a space I had no prior knowledge of and, at first, was not overly confident in. The network surrounding me at DICK'S Sporting Goods created a safe space and told me it was okay to take the leap, and it continues to reassure me that I made the best choice.
What's something you think most people (perhaps even current employees) don't know about your company that you think they should?
Walking into your local DICK'S Sporting Goods, you're taken aback by the products and the atmosphere around you. What that athlete may not know is the many people it took to make that store come to life. From Real Estate for the location to HR for the teammates to Merchandising for the product, it takes serious cross-functional collaboration to create a successful brick and mortar presence — not to mention the communities we're serving who are, in turn, supporting us. Thinking about the vastness of the DICK'S Sporting Goods ecosystem is truly awe-inspiring. From the 700+ store locations network to over 40,000 teammates, we are only continuing to grow. Yes, people can read about the success of DICK'S from our impressive earnings calls, but what a lot of people don't take into consideration is the people who give this brand true life.
What was the best quality of the best boss you've ever had?
Confidence. I've had a lot of female managers who are legitimate bosses! I truly admire the confidence they exude in not only themselves, but the unwavering sureness they've placed in me. When someone has faith in you and the decisions you make, it really helps you succeed.
What's the most memorable piece of career advice you've received?
"Work above your paygrade." Meaning: don't have the mindset that "oh, this is what I'm paid, this is all I'm going to do." You should be thinking, "That's the job I want, that's the level I'm going to perform at each and every day."
How does DSG support your interests outside of work?
Living a healthy, active lifestyle is extremely important to me and is something that the DICK'S culture has given me since I joined in 2013. The people I have been lucky enough to surround myself with have helped me reach and surpass my personal fitness goals, and now have joined me in my newest adventure of taking my love for fitness to a professional level. With the help and encouragement of my fellow teammates, I have earned a personal training certification and have since joined the training staff at a local gym here in Pittsburgh. I had the incredible honor to host a class for the same people who helped me get to where I am today, and I could not be more thankful for each one of them.
--
Fairygodboss is proud to partner with DICK'S Sporting Goods. Find a job there today!