866
Does your boss act out unprofessionally? Especially in an angry way? Have they yelled uncontrollably, thrown objects across the room, or more? This is the case for one woman who wrote into the FGB Community seeking advice on her boss' unhealthy office temper tantrums.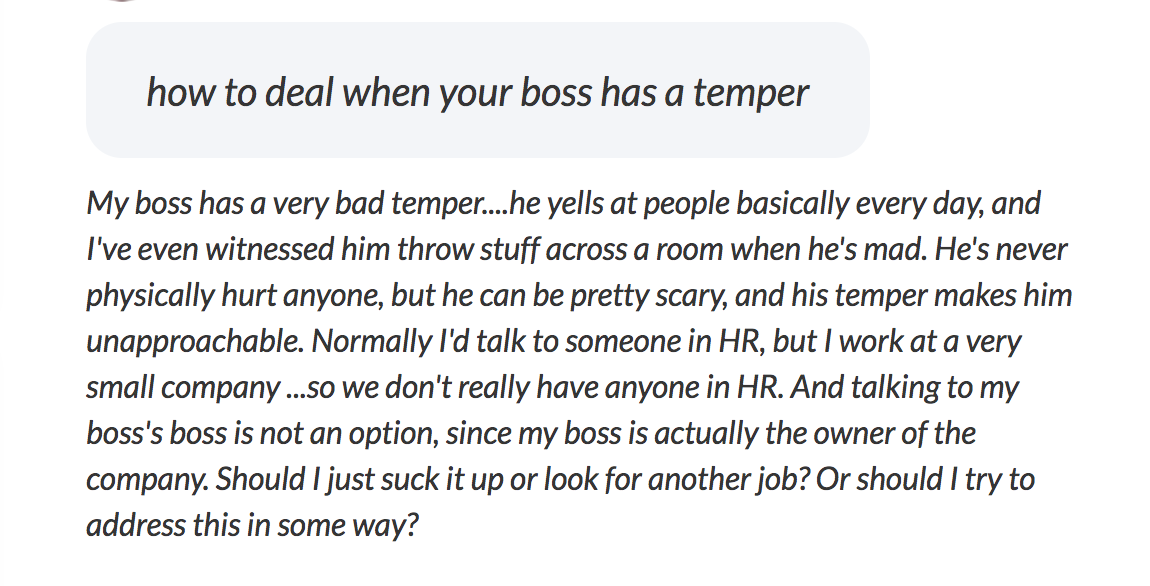 Several other FGB women responded to the original poster offering advice and sharing their personal stories with similar boss behavior. And across all of their responses, five key tactics emerged.
1. This kind of behavior isn't just unprofessional — it's unhealthy.

We agree wholeheartedly with this FGB'er. While raising one's voice when upset or under stress is one issue to deal with, having a boss who throws objects means they're putting yourself and your coworkers in physical danger. And that is never acceptable.
2. Preserving your safety is a justifiable reason to leave a job.

No one should have to feel concerned for their safety while at work. If this is the case for you, it's worth considering leaving your company altogether, if you're in a position to do so. But if you enjoy working at the company overall and want to stick it out, this FGB'er also suggested speaking with a colleague who is close with the boss. This is solid advice, but we would recommend choosing your confidante and words wisely, as this person sadly might use your words against you, which could result in the unexpected loss of your job.
3. If the situation seems remediable — and if your boss doesn't seem like a threat to your safety — try talking to them when they're in a calmer state.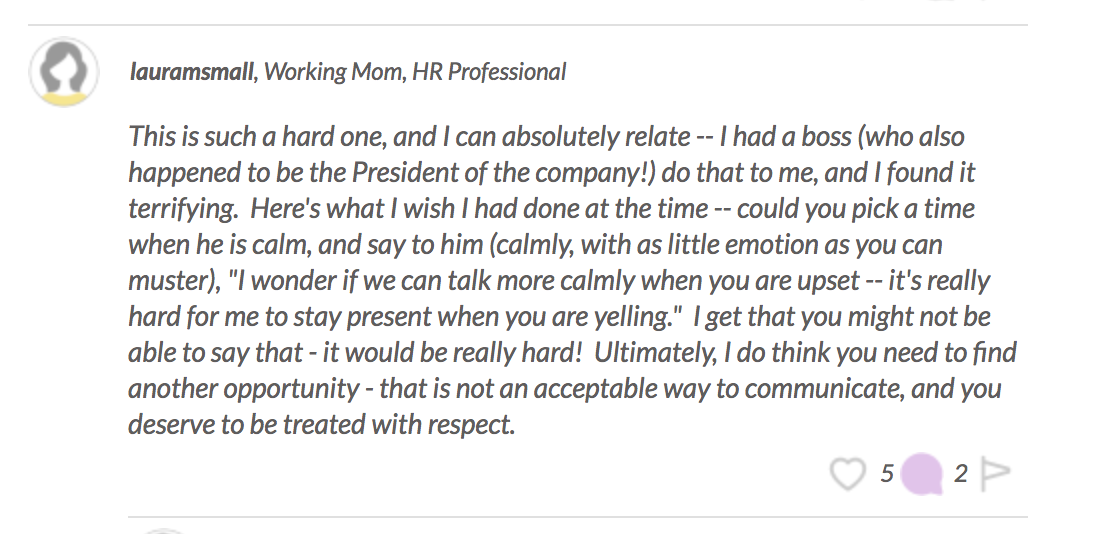 Try approaching your boss about the issue when they are calm and collected, and base your concern on something that deals with you rather than them. For example, tell them you cannot focus on a solution while being yelled at rather than simply saying they should stop yelling because it is toxic and upsetting.
4. Before you leave the company, review your employer online.

If you've determined the situation isn't worth sticking out, warn other women about the culture they can expect to find at this company by leaving an (anonymous, free) Fairygodboss review.
5. Prioritize your own wellbeing, mental health, and happiness in the workplace.
Take time to evaluate whether or not this is a dealbreaker for you. Is your boss' terrifying temper changing the way you view your job? Do you not enjoy being at work anymore? Are you afraid of what he might do each day? These are questions you must ask yourself. You should concern yourself with your own health and do what is right for you. And if that means searching for a new job, start looking! You can always try to talk to your boss about his behavior before sending out your resume to see if any changes are made. These situations are hard, and the best advice is going to come from within.
Other women deserve to know what kind of boss they may be working with when interviewing for your open position. Warn others via the many career sites online, like Fairygodboss and more, and detail your boss' behavior and tantrums he threw in the office. Furthermore, this type of behavior could be triggering for women who have dealt with similar or worse behavior in the past. Also, reviews like these are anonymous!
For all other career, boss, and workplace issues, reach out to the FGB Community to receive advice and similar stories from other FGB women everywhere.