Many companies today are actively invested in growing their pipeline of technical female talent — but knowing where, precisely, to source that talent from can be another matter.
At Fairygodboss, one thing we consistently hear from our corporate partners is that many find it difficult to get their job openings in front of the diverse, qualified pool of female talent they're after, especially in tech. On the other hand, our community of professional women reports a different lament — one of frustration over today's job search process, and the frequency with which they apply online for jobs that feel like the perfect fit, only to never hear back.
So, Fairygodboss staged its second Virtual Career Fair — this time exclusively for women in tech — with the goal of functioning as a bridge, for both parties. The response from our community was overwhelming, with a registration pool just shy of 1,000 vetted, technical women who were eager to connect with the fair's participating companies. Those companies, all of which walked away with the resumes of 983 highly qualified women, included: IBM, HP, Walmart, ADP, Charles Schwab, Raytheon, Boston Scientific, 3M, Cognizant, Schlumberger, and Fisher Investments.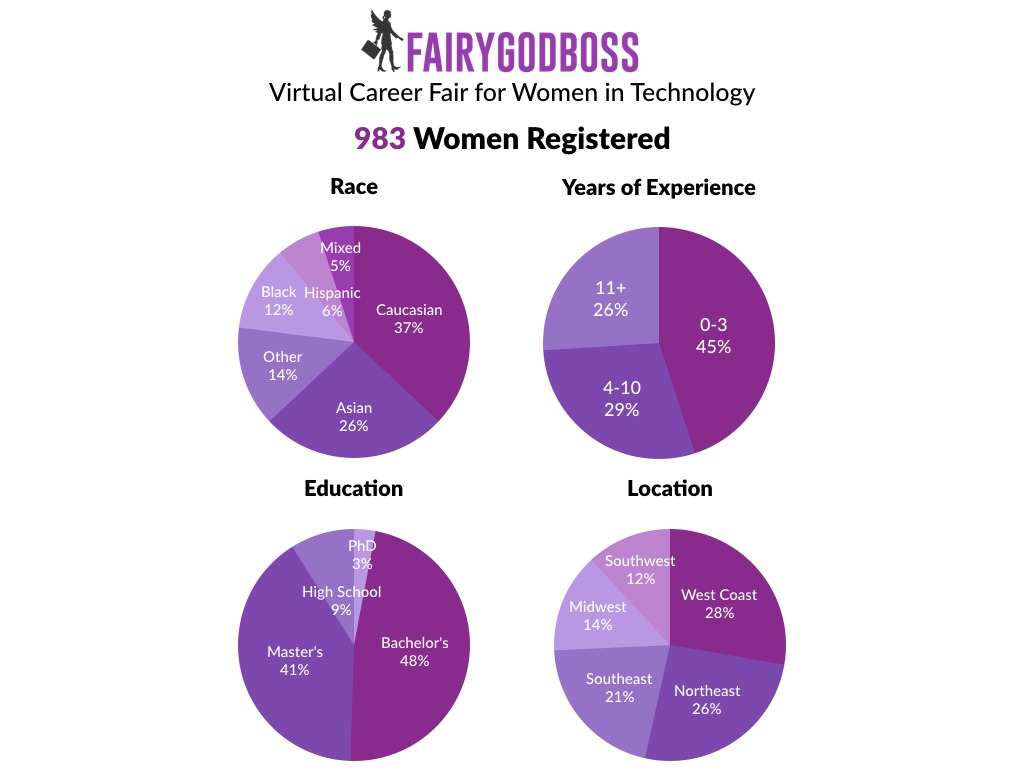 From software engineers and developers to tech managers and UX/UI designers, the specializations of participating female job seekers were varied, and engagement was high. A full 56% of registrants logged on the day of the event to instant message and connect directly with recruiters, who were stationed in state-of-the-art virtual booths.
The fair was diverse beyond the technical functions that were represented, as well. Fairygodboss was thrilled to see that 63% of participants self-identified as women of color, and that they logged in from locations across all regions of the U.S. Education did seem to be a common denominator among the women; 44% had either their Master's degree or PhD.
As for the employers who were represented, Boston Scientific called the turnout "fantastic," and Cognizant observed after (virtually) meeting with several job seekers that "if you need full-stack developers and aren't attending, you are missing an opportunity." For their part, the recruiters at HP said they were "very happy with the platform," and that they had "gathered CVs and information about high quality candidates" who were "wonderful" to chat with.
After such a successful event, Fairygodboss is looking forward to connecting more companies with highly qualified female talent through additional Virtual Career Fairs in the future. Stay tuned!