Just in time for the holidays, the internet is engaged in a less-than-cheerful debate about a recent Girl Scouts statement.
In a statement titled "Reminder: She Doesn't Owe Anyone a Hug. Not Even at the Holidays," the Girls Scouts advocate that parents respect their children's bodily autonomy and avoid forcing them to make physical contact with relatives.
In the statement, Girl Scouts' developmental psychologist Dr. Andrea Bastiani Archibald says: "The notion of consent may seem very grown-up and like something that doesn't pertain to children, but the lessons girls learn when they're young about setting physical boundaries and expecting them to be respected last a lifetime, and can influence how she feels about herself and her body as she gets older. Plus, sadly, we know that some adults prey on children, and teaching your daughter about consent early on can help her understand her rights, know when lines are being crossed, and when to go to you for help."
While many parents on Twitter applauded the scouts for helping kids set healthy boundaries...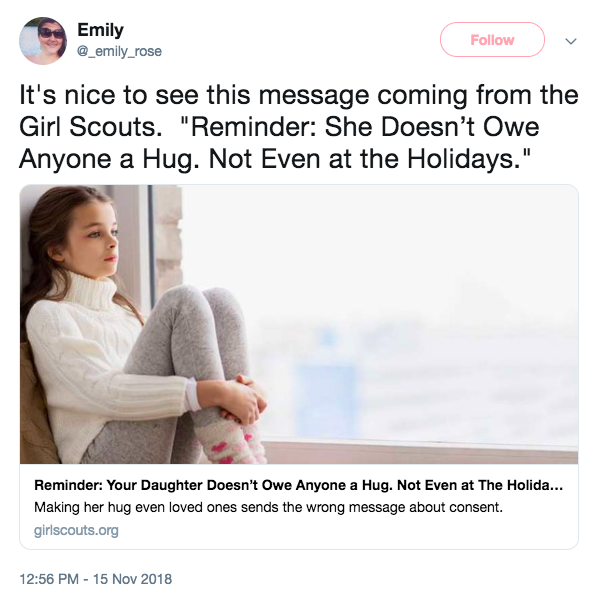 Others worry the organization went too far. Most critics worry the statement is equating innocent affection and predatory acts of invasion, or discouraging healthy familial relationships.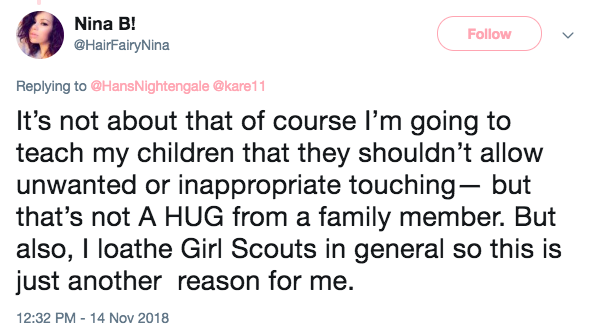 This might be a heated debate, but I think there's one thing we can all agree: Girl Scouts cookies are bomb.
Do miss out on articles like these. Sign up!
More on consent education:
--
Una Dabiero is an editorial associate at Fairygodboss. She likes pop culture, reading things that make her think, and hearing women's stories. Don't follow her on social media (please), but do follow her on the FGB community.