Braze makes customer engagement a breeze. Their customer-engagement platform allows brands to build direct relationships with their customers through digital messaging experiences — enabling them to solve hard problems at scale and work with more than 1,000 of the world's leading brands, including Canva, HBO Max and Venmo. At the same time, the company also empowers employees to build working relationships that propel their careers forward, too.
Braze achieves their goals via their six core values:
Take your seat at the table: Welcoming and respecting unique talents and perspectives. As part of this, employees are encouraged to roll up their sleeves and join in — since everyone is building Braze together.

Don't ignore smoke. With constant vigilance, Braze employees help each other notice issues before smoke turns to fire. They have a culture of celebrating the messenger and assisting however they can.

Shape the future. Braze believes in the positive trajectory of change, making investments, taking calculated risks and guiding others down the path of their vision for the future.

Embrace curiosity. Braze employees are explorers of details and new horizons. They embrace a growth mindset and pursue their curiosities to acquire new mastery and hone existing skills.

Seek the truth. Braze employees combine intelligence with humility to challenge assumptions and ask thoughtful questions. They make better decisions by deeply understanding the world.

Be a human. Each employee contributes to the Braze culture through their individuality. They operate with integrity, and, above all else, are kind
Braze's leading culture and technology has even been recognized externally. The Braze customer-engagement platform was recently named a leader in the Forrester Wave for Cross-Channel Campaign Management for solving hard problems at scale. They've also been listed on Crain's 2021 Best Places to Work in New York City, Fortune's 2021 Best Workplaces for Millennials and the 2021 UK Best Workplaces for Women.
Want to know more about what it's like to work in this award-winning culture? We'll dive further into Braze's culture and benefits in this article.
Cultivating a culture of community, kindness and growth.
At Braze, they make diversity and inclusion a top priority, not just for their company's success, but because they believe it's the right thing to do. They strive for equal representation and parity of role and ensure that everything we do is inclusive for everyone.
As part of this mission, Braze hosts a variety of employee groups that build a strong, inclusive community.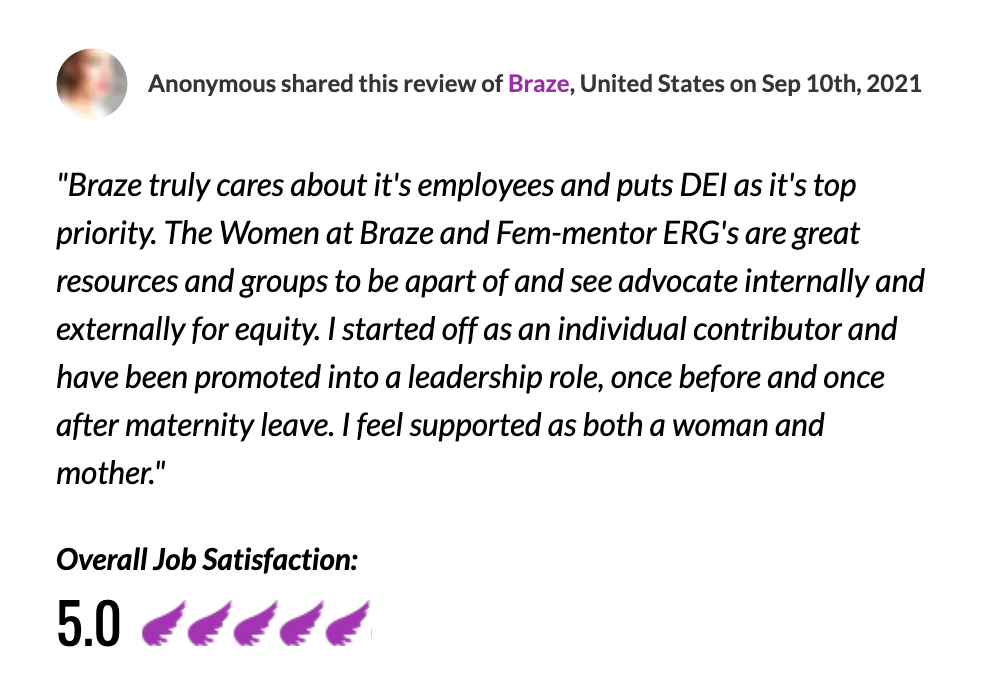 An anonymous review of Braze.
To help people feel connected, Braze offers groups like Braze Passions, a monthly opportunity to share a topic of interest with coworkers, and the [email protected] and [email protected] employee resource groups, which exist to expand connections for members across the company and their wider community. Braze facilitates intentional mentorship pairings through these groups, too.
"One way many women uplevel their career pathing at Braze is in getting involved with Elle, which has a mission is to drive connectedness and empowerment while facilitating professional development and learning opportunities for women," Braze says. "The group provides employees with a chance to participate in mentorship programs, attend educational workshops and programming and build leadership skills to help drive career success at Braze."
Additionally, Braze is also dedicated to hiring, retaining and developing women across the company. Braze has a number of formal and informal companywide resources and tools that encourage employees and their managers to have regular, ongoing conversations about career development. The company aims to create an environment where women in all departments can propel their career forward. "We also recognize that work-life blend is a vital consideration for joining any company, and, as such, we strive to support all employees in finding the right balance," the company tells Fairygodboss.
This effort pays off! Just ask Rachel Welber, director of customer success operations. "I've been with Braze six years now and have experienced firsthand the incredible growth of the company," she says. "During that time, I've gone from an individual contributor to a senior leader in one of our departments — all while having two babies! I have felt supported as both a woman and a leader the whole time, which is what has kept me here that long. I've never felt like I had to choose between being a mom and an employee. This sentiment and culture has also led me to ensure other parents and women feel supported by helping to lead our parents employee resource group."
In order to further elevate their employees, Braze goes so far as to hold Torchie Value Awards to identify and formally recognize unique and outstanding employee contributions that go above and beyond each day and demonstrate their core values. After all, many of their employees have been around long enough that they helped construct the company's core — but even the newer-hires all share its vision.
Benefits at Braze that we think you'll love.
It's no wonder why women love working at Braze. The culture, combined with the company's comprehensive employee benefit packages, make it an attractive place to work. A few of their many top benefits include:
Modern Health: Which offers eight free therapy sessions and eight free coaching sessions for personal and professional growth and development. Modern Health also has community circles and sessions with topics like "Power of Women" and "Motherhood" to recognize the influence and leadership of women and non-binary people, and to learn how we can further champion one another (Global).

Fully paid leave for disability due to pregnancy and childbirth, in addition to 16 weeks of fully paid baby bonding time after six months of employment (U.S).

Carrot Family Formation benefit. Braze will reimburse up to $5,000 annually (25k lifetime max) for employees and dependents looking to grow their families via fertility services and testing, IVF, egg and sperm preservation, adoption, surrogacy and more (Global).

Tuition reimbursement: The company offers $2,500 in an annual tuition reimbursement for career development. (U.S.)

Charitable donation, with matching up to $100 a year per employee and the annual volunteer week to give back. On top of this, Braze also hosts a donation drive with their employees to increase the amount of impact that they have.

Physical health initiative, including benefits like a sports subsidy for intramural leagues.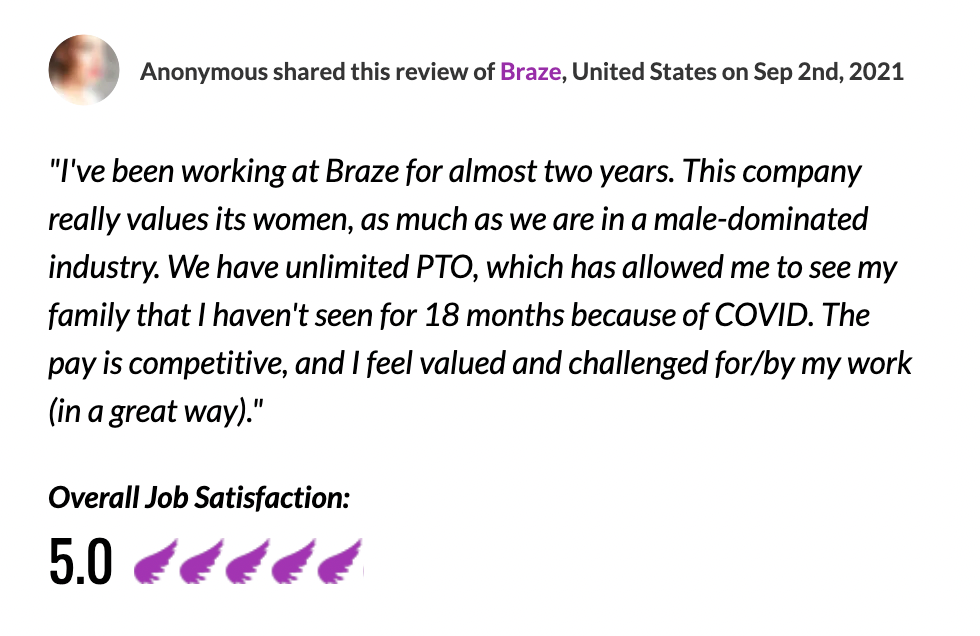 An anonymous review of Braze.
And, Braze goes above and beyond in regards to their mental health benefits. "This year, in particular, we put a big focus on our employees' mental health," the company says. "We shifted from the typical happy hours and cooking classes to offering more meditation and breathwork classes. A number of team members have completed an external training to be certified in mental health first aid. These champions support colleagues through both personal and professional challenges."
Such benefits and focus on mental health have truly benefited employees. "I joined Braze remotely, during a global pandemic, and was pleasantly surprised at how deeply connected I quickly felt to my team and the company culture," says Mallory Anderson, People Business Partner. "I think Braze does a fantastic job hiring people who truly care — about their work and about each other. The work environment, even virtually, is high energy, enthusiastic and very motivating."
Interested in applying for a job at Braze to find out what all the hype is about for yourself? They're hiring! Check out current roles below.
--
Fairygodboss is proud to partner with Braze. Find a job there today!