10
This year, the U.S. Open ended in tears.
Serena Williams lost the final to 20-year-old Naomi Osaka after accusing the match's chair umpire, Carlos Ramos, of sexism.
Ramos gave Williams three penalties.
First, he gave her a warning after accusing her coach of illegally signalling to her. She explained that her coach gave her a thumbs up, and she would never cheat on the court. Later in the game, Ramos gave her a point penalty for breaking her racket in frustration. Then, he gave her a game penalty for calling him a "thief" and accusing him of treating her unfairly due to her gender. She argued women, and especially black women, are held to a higher standard in the sport.
"There are men out here that do a lot worse, but because I'm a woman, because I'm a woman, you're going to take this away from me? That is not right," Williams said.
But when Williams lost, she wasn't the only one who was moved by the experience.
Naomi Osaka cried and apologized on the podium while receiving her title, a massive win for the young player.
"I know that everyone was cheering for her, and I'm sorry it had to end like this," she said.
Fans booed Osaka on stage before Williams asked them to quiet down.
"Let's give everyone the credit where credit's due and let's not boo anymore," she said. "We just — we're going to get through this and let's be positive. So congratulations, Naomi. No more booing!"
Naturally, Twitter had a strong reaction to Williams' game.
She's one of the most decorated female athletes of all time and was vying for her 24th major singles win. This game was a huge deal.
But many users also believe this game perfectly illustrated the bias women of color have to overcome everyday to do…. basically anything. Much less excel as arguably the most influential female athlete of our time.
One Twitter user summed it up perfectly.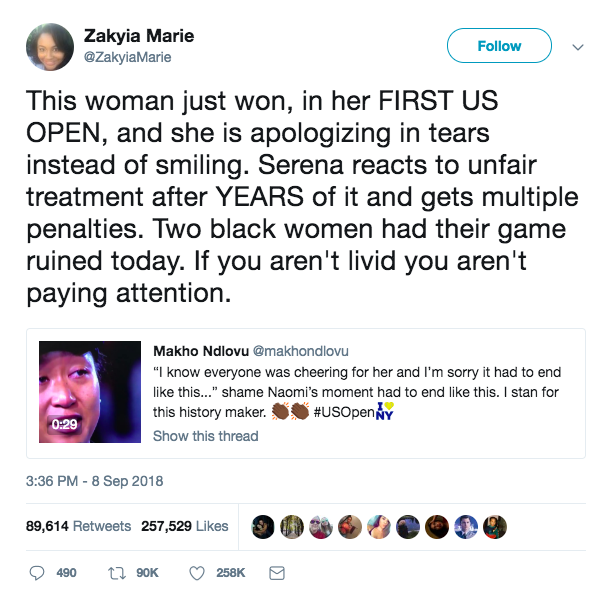 Serena Williams is no stranger to controversy.
Her lifestyle, body, and behavior are constantly policed by the tennis community (and society writ large) in a way male players (or even white female players) will never experience.
This time, she was accused of cheating – as though she needs to cheat to win games or she has some kind of record. Then, she was accused of being too vocal, too loud, too tough.
This unfair bias and control over her body didn't just hurt her. It took away Osaka's shine as she became the first Japanese woman to win the U.S. Open.
When women are policed, it hurts everyone. We should be encouraging each other to be vocal when we feel wronged. And we should support each other the way these tennis players did, despite the extreme stress and public criticism both were experiencing. They're both heroes in my eyes.