Amber Griffin's busy schedule is relatable to any working parent. Between a hectic morning routine, business meetings, appointments and school activities, the Business Development Officer and mom of two is regularly on the go. At times, parenthood can be overwhelming to anyone. Griffin found the transition to working parenthood extremely difficult after she had her first son, and took a career gap to adjust.
In 2013, Griffin joined PNC Financial Services Inc. and radically changed how she experienced work-life balance. She says PNC assisted her in transitioning back into the workforce after son no. 2, and that the company is still helping her to develop her personal and professional goals through their commitment to flexibility and fair policy.
We spoke to Griffin about how she balances her busy day, and why PNC is a great place to be a working parent. Then, she shared her best advice for new parents who want to strike a balance between work and home right away.
Why do you think PNC is a great place to be a working parent?
As a working parent, I find PNC to be a great place to work for the health insurance options, the flexibility to attend school and sporting events, and, most of all, for the parental leave. The ease of filing for maternity leave and the amount of time I was given allowed me to enjoy time with my newborn baby.
What's your pre-work morning routine like?
My pre-work routine is a little hectic. My husband has to get to work very early, so it's just me and the kids most mornings. I will get up and get dressed first, hoping that my 6-month-old son will stay asleep until I am done. If all goes as planned, I wake up my 6-year-old son (which takes several attempts). While he is getting dressed, I will get the baby up. And as I am feeding the baby and getting him dressed, I instruct my older son to get himself some breakfast, which often results in me forcing him to eat cereal or taking something quick to eat in the car. Then, I tell my 6 year old to get his shoes on at least three times. We all make it to the car, then I usually realize I forgot something inside. Once we are actually ready to go, I will drop both kids off with a babysitter, who takes my older son to school and keeps the baby until my husband or I get off work.
How do you find the flexibility that you need to balance work and parenting?
I communicate my needs with my manager and pre-plan all appointments and activities. I utilize my calendar to its maximum capacity to stay organized. If there is an activity or appointment that conflicts with work, I talk through options with my manager and use vacation or personal time as needed.
How did you manage the transition of becoming a working parent?
When I had my first child, it was very difficult to transition back to work. At the time, I did not work for PNC and I actually ended up leaving my job to stay home with my son until he was about 7 months old. When I did rejoin the working world, it was with PNC. I had my second child this past September and I was actually excited to return to work.
What's your No. 1 tip for new parents who are navigating the delicate balance of working and parenting?
Be honest with your employer and your children about your responsibilities at home and at work. It is OK to let the other parent or a close friend or family member fill in for you on occasion, but make sure your manager is aware of the time you need with your children.
What makes you "PNC Proud"?
PNC has not only assisted in developing my career, but also my personal goals. I have the privilege of enjoying coming to work every day. Through my job, I am able to educate and make a difference in my community on a daily basis. Additionally, I have an amazing work-life balance that allows me to be both a great employee and parent at the same time. I am proud to say I am a mom who has a fulfilling career without sacrificing time and memories with my family.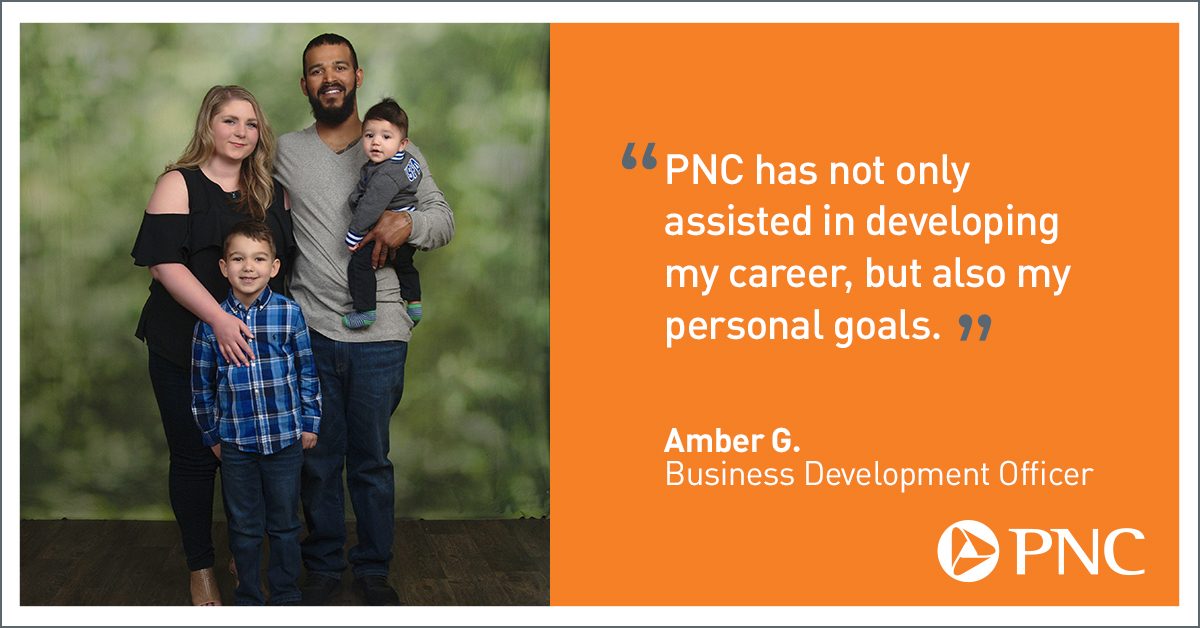 --
Fairygodboss is proud to partner with PNC Financial Services Inc. Find a job there today!