4.87k
Journalist & travel blogger
Listen, your self-care is important. And you're not alone in wanting more of it.
In fact, according to a survey by wellness tech company, Shine, 72 percent of millennial women decided to forgo solely physical and financial New Year's resolutions this year to make self-care and, ultimately, their mental health more of their priority. But have you treated yourself to some serious self-care recently? I'm talking about the kind of self-care that can only be had away from your workload at the office and your mental load at home.
If you have the time off of work, I'd even argue that traveling makes you a better person. And you don't have to travel too far or spend a lot of dollars in order to find some peace.
These seven, totally zen Airbnbs are beckoning you for your next mental health vacation.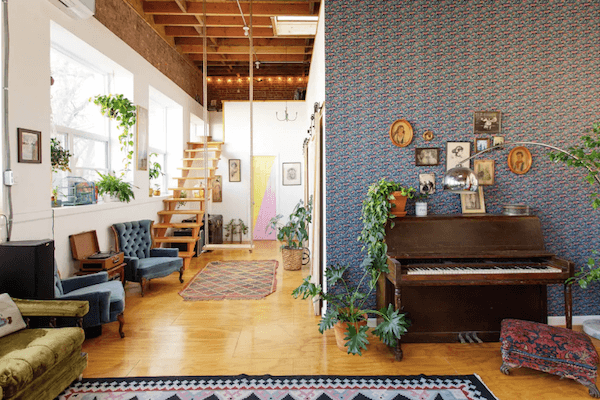 Photo via Airbnb
You don't need to fly to some far-flung, sun-kissed beach to get a dose of tropical delight. You can just spend a weekend in this funky artist loft in Brooklyn's Bushwick neighborhood instead. You'll share the loft with other guests, with whom you might enjoy your complimentary breakfast. But you'll have your own private room behind a sliding barn door in this expertly decorated, sunny space. It won't even feel like a typical New York apartment (aka a shoebox), thanks to the 16-foot open beam ceilings. Time Out Magazine called this the "Coolest Airbnb in Brooklyn," and it's not hard to see why!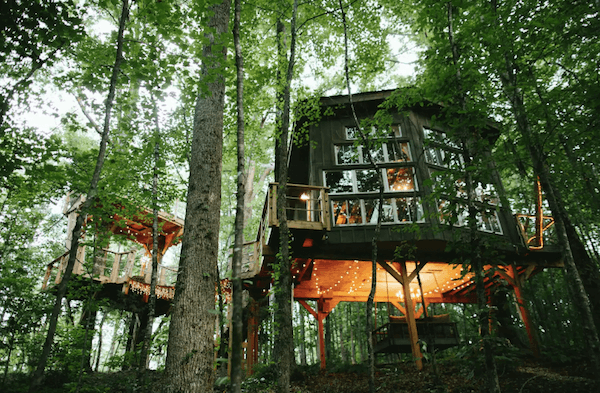 Photo via Airbnb
What better way to get some alone time than to isolate yourself in the middle of 40 acres of lush green, unspoiled forest? You'll have your own cozy and whimsical treehouse replete with a fireplace (and air conditioning). The tranquil hideaway was built from timber harvested on the family's land. And don't worry — this treehouse comes with a functioning indoor bathroom and a hot-water outdoor shower. Your only neighbors: songbirds, red and white oaks, hickory and dogwood trees. Oh, and don't forget to enjoy the 2.5 miles of trails to really give you some headspace.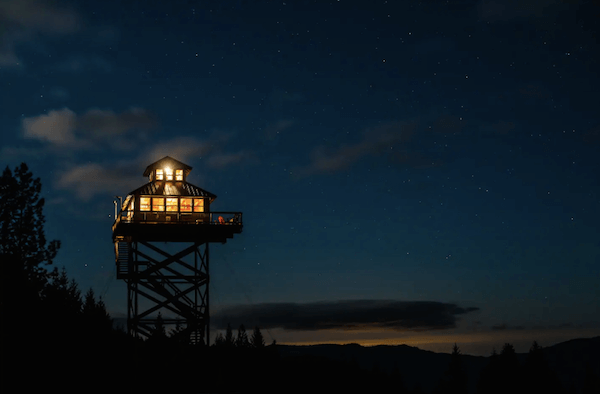 Photo via Airbnb
This off-the-grid home is positioned 40 feet off the ground, landing it on over 25,000 Airbnb Wish Lists. It's so popular, in fact, that it can only take about 50 to 60 reservations per year. If you can land a booking, you'll be promised some serious seclusion under starry skies to truly relax. Think: 160 acres of pure, private bliss surrounded by the Umpqua National Forest. No one to bother you, just the lull of birds humming in the expansive meadow.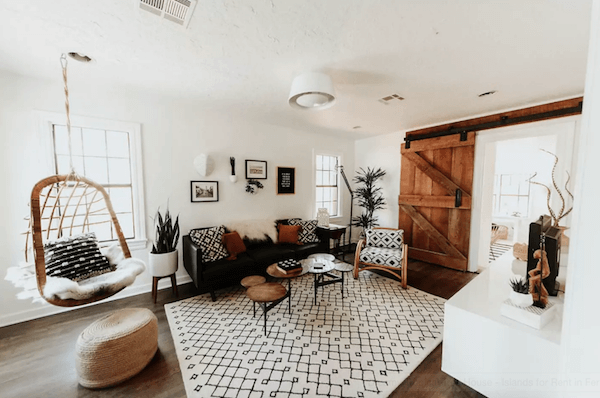 Photo via Airbnb
Kick back in this sun-drenched, hardwood-floored, plant-filled Oklahoma home on 5th Street. Recently listed as the "Best Airbnb in Oklahoma" by Architectural Digest Magazine, this home is situated in the historic neighborhood of Edmond, just steps from anything you might need for your zen getaway — restaurants, bars, shops. Or stay at home and relax in this house's old charm, while enjoying all the new appliances and modern furniture to keep you comfortable.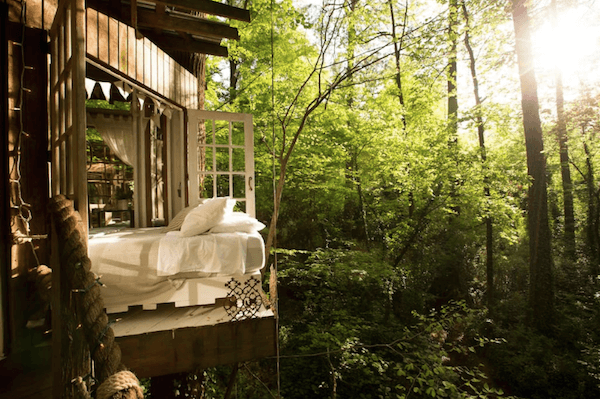 Take a breather in Airbnb's "most wish-for listing worldwide." These three furnished rooms are set among the trees in an intimate and restful retreat, just minutes from downtown Atlanta. Nourish your mind, body and spirit here, as each room is tailored to tend to each. The sitting room (for your mind) is replete with antique furnishing and artifacts, including 80-year-old windows of pressed butterfly wings. The bedroom (for your body) sleeps two, and the double bed swathed in 100 percent long-staple Egyptian Cotton sits on wheels, so you can roll it onto an outdoor platform overlooking the stream below. And then there's the hammock deck, surrounded in thick greenery under the shade of the spirited "Old Man," a 165-year-old Southern Short-Lead Pine.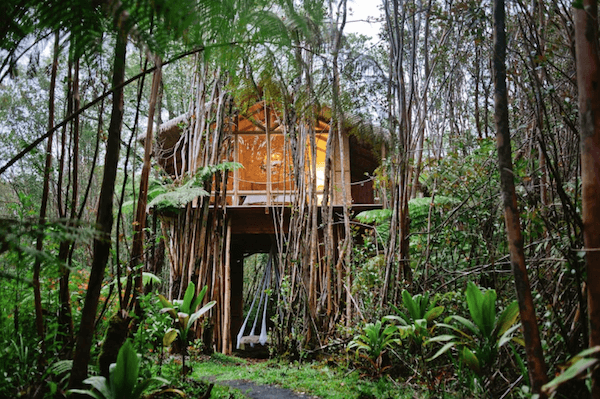 Photo via Airbnb
This tropical tree house sits encircled by a red cinder-dense jungle, nestled on top of 15 feet stilts covered in a canopy of the local flora. It's the perfect place to find peace, as it's surrounded by bubbling energy fields with Volcano National Park is just 10 miles away. Catch up on your reading on the hanging bed, suspended beneath the floor of your living quarters. Or follow the staircase to the trapdoor into your bamboo home. A wall of windows and a wrap-around lanai allow for 360-degree views of the jungle. So even when you're taking a shower under naturally caught rainwater, you can feel like you're truly immersed in nature.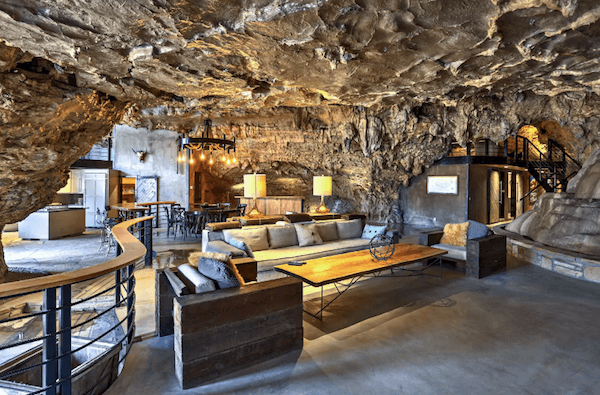 Photo via Airbnb
If you've been feeling like you just want to crawl into your cave and not come back out for some time, you can in this literal cave home in Arkansas (for a cool thousand-ish, anyway). This one might be out of most people's budgets, but there's a place for wishful thinking. This luxury four-bedroom, four-bathroom underground home nestled in a natural cavern boasts 6,000 square feet of space to do all of your reading, Netflixing, podcasting, napping and then some. And when you do want to come out from hiding in the stalactites and natural cave formations surrounding every room, you'll be greeted with views of the valley in a private 260-acre resort.
--
AnnaMarie Houlis is a feminist, a freelance journalist and an adventure aficionado with an affinity for impulsive solo travel. She spends her days writing about women's empowerment from around the world. You can follow her work on her blog, HerReport.org, and follow her journeys on Instagram @her_report, Twitter @herreportand Facebook.