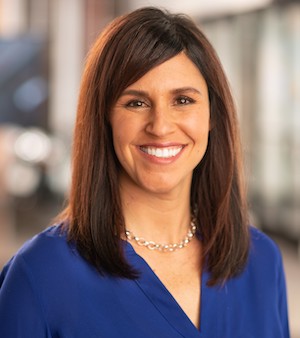 Pam Kermisch, Chief Customer Engagement & Growth Officer and Vice President – ORV Marketing. Image courtesy of Polaris. The culture at Polaris Inc., a global leader in powersports and a Fortune 500 company, is one of enthusiasm, ingenuity and expertise. Employees are passionate and innovative and have an entrepreneurial spirit that has defined the company from when their founders built the first snowmobile through today.
This innovative spirit is shared by Pam Kermisch, the Chief Customer Engagement & Growth Officer and VP of Marketing for Off-Road Vehicles at Polaris. Kermisch's experience in a wide variety of roles throughout her career has taught her the importance of learning from a variety of opportunities, applying your diverse knowledge and continuously reflecting and adapting.
We recently reached out to Kermisch to learn more about her roles at Polaris, her thoughts on developing in your career, tips for leading people and more. You can hear what she has to say below...
Tell us a bit about your job.
Polaris is a global leader in powersports and, whether it is on the road, sand, dirt, snow or water, we like to say that we help people do more outside. I joined Polaris six years ago on the Motorcycles team. Currently, I play two different roles at the company:
In my role as Chief Customer Engagement and Growth Officer, I'm focused on expanding our customer base by introducing new people to powersports and to our 30+ brands. Part of this role is also deepening our relationships with current customers.

For the past 18 months, I have also led marketing for our Off-Road Vehicles business.
There is a lot of value in having both roles simultaneously. Being ingrained in our largest product segment provides me with a deeper understanding of our customers, our dealers and our business. My customer engagement role enables me to see more holistic trends, make connection points and share learnings across Polaris' broad portfolio of businesses.
What's one strategy you've used when managing an individual or team that you think has been particularly effective?
I'm a big believer in providing context so that people at all levels understand how their work aligns to the company's vision and goals, and what challenges we may be up against. At Polaris, we hire smart people who make many decisions every single day that they don't — and shouldn't — escalate up the ladder. If these smart people only get directives or partial information from me, then I'm accountable for an outcome or result that I may not like. They may have done the best with the information they had, but they didn't know the full picture. If these smart people are given more context, they can make smarter decisions every day.
How would you define a great manager? How has Polaris/your own manager helped set you up for success?
A great manager is crucial to development, career satisfaction and employee success, so it matters a lot. A great manager:
Deeply understands my capabilities, including those that go well beyond my current and past job descriptions. They understand what I'm capable of, not just what I've done, and provide new opportunities to stretch and grow.

Realizes my motivations and style. Listening to your employees alone isn't enough. Too many times, I've seen leaders listen and then apply what they care about to the employee's career, and that doesn't work. If you truly understand your employees' motivations and style, you can adapt and find ways to make your employee's experience satisfying for them.

Coaches to make me better. A good manager will provide candid feedback and help their employee understand cultural context at the company. A great manager will coach an employee and help them find ways to leverage their strengths, navigate weaknesses and enable them to be their authentic self. Feedback is helpful, but finding ways to adapt coaching to each employee is most important.
At Polaris, we are invested in our people, but there isn't one common path our employees follow, and I think that is exciting. Instead, it is a partnership between Polaris and the employee, with the employee in the driver's seat of their career. My role as a manager is to support their goals through development opportunities, stretch assignments, candid feedback and providing them support to pursue their goals.
Polaris employees. Image courtesy of Polaris.
As someone who has taken on a variety of different roles at different companies, what have been some of your big learnings regarding development and progressing in your career?
Be Open Minded: There were times in my career when I needed to take on a role that I would have normally turned down because I didn't see the value or, candidly, I might have been intimidated by the unknown. In many cases, I found that I enjoyed — and was good at — these opportunities that I might otherwise have declined. And, in ALL cases, I learned something valuable.

Reflect and Apply: The true benefit of having a variety of work experiences is cultivating your critical thinking and being able to gain a broad understanding that you can apply to all kinds of situations.

Learning to Lead: By having a variety of managers, you will discover different approaches to leadership. This is extremely valuable as you grow in your career and have the opportunity to form and develop your own personal leadership style.
What's your No. 1 piece of advice for job seekers who are pursuing new opportunities?
Develop a strong understanding of what you want by reflecting on your passions, your strengths and what values and culture you desire in an employer and role. You also need to weigh what is most important to you from that list. I ended up joining Polaris' Motorcycle team and turning down an opportunity to work on a pet brand. At face value, anyone who knew me (and my extreme passion for dogs) would think that decision made no sense. For me, it came down to the role, the type of work I was going to be doing and the company culture. And, hands down, it was the right choice, and I've been successful at Polaris because it was the right fit for me.
--
Fairygodboss is proud to partner with Polaris Inc. Find a job there today!