There are many good reasons to attend the annual Grace Hopper Celebration. Among them? Opportunities for networking, professional development and possible job offers, to name a few. For Marie Chi, an IT delivery manager at Southern California Edison, the biggest value she found was in seeing the camaraderie across the women gathered there.
"Getting to hear women share their career journeys was eye opening," Chi said. "It was a celebration of women in technology at all career levels, and topics of discussion were applicable to all women within both their personal and professional lives."
Luckily for Chi, banding together with like-minded women in tech is something she has access to more than once a year. At SCE, her employer of almost 10 years, women are playing major roles in advancing the company's mission to create a clean energy future. Nearly a third (and counting) of senior management is female, and employee reviews on Fairygodboss testify to the company's "very supportive environment for young women, women with kids and women with many years of experience." It all amounts to an inclusive, synergistic culture that Chi loves.
"What I love most about my job is the team collaboration required to succeed," she said. "I like brainstorming with others and coming up with alternative solutions."
Recently, Chi shared with us the ways she's been professionally inspired by the women around her, both at Grace Hopper and on her team, and her No. 1 piece of advice to women in tech who hope to claim such a culture for themselves.
Tell us about your experience at the Grace Hopper Celebration. What made it special?
Grace Hopper Celebration 2019 was an amazing experience. Every session and presentation I attended was inspiring. Getting to hear women share their career journeys was eye opening. It was a celebration of women in tech at all career levels, relevant to both our personal and professional lives. It was empowering to see so many like-minded people interested in advancing a world where the people who create and develop technology mirror the people and societies for whom they build it.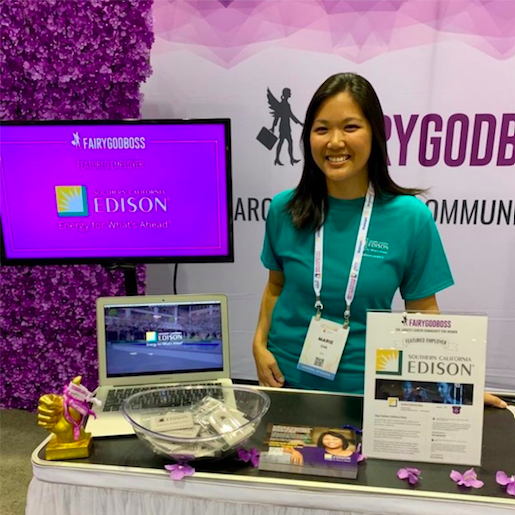 Marie Chi, IT Delivery Manager at Southern California Edison
What was your favorite presentation that you experienced during Grace Hopper?
My favorite presentation at Grace Hopper was the opening keynote presentation. It showcased all of the innovative female leaders who are changing the world with technology.
What's the last thing you do at work every day?
The last thing I do at work every day is to look at my work calendar to mentally prepare for my next day and ensure I have everything I need for my meetings.
What are you currently reading/watching/listening to?
I am currently listening to Jennifer Morgan's podcast, "A Call to Lead." This is a great podcast to hear leaders from all different industries talk about their career journeys and how they overcome challenges and obstacles to get to where they are today.
What's your No. 1 piece of advice for women who are looking for jobs right now?
My biggest advice for women looking for jobs is to search for opportunities outside of your comfort zone. There are many different types of jobs out there that people often don't realize have an inter-connection to what they are originally looking for.
--
Fairygodboss is proud to partner with Southern California Edison. Find a job there today!