1.84k
Here's a genuine, honest, incontrovertible fact for you: Serena Williams is a superhero. And during yesterday's French Open game against Kristyna Pliskova, Williams' first major tournament face-off since giving birth to daughter Alexis Olympia in September, the 23-time Grand Slam champion really dressed the part.
Williams took the court in a sleek black Nike bodysuit, which she selected because of its capacity to prevent blood clots. Williams told The Guardian that she struggled with clots after giving birth and attributed her wardrobe choice to her health concerns: "I had a lot of problems with my blood clots, and, God, I don't know how many I have had in the past 12 months. So it is definitely a little functionality to it."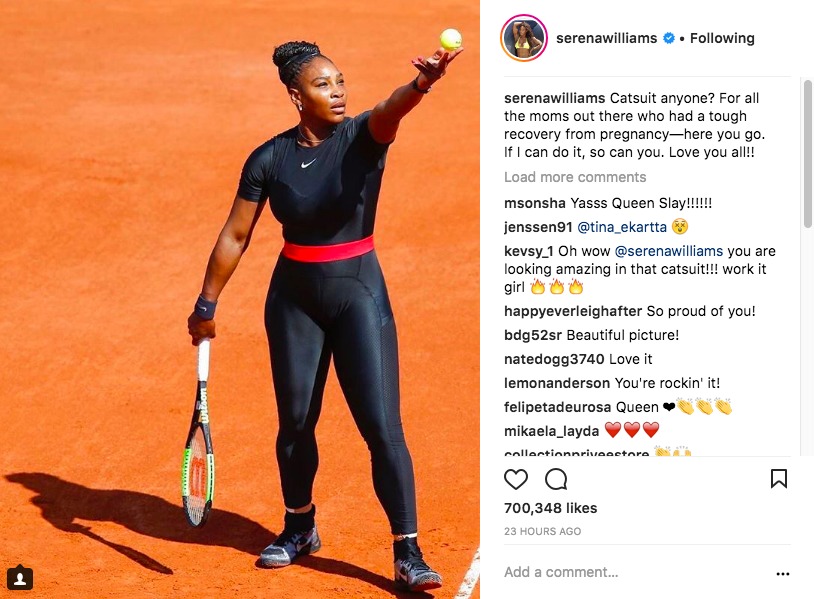 (Source: Serena Williams/Instagram)
"Catsuit anyone?" she wrote in the Instagram post's caption. "For all the moms out there who had a tough recovery from pregnancy – here you go. If I can do it, so can you. Love you all!!"
For style inspiration, Williams looked to the futuristic ensemble worn by the King of Wakanda in Marvel's Black Panther. "I call it, like, my Wakanda-inspired catsuit. We designed it way before the movie, but still, it kind of reminds me of that," she explained.
The fashion-forward tennis star just launched her own eponymous fashion line dedicated to functional pieces well-suited for an active lifestyle with a confident and sexy aesthetic. Williams believes in fashion's potential to build self-esteem and show off inner strength, saying the following about her catsuit: "It feels like this suit represents all the women that have been through a lot mentally, physically, with their body to come back and have confidence and to believe in themselves. I definitely feel like it is an opportunity for me to inspire a whole different group of amazing women and kids."
Between her stunning millennial-pink ensemble at the royal wedding, her 12-piece debut collection, and her ability to rock a catsuit like no other (no offense, T'Challa), Serena Williams continues to reign supreme both on and off the court.