10
After months of treating her second pregnancy like one extended performance art piece, Queen Bey has finally shared a maternity look that us mere peasants could actually replicate.
Since announcing she was pregnant with twins in early February — in a highly stylized photo series debuted on Instagram, no less — the "Formation" singer has consistently, and carefully, presented herself as Mother Earth incarnate. When performing at the Grammys a couple weeks after her announcement, her swollen belly was not only front and center, it was the night's central aesthetic theme. Dripping in gold and wearing a headpiece evocative of the Yoruba goddess Oshun, Beyonce's portrayal of fertility and motherhood was, at its core, mystical, a motif she's continued to expand on ever since.
And honestly, it only makes sense this would be the version of pregnancy Beyoncé extends to us. Her diehard fanbase has long since been accustomed to referring to her in exalted, near-religious terms. With two lives now growing in her, it's not all that surprising Bey would use this opportunity to present herself as the Supreme Goddess we've been positioning her as all along.
But this hyper-curated presentation also comes with its critics. Last week, the New York Times ran a piece questioning the harmful implications such an unattainably glossy image of pregnancy could have on Beyoncé's adoring public.
"She has created a new paradigm for what it means to be a pregnant woman in the public eye — one in which the very act of conceiving and carrying a child (or two children; she is having twins) becomes de facto proof of the power of femininity, doled out in carefully controlled and stage-managed moments," the article said. "The problem is, for many women it is also messy, sometimes uncomfortable and just another fact of life."
Call it a coincidence, but Queen Bey seems to have taken that message to heart. In an Instagram post on Thursday, she shared the first ~normal~ image of her pregnancy to date: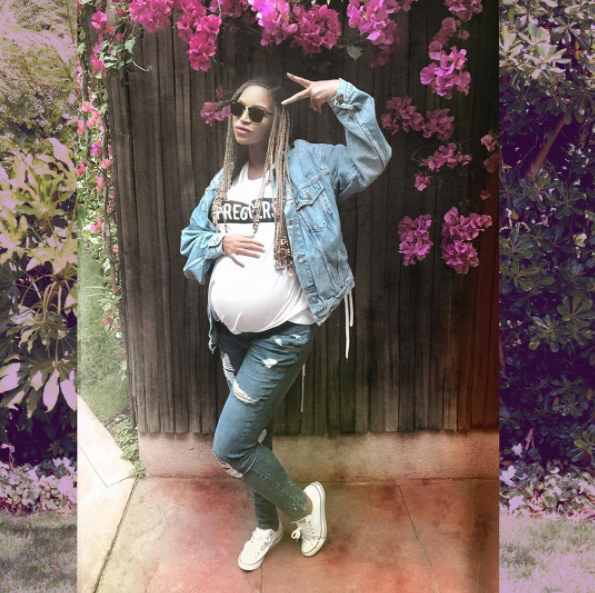 (Source: Beyoncé / Instagram)
Wearing a $23 ASOS t-shirt that reads "Preggers" and dressed down in denim, the singer looks adorable, though decidedly less glam than in her previous pregnancy photos. (But of course, lest we somehow forget the miracle of life is happening inside her, she's still surrounded by flowers in full bloom, another of her recurrent Insta-tropes.)
Sadly, Bey's ASOS shirt is already sold out. But for more maternity looks that are actually cute, check out our shopping guide here!

Fairygodboss is committed to improving the workplace and lives of women.
Join us by reviewing your employer!