After learning they're pregnant, many women begin to examine the intricacies of their company's maternity leave policies. But some — like Kendra Scott, founder of the eponymous billion-dollar jewelry company — are contemplating not how best to leave the workforce, but how to enter it.
Just three months after having her first child, and with only $500 in startup capital, Scott debuted her own jewelry line from her office, the spare bedroom in her Austin, Texas, home. Thirteen years and over a billion dollars in revenue later, the company now has more than 60 brick-and-mortar locations, and Scott's customizable jewelry has been seen around the necks and wrists of many a Hollywood elite (Hillary Duff is a noted fan).
So, how did the mother of three turn some baubles designed in her bedroom into a booming franchise? At a recent event honoring fashion-maven moms in New York, Scott sat down with Footwear News to share her best tips for starting and managing a successful business alongside a family. Here are 5 stand-out tips:
1. Passion is nonnegotiable.
"Whatever it is that you're doing to do, it needs to be something that you're passionate about, because then you really won't be working — and those long, sleepless nights will be so much more worthwhile."
2. Bring something original to the table.
"Don't be afraid to go against the grain, because if you're doing what everybody else is doing, then you've already failed. You've got to do it different, and you've got to put your own unique fingerprint on it, because that's what's going to get you noticed."
3. Be intentional about those you surround yourself with.
"The most important thing is to surround yourself with great people. Know what you're good at and also know what you're not good at, and bring people around you that are great at the things that you struggle with, and build a winning team."
4. Being a mom isn't an impediment to your career — it's an advantage.
"I think (motherhood) has helped me tremendously (as an entrepreneur), because once you get this gift of becoming a mom, everything else around you comes into perspective (and you realize) what's important… Running a company from that perspective — from the shoes of a mom — has really made our company special and unique."
5. As a mom and business owner, you can — and should — use your platform to help other mothers.
"We offer an amazing extended maternity leave (as well as) paternity leave for fathers. We have a wellness room so that (mothers) can nurse or pump. We have a refrigerator (in there) dedicated to mothers' milk… We want our moms to know that family is first at Kendra Scott. We don't want you to ever miss a recital or a doctor's appointment. I trust and respect my employees that they're going to do what they need to do to get their job done, but they need to be present for their families. When you do that, you have happy, joyful people that are thrilled to work for the company."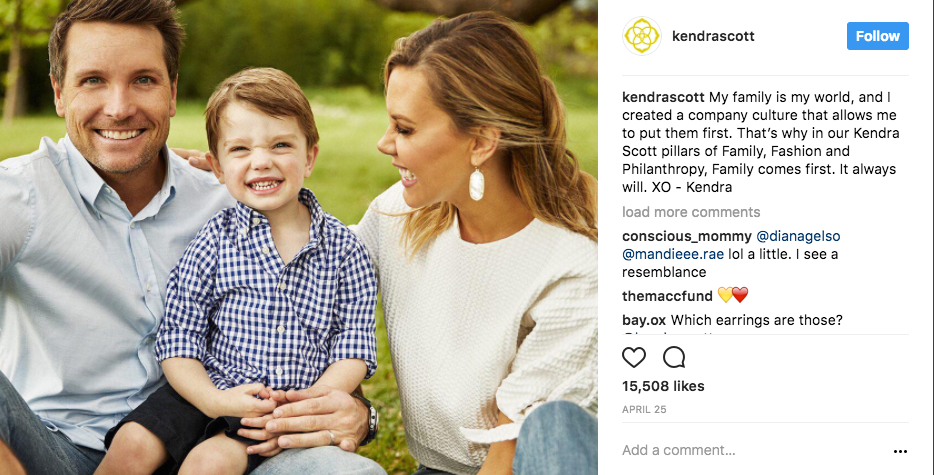 (Source: Kendra Scott/Instagram)

Fairygodboss is committed to improving the workplace and lives of women.