What does it mean to be accountable? For Eaton — a power management company dedicated to improving people's lives and the environment through technologies that are reliable, efficient, safe, and sustainable — part of the answer to this question is to publish a public Global Inclusion and Diversity Transparency report.
This is an important step for Eaton, since as Craig Arnold, Chairman and Chief Executive Officer says, they "aspire to be a model of inclusion and diversity in our industry — a place where everyone matters, a place where everyone belongs."
Let's take a look at Eaton's diversity, equity, and inclusion journey, progress, and a few of their actionable goals, which were shared in this report. And, if you'd like to learn more, you can read the full report here.
How Eaton has prioritized diversity, inclusion, and equity.
Eaton's culture is based on embracing the different ideas, perspectives and backgrounds that make everyone unique. They believe that this outlook helps them attract, retain, and engage top talent around the world and makes them stronger as a company.
As part of this, Eaton maintains a clear code of ethics and ensures that their facilities are safe and sound. They provide flexible work options, learning and development programs, and offer everyone opportunities to advance. Eaton wants to be a place that's open to everyone.
One aspect of this is developing women in the workforce. In 2020, they piloted a new executive leadership development experience, the Linkage Women in Leadership Institute. The session focused on key skills identified as being essential for women leaders to advance. As part of the experience, participants had the opportunity to interact with C-suite leaders — providing a valuable and inspirational way to network and dialogue.
"I firmly believe that inclusion and diversity is more about building capability into people, processes and practices and less about initiatives," says Monica Jackson, vice president, Global Inclusion and Diversity. "Inclusion and diversity is a complex puzzle — made up of several uniquely-shaped pieces with the potential to interlock, and in turn, unlock true innovation and growth."
Already, Eaton's push for equity in their workforce is making headway. By the end of 2020, Eaton's board of directors was 33.3% women and 22.2% U.S. minorities, and their global leadership team was 19.2% women and 54.2% U.S. minorities.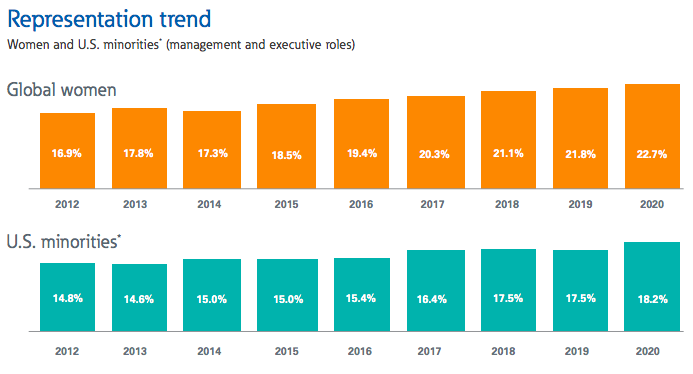 Eaton's representation trend. Image courtesy of Eaton.
Eaton is also making a push to enhance second chance hiring, where they hire people with prior criminal records. More inclusive hiring is a way to break the cycle of poverty, build stronger economies and provide opportunities to individuals who were previously incarcerated and who are struggling to support themselves and their families. As a result, of the nearly 11,000 people Eaton hired in the past three years, 10.4% had prior criminal convictions.
And, as a central part of forming a welcoming community, Eaton hosts eight Inclusion Eaton resource groups (iERGs), which bring together employees who share a common purpose, interest or background. iERGs help Eaton identify priorities, build cultural competency, engage in business projects and get involved in talent initiatives.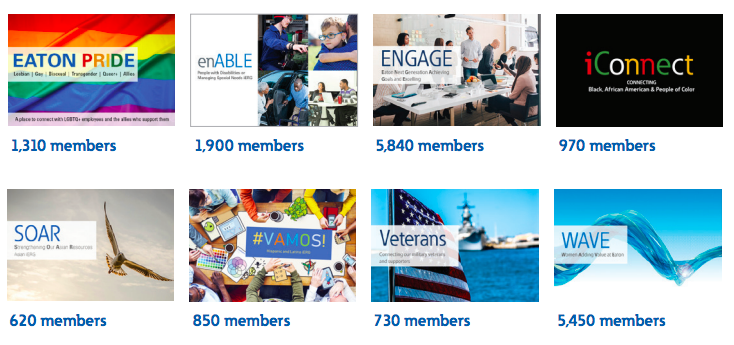 The Eaton iERGs. Image courtesy of Eaton.
This focus on I&D is getting recognized outside of Eaton, too. A few of the many awards they've received are:
Ethisphere Magazine's 2021 World's Most Ethical Companies
Fortune's 2021 World's Most Admired Companies – for the 4th consecutive year
2021 DivHERsity Award from JobsForHer celebrating gender diversity
Human Rights Campaign 2021 Best Places to Work for LGBTQ Equality – their 6th consecutive year of earning a perfect score
2021 Top 50 Employer Minority Engineer magazine
2021 Top Entry Level Employer by CollegeGrad.com
Looking to the future: How Eaton plans to improve.
Now and in the future, Eaton wants to be a known proponent of diversity and inclusion, both within and outside their organization. For this change to happen, they have to be intentional. "To grow personally and professionally, we must be intentional about inclusion. We must be decisive when it comes to our commitment to diversity." states Ernest Marshall, executive vice president and chief human resources officer.
To achieve their vision, Eaton is aiming for the following by 2030:
Maintain or exceed current representation of women and U.S. minorities on their board of directors and senior leadership team
Increase representation of salaried* global women to 40%
Increase representation of salaried* U.S. minorities to 34%
Achieve an inclusion index score of 80% or higher
Want to join Eaton and help in their vision of making their company and world a better place? Now's the time — they're hiring! Click the following link to browse current positions.
--
*Salaried is defined as Eaton salary band six and higher.
Fairygodboss is proud to partner with Eaton. Find a job there today!