The following interview features Kelly Romano, an Investment Counselor at Fisher Investments.
Tell me about your professional experience prior to working at Fisher Investments. How did you start your career?
After achieving an undergraduate degree in finance, I acquired my licensing early on. I started my career as an assistant to the top investment advisors at Northwestern Mutual. I got my feet wet working with clients throughout the 2008 financial crisis and learned the importance of understanding people and the psychology behind their decision making, especially in times of extreme emotions. I decided that I wanted to build my own book and sought out firms that had an established network. I worked for Valic and JP Morgan prior to Fisher. In commission-based roles, you're always working. I spent five years building a book where I worked six days a week and was ready for a change with a better work/life balance.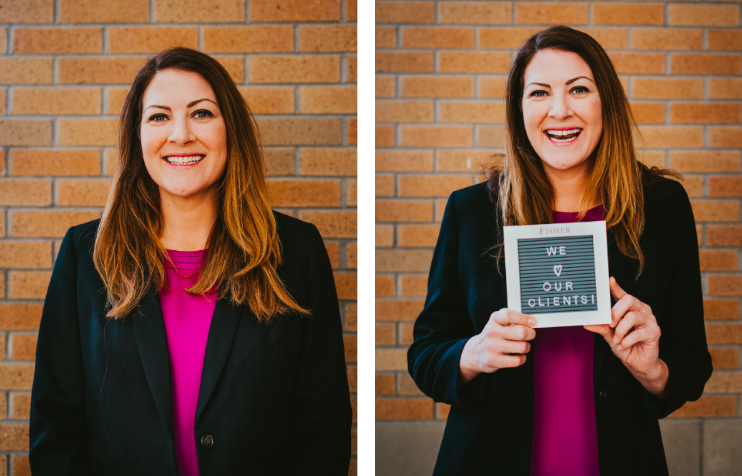 How did you make the transition to Fisher Investments after a successful career in the industry?
I knew that I loved helping people but I needed to find a platform that wasn't just solely about annuities or life insurance. I'm a CERTIFIED FINANCIAL PLANNER™ professional and I wanted to utilize that skillset to help people grow their assets. I've always admired Fisher as a company that I would like to work for someday. I was already familiar with the services that Fisher offered and valued the communication with counselors, the process and education, and felt it would be the best fit for me as a planner.
Can you tell us more about the Investment Counselor role and why it's been a good fit for you?
We talk to clients about their whole picture and provide the resources and tools they need to make good financial decisions. I spend most of my time listening; it's a really good day when I'm answering questions and being of service. There are so many resources in the financial planning network. We are able to connect clients with CPAs and attorneys and there are many different departments at work. I owe the operational teams that support the work I do, and allow me to focus completely on my clients, way more than just a thank you.
You're very active when you're here, focusing your time on your clients and really building those relationships. But at the end of the day my work stays at the office and I can devote my attention towards my exercise regimen and being a cool aunt. It's been empowering to utilize all of my skill sets without having to seek out my client base. Our sales department educates prospects and brings them on as clients so I can focus on servicing them.
What skills have led you to be successful in this role?
Try to become an expert in your craft. In this role, having market knowledge laid the groundwork for having those discussions with clients. I've been in the industry for 17 years, and all my knowledge initially came from getting my CFP® certification, but I'm still constantly learning.
My clients depend on me to educate them so they can make decisions that affect their financial wellbeing, so I'm always staying up to date on trends. This can all be learned though!
Having confidence is crucial for all advisors. Own that you are in a role of advice and take that seriously. If you can't convey a message and do it with confidence, then your client won't have confidence in the relationship.
Rapport building and active listening are always a priority. You truly need to understand each client's goals. For example, if you don't understand that paying for their son's college tuition is a top priority, you won't be able to provide a plan that aligns with those goals.
What's the most rewarding part of your job?
Conversations with my clients, 100%. Especially if I have a breakthrough with one of them. That's really a good day for me and that's why we're here: to answer questions and be of service.
What kind of training and development did you receive as a new hire?
I came in at a different experience level and had to re-learn certain habits, but Fisher provided me a month of training classes which gave me all the tools and skillsets I needed to be successful. I was just blown away with the whole developed training program here.
Before I came to Fisher, my managers would take me to lunch from time to time when I was hitting my numbers, but otherwise, they just let me do my thing. At Fisher, managers have check-ins regularly, talk about your career trajectory, and provide development opportunities. Just knowing that someone wants to help me develop and figure out my next steps is huge!
What's keeping you at Fisher?
The career flexibility and resources, for starters. In the broker-dealer world, you will always be an advisor and that is a career plan for most people. Here, if you don't want to be an Investment Counselor indefinitely, there are other opportunities for you and internal classes to help build new skill sets.
What Fisher offers in benefits alone makes me want to retire here! We have a 50% 401(k) match! They also cover 100% of medical, dental, and vision premiums, which are huge for anyone but especially someone with a family, as they are covered too!
How did you find your voice in the industry? What advice do you have for women who are on the job hunt?
Honing in on your skillset is really important. For me, I had to figure out what my strength was – the analytical side or the people side. I wanted to be the expert on the people side and the CFP® mark helps with that if you're going to be in advising. I feel that women are natural listeners, which help us relate to people. This has helped me tremendously in my career.
Finding ways to boost your confidence is a must. When I was first starting out, it took the designations behind my name to give me that confidence with clients. I came from finance right out of college; I was young. I didn't sound like I do now. It took time and on-the-job experience to learn how to say things and have them be effective. Those who can grasp it quickly are the ones practicing in the mirror at home at night. It takes time and repetition to gain confidence in what you have to say.
--
Fairygodboss is proud to partner with Fisher Investments. Find a job there today!