These bags are not only functional, but they're aesthetically pleasing and available for every lifestyle and personality.
For $100 or less, check out Herschell's Retreat Backpack, the Urban Expressions Santorini Tote or Target's Reversible Tote Handbag.
If you have more to spend, the Boden Miranda Tote or the Montblanc 4810 Westside Slim Document Case.
Backpacks, messenger bags, retro-cool briefcases, satchels — with so many options available online and at brick and mortar stores, you might be left wondering, "What's the best tote bag for work?" We've taken some of the guesswork out of your decision-making process and put together a collection of bags of all styles, materials and price points. They'll be sure to complement your career and your style. Read on for our tops picks to find the perfect tote bag for you.
The best tote bags for work
1. Cuyana Women's Classic Structured Tote Bag
This classic work tote from Cuyana is spacious enough to hold your laptop, cellphone, lunch and even a light wrap in case it gets chilly in your office. You can customize the color combo to best suit your wardrobe, and there's even an optional tote organization insert available to purchase to add even more functionality to this bag.
Price: $195
2. Herschell Retreat Backpack
The Herschell Retreat Backpack is a great option — there are different styles and a choice of sizes, and the brand engages in sustainable practices. With 43 color and pattern options, you can choose the style that best suits your personality as well as the size that best fits your stuff. This cutie has a padded laptop sleeve built-in and plenty of pockets and compartments for everything else.
Cost for the mid-volume size and color combo pictured: $84.99
3. Old Navy Dual-Strap Canvas Tote
This bargain from Old Navy is available in the tobacco color pictured as well as in a creamy neutral. Reviewers note that there's ample room for all of your work essentials, plus lots of pockets to help keep you organized. Plus, the price point can't be beat.
Price: $39.99 (but there's a sale right now!)
4. Boden Miranda Tote
Boden is a favorite among folks who love a classic, British-inspired look, and their tote options are just as timeless as their clothing. This tote is spacious but slightly smaller than the options above. Dimensions for this red and navy cutie are 12" wide at opening x 13" high. It's the perfect choice if you aren't lugging your laptop to and from work and want a great-looking bag that will be attractive after work, too!
Price: $220
5. Timbuk 2 Mini Prospect Backpack
Don't let the name fool you, the Mini Prospect Backpack from Timbuk2 has plenty of room to hold everything you need while being light enough to keep your back from aching at the end of a busy day of commuting. There are lots of interior pockets to organize your phone, ID, cash and keys, and you can add water bottle sleeves to the outside for a small upcharge. The version pictured here is customizable with plenty of options for colors, patterns and reflectors to keep you safe on your way to and from your office.
Base cost: $99
6. Urban Expressions Santorini Tote
Specializing in vegan, animal-friendly bags, Urban Expressions has a variety of totes, backpacks and handbags that look great and are great for the planet. This stunner has loads of room for all of your everyday needs, and the denim fabrication will work well when you finally take a well-deserved vacation, too!
Price: $100
7. Kate Spade Molly Ever Fallen Large Tote
Known for whimsical patterns and cheerful colors, Kate Spade New York continues to bring fun to everyday pieces. This darling tote is extra roomy to make transporting your gear a snap. Plus, who can resist the cheerful vibe? If this print is too loud for you, click around to see the other options. There's plenty of cheer that's a bit more subtle.
Price for the bag pictured: $228
8. J. Crew Carry-All Tote
Available in five different colors including Black, Navy, Sepia, Brilliant Sunset, and Neon Flamingo (pictured), J. Crew's Carry-All Tote will serve you well for work or weekends. The leather is extra soft, and each tote comes with a detachable pouch which is large enough to function as a clutch for a night out. You can even add your monogram for an extra $10 to create the perfect, preppy accessory.
Cost: $168
9. Chrome Urban Ex Pannier
Perfect for folks who cycle to work and don't want to be encumbered by a backpack or messenger bag. Like all of Chrome's products, the Urban Ex Pannier is guaranteed for life which means you can count on this functional bag to be by your side for as long as you need it. This waterproof pannier attaches easily to your bike and will hold all of your gear for the road and the office — there's even a special spot for your U-lock.
Cost: $150
10. Madewell Medium Transport Tote
If you're wild about the animal print trend, you'll love this tote from Madewell. There's plenty of room for your essentials, and you can customize this cutie with different straps depending on your needs and style preferences. Other patterns and fabrications are also available.
Price: $178
11. Target Reversible Tote Handbag
Another bargain that looks great and won't break the bank, this cutie from Target is available in a couple of color combos. Since it's reversible, you'll have twice as many options to make sure style and function work well for you.
Cost: $29.99-$36.99
12. Ease Gave Briefcase
This modern take on a business classic comes in 14 colors and features room for a 15" laptop, an iPad, a stack of papers, a notebook, a mouse and pretty much anything else you could possibly need to get things done at work. Available from Amazon, this structured bag will add just a touch of extra polish to your professional wardrobe.
Cost: approximately $45 depending on your color choice
13. Luv Betsey by Betsey Johnson Kara Triple Compartment Tote Bag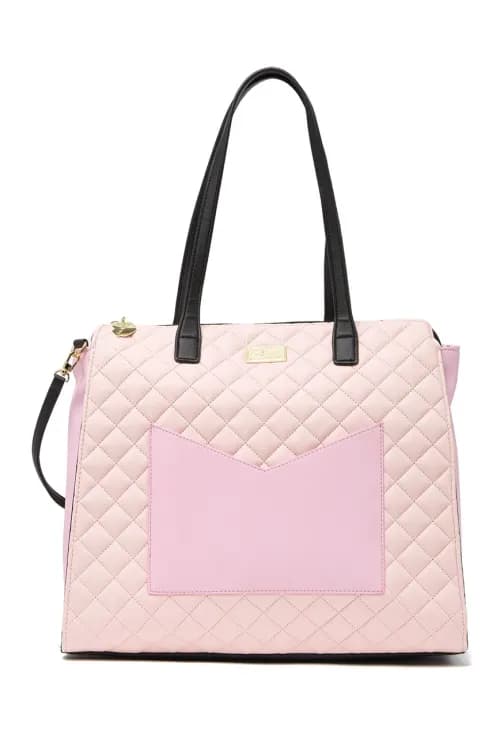 A fun find for fashion-forward folks, this bag is available in the subtle blush color pictured here or in a vibrant floral and animal print. Don't let the designer name scare you — Nordstrom Rack is offering this cutie at a fantastic price.
Cost: $34.97
14. Monogrammed Canvas Tote
This style is a classic for teachers who are looking for function and durability. A canvas tote can stand up to lots of wear and tear, and you can wash it to make sure it's free of dirt and germs — a necessity during cold and flu season. This particular option from Embellish Monograms on Etsy offers lots of colors and monogram layouts to help you personalize it to highlight your style or even your school colors.
Price: $19.95-$34 depending on the size you choose
15. AlphaOmega Classic Retro Stripes Duffle Bag
If your workday ends in play, the AlphaOmega Retro Stripes Duffle Bag will hold everything you need for work and workouts. You can choose from small, medium and large sizes, or you can splurge and get the entire set.
Cost: $50-$86 or $175 for the three-piece set
16. Ecosusi Laptop Backpack
Another take on retro-inspired design, Ecosusi's Laptop Backpack is extra roomy, so it'll hold your laptop and plenty of other essentials. It includes an extra pouch to hold pens, pencils or cosmetics. With four stylish colors to choose from, you're bound to find the perfect one to match your favorite outfit.
Cost: $54.99
17. Patagonia Ultralight Black Hole Tote Pack
Perfect for folks in rainy climates, the Patagonia Ultralight Black Hole Tote Pack is weather-resistant and durable. It's designed to be carried as a tote or as a backpack which means it's ultra-versatile. You can over-stuff this workhorse since the compression straps will help contain everything, and the padded back even doubles as a seat cushion. If you want to toss your laptop inside, there's plenty of room, but you might want to put it in a protective sleeve since there's not a dedicated laptop compartment. That said, the reviews on this bag are fantastic.
Cost: $89
18. Montblanc 4810 Westside Slim Document Case
The luxury option on our list is the Montblanc 4810 Westside Slim Document Case. It will hold a laptop, documents and other devices, and the high-end design and detailing will look great for years if not decades. It's designed to be enjoyed by folks of all genders as long as they're up for the splurge.
Cost: $1,060
--
Leslie W. Price is a theatre artist, educator, and writer living in the San Francisco Bay Area. Find her on LinkedIn or visit her portfolio.