Ikea's new
parental leave
policy is pretty dreamy. The recently announced paid leave benefits are groundbreaking in that they apply to all U.S. employees -- both salaried and hourly and regardless of gender or sexual orientation -- as long as they've worked at the company for at least one year.
The new policy
, which goes into effect Jan. 1, makes Ikea a standout in its industry, offering the most generous family-leave policy disclosed by any retailer in America.
After one year at the company, employees will get six weeks of paid time off at their full wage and an additional six weeks of paid time off at half-pay. After three years at Ikea, employees will receive eight weeks of paid time off at their full salary and another eight weeks of paid time off at half-pay.
Employees who haven't worked at Ikea long enough to receive those benefits will still be able to take advantage of the company's short-term disability plan, which will apply to mothers who need some time to physically recover after having a baby, or leave that is paid or guaranteed under state law.
Adoptive parents are also eligible for the benefits.
Ikea's announcement is particularly noteworthy because brick-and-mortar retailers have plenty of reason to avoid offering such generous leave policies. Because of their business models, they often have among the largest workforces and an especially large percentage of hourly and blue-collar employees. This means that leave might be more expensive per employee for a large retailer than it is for any other type of employer.
Ikea's new policies are not being implemented in an effort to emulate practices in Europe, where they're headquartered, according to Lars Petersson, President of Ikea U.S. "We know a workforce that has an opportunity to spend time with family and friends and particularly to welcome a new child will be happier and therefore do a better job," he said.
Data shows that Petersson's instincts are correct. Fairygodboss has found a strong correlation between
female-employee job satisfaction
and the length of maternity leave taken. Specifically, women who reported taking more than twelve weeks of paid leave also reported higher average job satisfaction levels compared to women who took exactly twelve weeks of leave. Along the same lines, women who took exactly twelve weeks of paid maternity leave reported more job satisfaction than women who took less than twelve weeks of paid leave.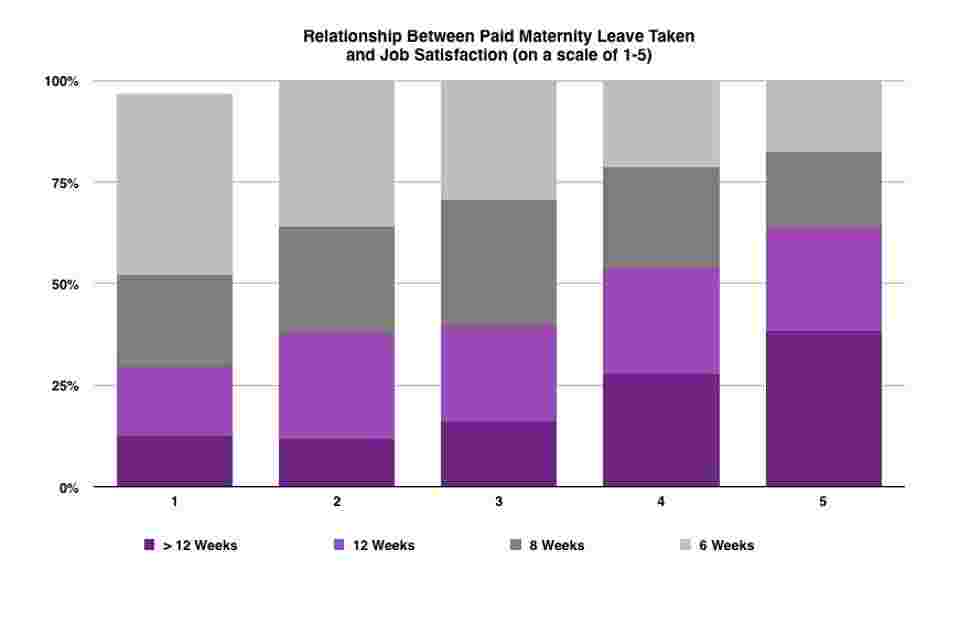 Fairygodboss: Correlation Between Job Satisfaction Levels (on a scale of 1-5 where 5 is the highest satisfaction level) and Paid Maternity Leave Taken (in weeks).
This relationship between job satisfaction and the amount of paid leave taken likely applies to male employees and fathers as well.
If you notice some particularly cheery employees during your next trip to IKEA, you now might be able to figure out why they're smiling. It's hard to imagine that these employees, especially those starting families (or those who plan to), will soon forget the support of their employer during such a big transitional period in their lives.
A version of this article previously appeared on
Forbes
.

Fairygodboss is committed to improving the workplace and lives of women.
Join us by reviewing your employer!