On the hunt for your dream job and not sure where to look? There are tons of job boards out there (like this one!) to help you land the role you've always wanted.
If you're not sure what your dream job even looks like, have a browse through these 15 sites, and you'll be sure to find something for you.
What are 15 sites where you can search for jobs?
Here are 15 online job boards where you can search for your dream job.
Fairygodboss! Why not start right here? We're a site by women in the workplace for women in the workplace, and we have our very own job board where you can hunt for your dream job. Join millions of women on the platform in searching for careers, reading career advice and checking out company reviews written by women who've worked there. You can even set up a profile and receive job alerts to stay abreast of new opportunities.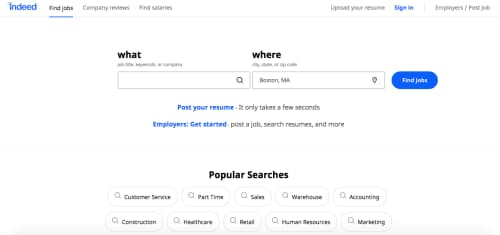 Indeed is one of the most popular job-hunting sites out there, boasting millions of jobs. You can upload your resume and create a profile for free, and then browse jobs by category, location, salary and other filters. You can also read company reviews on the site.
LinkedIn is a great networking tool, and it's equally a wonderful place to look for job opportunities! You can even apply for some jobs directly through LinkedIn using the information you've already shared on your profile. All you have to do is browse jobs by keyword and location. You can even check out the company profiles themselves and take a look to see if you have any connections with people who work at the company already and can help you.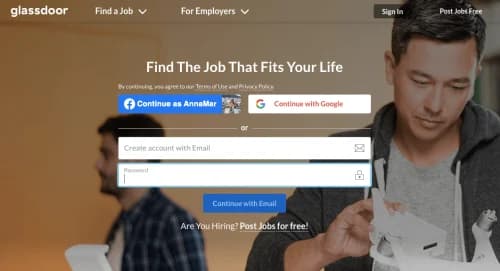 Glassdoor is another legacy job board where you can check out in-depth reviews on companies from both current and past employees, as well as search salaries for different roles within companies that are reported by the employees, themselves.
Monster is an O.G. job board with helpful filters like location, specific keywords, category and more. Search more than five million job opportunities, and even create alerts for keywords or titles that involve your dream job. You can also take advantage of Monster's career resources and resume tips. Upload your resume, and recruiters can find you!

CareerBuilder is one of the biggest job boards out there. You can search jobs by industry if you know your ideal work environment but aren't positive of the exact role you'd want to work. You can also search by other factors like skills. There are over 100 million jobs from which to choose.
SimplyHired garners job postings from thousands of sources like company career sites, other job boards, social media and more. Essentially, it's an aggregate for job listings. You can create a profile, upload your resume and set up job alerts for your dream job — so you can check out the career advice on the site while you wait for opportunities to be delivered to your inbox.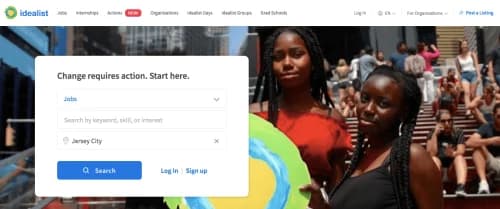 Idealist "connects millions of idealists — people who want to do good — with opportunities for action and collaboration all over the world." It's a job board for nonprofit jobs, volunteering opportunities and internships in more than 30 different categories like teaching, writing, counseling and more. Search over five thousand jobs with over 130,000 organizations.
On ZipRecruiter, companies will reach out to you. Simply upload your resume or provide details about your experiences in the workplace, and ZipRecruiter will show your profile to employers who are looking for your skillset. You can select roles you like to help the site learn your job preferences and connect you to the right opportunities. And, before you know it, recruiters can help you find your dream job.

If you appreciate flexibility like working your own hours or working from home, FlexJobs is the site for you. While you can search all sorts of jobs, from full-time to part-time and everything in between, FlexJobs is best known for its wealth of flexible and remote opportunities.
Forget job searching on your own. With Job.com, all you have to do is upload your resume and Job.com's AI matching technology will match you with new jobs. No one can search for you on the Job.com database; the site only shares your contact details at the interview stage — so you don't have to worry about your current employer finding out that you're hunting for a new job or unwanted cold calls.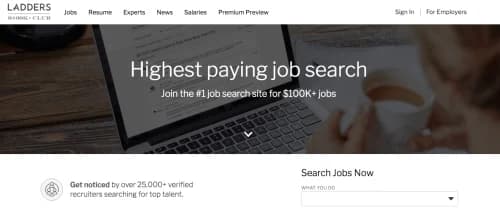 Tons of recruiters use Ladders, so once you create a profile, you'll be on the job market and able to get noticed by over 25,000 verified recruiters searching for top talent. There are over 250,000 screened jobs on the platform for you to browse, too! Plus, you can search by your current compensation and your desired compensation, as well as by your current job title and your desired job title. So Ladders will understand where you are and where you want to be (i.e. your dream career!).
Search jobs with Google! You can filter by category, date posted, location, title, employer, job type and more. And you can save jobs that interest you so you can return to apply to them later.

College Recruiter is a great place to go if you're a newly grad looking to land your first gig out of school. That's because College Recruiter believes that "every student and recent graduate deserves a great part-time, seasonal, internship or entry-level job," and it's determined to help you get just that. There's also a resume builder and job search advice for college students.
AngelList is a platform that connects angel investors (i.e. people who give seed money to startups for equity in return) with startups that need funding. But it also offers a job search tool for people who want to work for startups. There are thousands of job listings with startup companies, primarily in the tech industry but also in other fields like marketing, accounting, media and more.
--
AnnaMarie Houlis is a feminist, a freelance journalist and an adventure aficionado with an affinity for impulsive solo travel. She spends her days writing about women's empowerment from around the world. You can follow her work on her blog, HerReport.org, and follow her journeys on Instagram @her_report, Twitter @herreportand Facebook.