Learning how to budget isn't easy. You might have used a budget worksheet, budget planner or budget template of any kind before, but what you really need is a budget manager — something to help manage your finances, not just plan your savings. No matter how cautious you are about spending money, it may be difficult to keep yourself on track if you're not using a budget worksheet to track your expenses. Sure, you understand what your overall income is (and hopefully you also have a very good sense of your month-to-month earnings, your income taxes, and your take-home pay) — but do you have a plan in place to translate that info into a monthly budget?
Why It's Important to Budget
There are lots of
sneaky ways we spend more than we mean to
, so if you're trying to grow your savings for long-term care, you need to start budgeting each month so you make some economic progress. Whether you like it or not, it's time to start behaving like a real adult and take control over your personal budget.
While you're not necessarily in total control of your
earnings
or whether you're getting paid fairly, you
are
in the driver's seat with regards to deciding what to spend on — and when. So whether you just got a raise and want to make sure you're using the extra income wisely or you're
overdue
for a raise and you have to pay extra close attention to your money situation, there's no time like the present to start being more responsible about your finances.
Of course, some expenses are 100% essential and certain items will drain your cash flow and monthly profits; even so, you're nonetheless largely able to dictate your overall normal spending patterns and habits.
If you're new to personal budgeting, the thought of a monthly finances plan may make you nauseous, but once you get started and have a clear outline of your spending and savings goals, it's really not so horrific — especially if you're using a budgeting worksheet to guide you.
5 Free Budget Worksheets
Maybe you've already tried yourself via creating a template in Excel for your monthly expenses — but it can be tough to design your own personal plan. That's why we're hooking you up with a list of what we suppose are the best month-to-month budget worksheets to help you get started out:
This worksheet lets you choose your budget period (anywhere from one month to one year) and insert your take-home income. If you have multiple sources of income (or if you live with a partner whose earnings also affect your finances), you can add those numbers as well.
This worksheet provides suggested categories of expenses that you likely have, whether you're unmarried or trying to set a monthly family budget — such as mortgage/rent, credit card, car loan and student loan — and also allows you to input additional rows together with your own categories. There are sections prompting you to enter what you pay for your utilities and insurance premiums, as well as sections for your savings and investments (in addition to miscellaneous expenses).
The worksheet tracks your cash influx, total earnings, overall expenses, and income minus expenses so you can keep track of how much money you have to spend and can create a budget within any period you chose.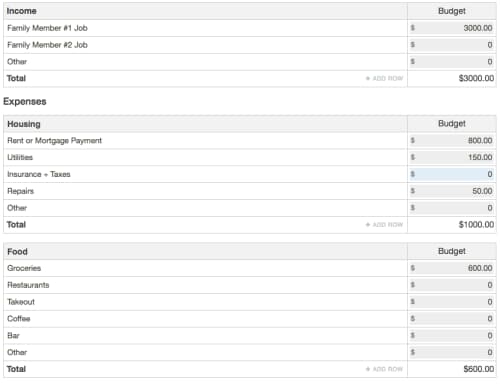 This has plenty of useful features, including an advised"deductions" section (although you can rename any text as you desire) in which you can track expenses like savings and child support by entering an amount for your budget and the actual spend amount (the worksheet will calculate the difference).
This resource categorizes expenses by housing (which includes mortgage/rent, utilities, home insurance and taxes, and home repairs (to set aside); debt payments (which includes student loan payments, credit card payments, etc); food (which is broken up into groceries, eating out, etc.); transportation (which accounts for car payment, car insurance and maintenance, gas, public transportation, parking, tolls, etc.); personal & health (which includes clothing, fitness center memberships, doctor and dentist visits and so on.); education (which incorporates tuition, books, etc.); entertainment (which is where you would track tickets for shows, DVDs, books and mag subscriptions and so forth.) and miscellaneous (which includes anything that doesn't fit into your chosen categories — such as charity, pet supplies, etc.)
Again, the above categories are helpful pointers to guide what you're tracking, but you're able to edit the wording to create your own sections and items you'd like to monitor.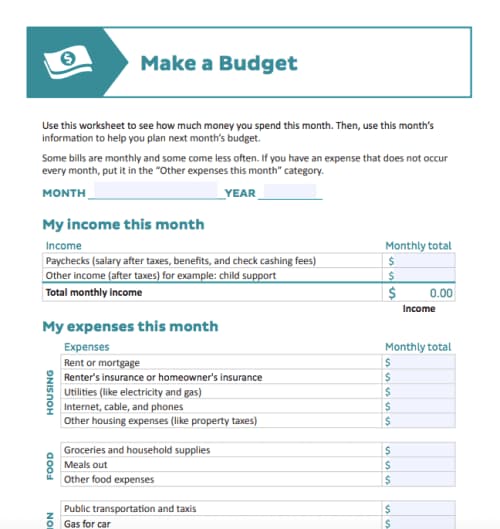 This budget worksheet that will allow you to see how much money you spend each month and then use that information to devise your budget for the next months. Like the other worksheets, this breaks up your expenses into sections so that you can effortlessly keep an eye on your spending habits in various aspects of your life. This plan advises you to track expenses in the following categories: housing, food, transportation, health, personal and family, finance and other.
Once you've filled out the fields, you can then print the form so you have a printable budget that's easy to refer to if you tack it up by your computer or above your desk.
NerdWallet enables you to customize your worksheet based on who you are, your mandatory expenses, your "wants" such as clothing and jewelry, your monthly savings and debt repayment, and more. Using the 50/30/20 comparison, it helps you break down and control your spending in a way that suits you, your responsibilities, and your lifestyle.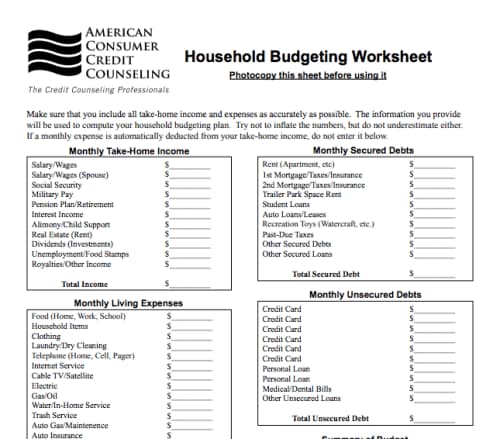 Here, you'll not only find budgeting worksheets in multiple formats for both household budgeting and daily expense tracking, but you'll also find resources to help you cut back your spending, disaster-proof your finances, and gain financial health.
Budgeting Now
We're at the beginning of a brand-new year, and if you're like any other normal person, you likely made some
New Year's resolutions
that you didn't quite stick to. Whether not your 2019 goals involved budgeting, if you're reading this, that means it's wise to start paying better attention to how much money you have at your disposal and how much you wish to save — in addition to how your spending habits are in line with that (or whether they need to be adjusted).
With a finances worksheet to inform your planning, you don't have to start from scratch with your very own spreadsheet of income and expenses. With one of these budget templates, you'll be a personal finance pro by the end of the year!