1.07k
writer, editor, semicolon lover.
Dressing for success means creating the professional image you want. But what happens when you have to worry about dress codes? The term "business casual" describes many modern work environments, but figuring out what business casual actually means can be confusing and frustrating. With these 15 business casual shirts, you'll be ready for any type of business casual environment — all while feeling you've dressed your best.
What does business casual mean?
Business casual is a type of dress code in between formal, traditional business attire — suits, ties, pantsuits, skirt suits, blouses and upscale jackets — and casual clothing — jeans, sandals, athletic wear, t-shirts and sweatshirts. Because it's an area between two very different attires, knowing what to wear for a business casual environment can be a little unclear. The definition of business casual can lean more professional or more relaxed depending on where you're going. Your best bet is looking to others for their judgment. Do your coworkers tend to wear suit jackets and slacks? Err more on the business side. Do they show up in dark jeans and open-toed shoes instead? Then go a little more casual.
When it doubt, it's safer to dress a little more business-y and be overdressed than be too casual and appear relaxed. Your attire is a way to create your professional image; while you should take clues from others in your environment, think of how you want to present yourself and rock your wardrobe from there. Like the common saying, "dress for the job you want," you want to dress how you want others to see you professionally.
15 Business casual shirts.
Let's start with the basics. This simple top is definitely akin to the most conventional business casual shirt you could imagine. It's light-weight and comes in multiple colors — five, exactly, so you're set for the work week! The shirt is oversized and long shirttail hem, perfect for styling over straight or slim jeans or tucking into a longer skirt.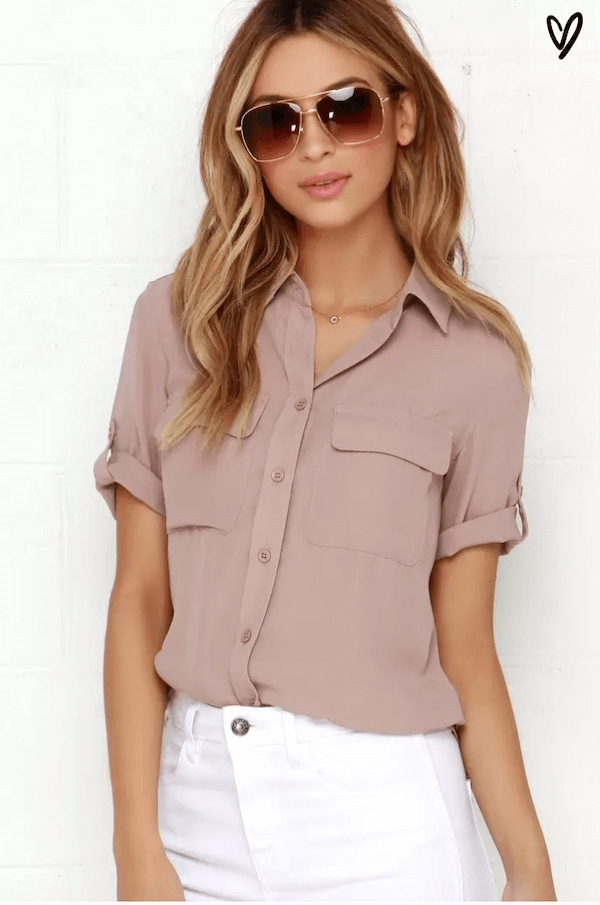 Image via LulusThis top adds a couple of conventional style elements to the basic top: buttons and pockets. Button up higher for a more professional look, or remove a button and add a necklace for a relaxed and flared look. Even if you don't put anything in the pockets, their addition makes the top a little more stylized and attention-grabbing.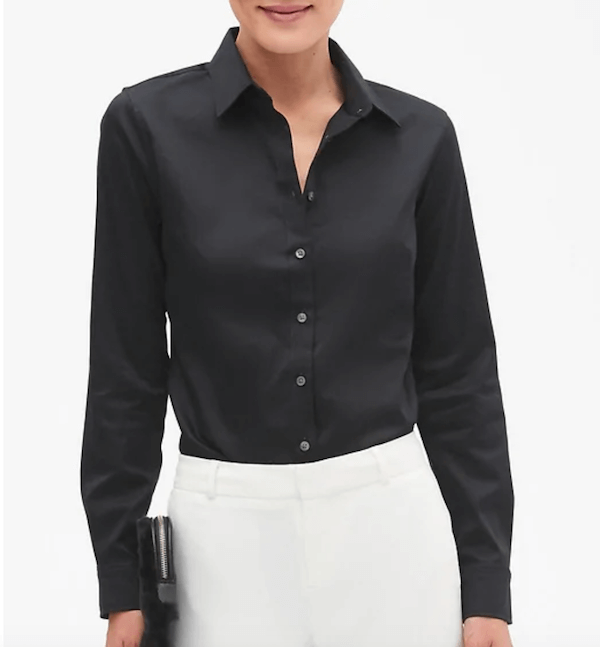 Image via Banana Republic
This sleek business casual top is sure to impress, especially if you're aiming for more of a business rather than casual look. Pair it with white slacks as shown for a bold contrast, or, if the environment is a little more flare-inclined, try a bright red, purple or even green.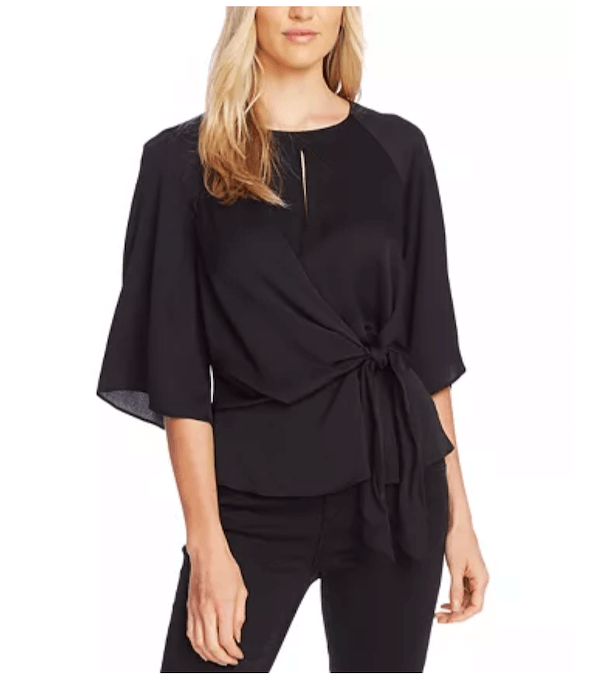 Image via Macy's
Ready to move away from the buttons? This business casual shirt has you covered. Whether you drape it over slacks or pair it with wide-legged trousers, this top makes Macy's calls a "subdued statement." Elegant yet interesting, the tie-front adds a little extra style to the classic loose-fitting black top.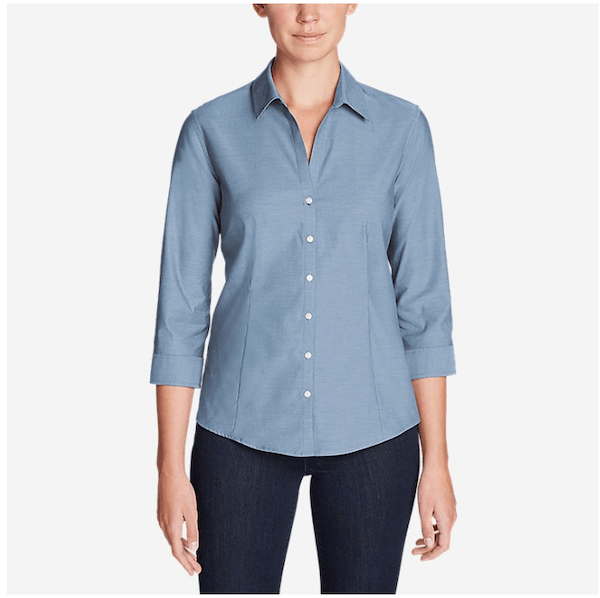 Image via Eddie Bauer
If you're looking for something a little on the lighter side, Eddie Bauer's light blue solid shirt is a great fit. Not only is it sleek and form-fitting, but it's also got "breathable, moisture-wicking fabric," according to the website's description. What's better than looking good and feeling comfortable? Practically nothing.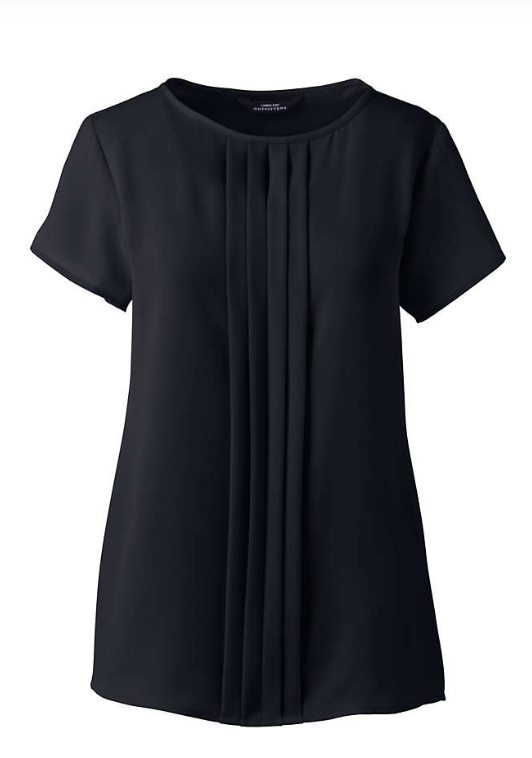 Image via Lands' End
This light and graceful top is incredibly versatile. Whether you want to wear slacks or a printed skirt, this shirt will serve the perfect business casual work outfit. Its short-sleeves also work well if you're commuting in a hot summer or want something to layer with in the colder months.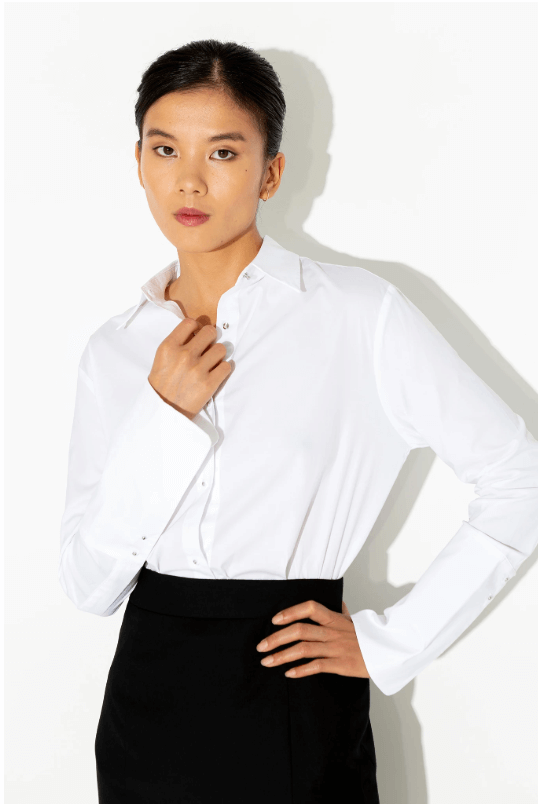 Image via Misha Nonoo
You can't go wrong with a classic white button-up. Style this with a pair of slim trousers if you want to wear pants, or try tight, bold pencil skirt if you're feeling like wearing pantyhose. With a shirt as stylish and simple as this, you can't go wrong. As the Misha Nonoo website says, "Our white crisp cotton poplin button-down shirt from the Easy 8 collection is perfect to take from coffee to cocktails. Conquer 9 am to 9 pm with ease in our version of the classic white dress shirt."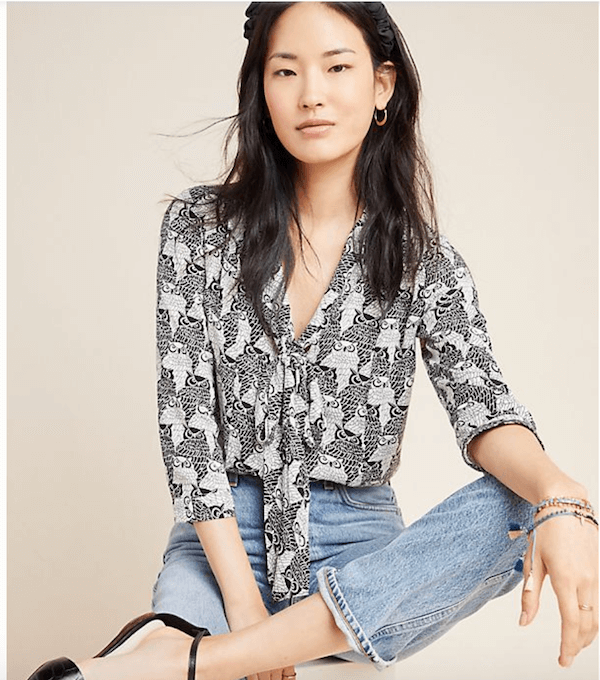 Image via Anthropologie
This blouse provides not only style but also comfort and flare with its soft material and exciting pattern. If you're looking for something a little more casual, pair the shirt with a lighter pair of jeans (not ripped!); if you're still aimed toward business, a pair of black slacks will make your whole ensemble a lot more formal.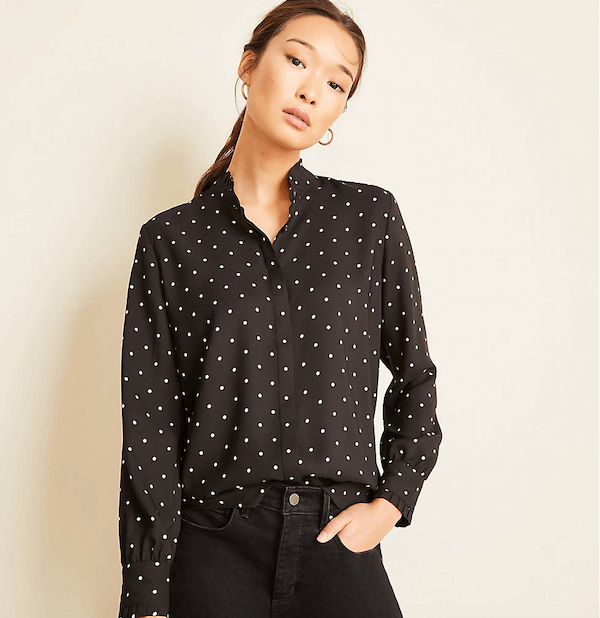 Image via Ann Taylor
Looking for something with a little more personality? This blouse not only has a fun polka dot print but also shows off with cute ruffles on the neck and sleeves. If you want the top to shine, try working with a pair of simple black pants. If you're going for bold, a bright red will complement well without clashing.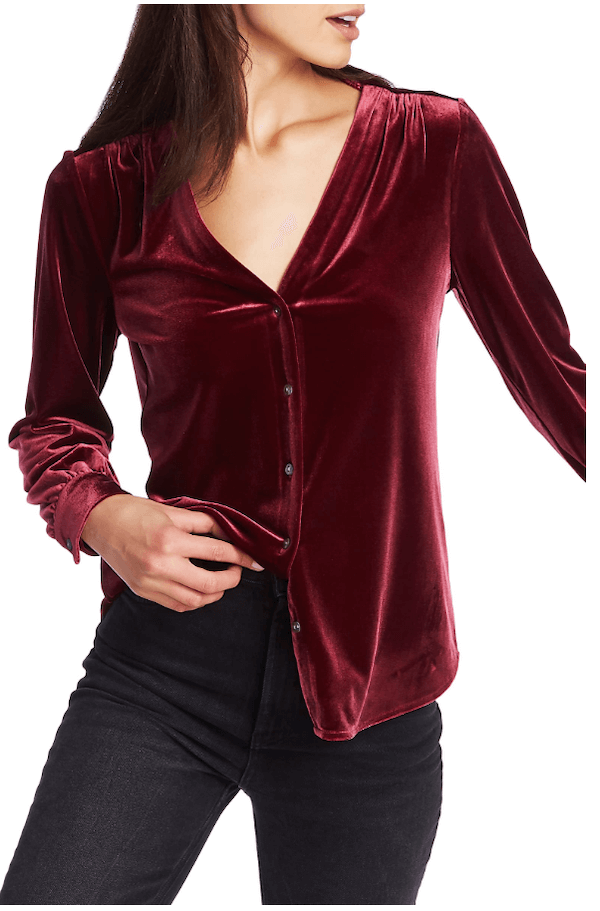 Image via Nordstrom
With the colder months coming in, why not try something seasonal and daring? This velvet top is great around the holidays and wintery season. Its beautiful velvet will definitely get you compliments, but, more importantly, it'll keep you warm as well.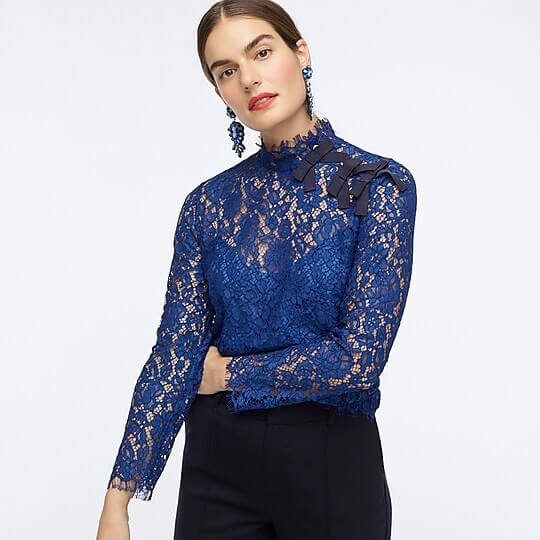 Image via J. Crew
Looking for something decadent in your business casual wardrobe? This mock neck top has it all: delicate lace, beautiful floral patterns, bows, buttons, you name it. Pair with something neutral on the bottom to really make your top shine, or keep going and add patterns on the bottom for some extra flair.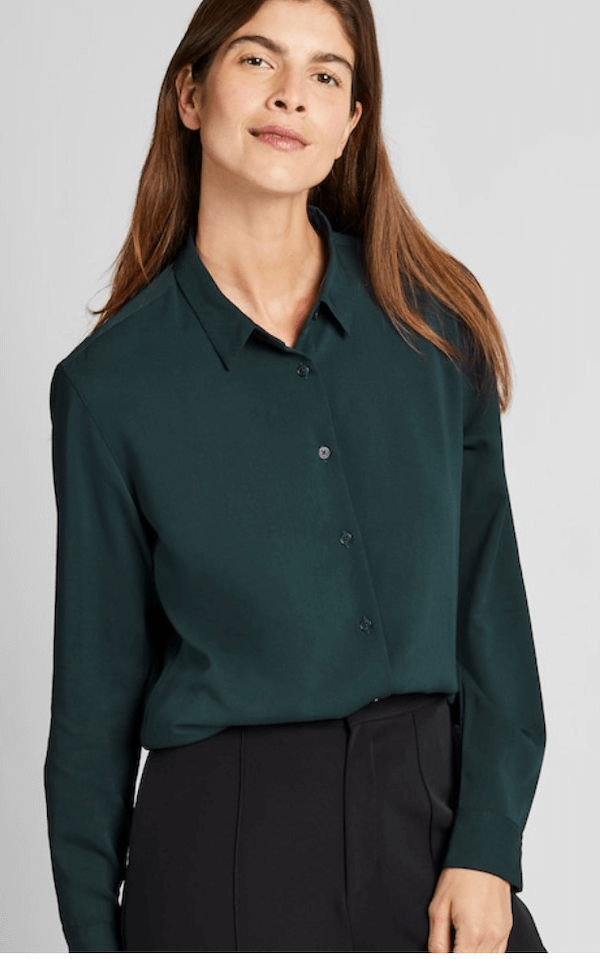 Image via Uniqlo
Okay, okay, back to the (somewhat) basics: this beautiful blouse walks the line between elegant and serious, fit with a trim collar and neat buttons. Reviewers note that the top is great not only as a stand-alone piece but also as an extra layer when it cools down a bit in the winter.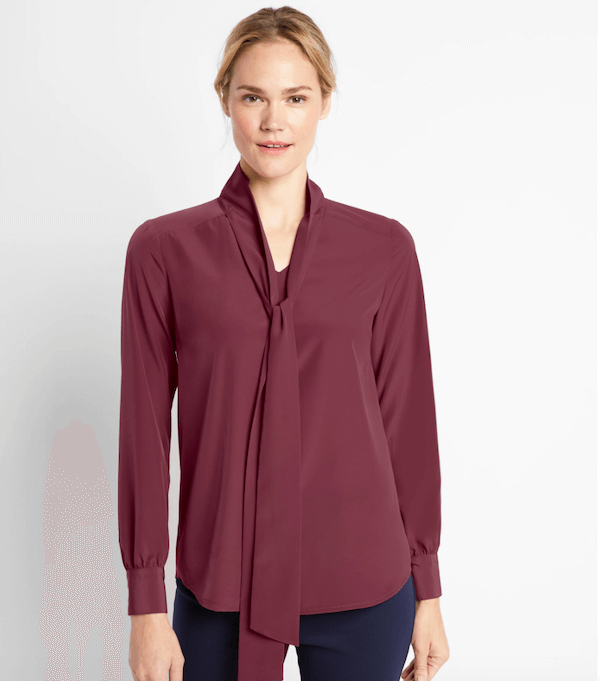 Image via Of Mercer
This blousy top has a long, loose fit that works well over slim or straight jeans or tucked in with pants or a skirt of your choosing. The ties at the neck can be tied up or left undone, depending on whether you're aiming for more of the "business" or "casual" part of "business casual."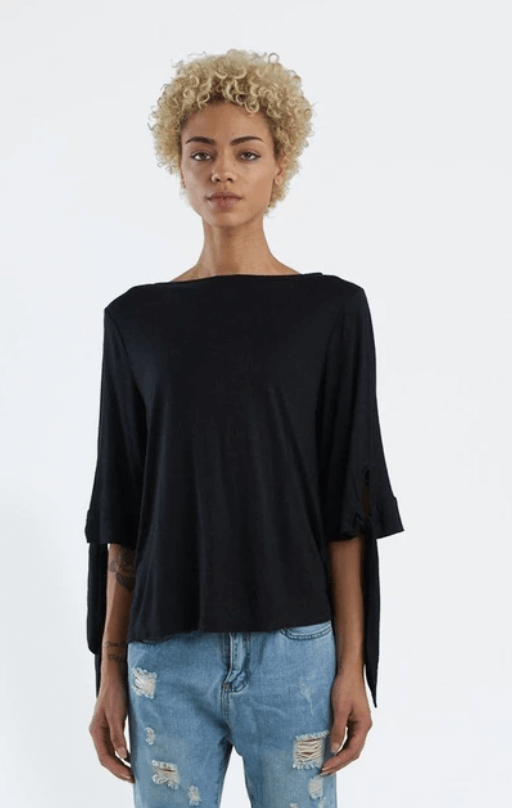 Image via Siizu
If you're hoping to get all the fine details of a great business casual shirt without all of the attention, have no fear — the Nanna Top is here! While this top appears to be a simple black shirt, it has a long, beautiful drape and a tie on the sleeves. Plus, all of Siizu's pieces are made from organic and eco-friendly materials.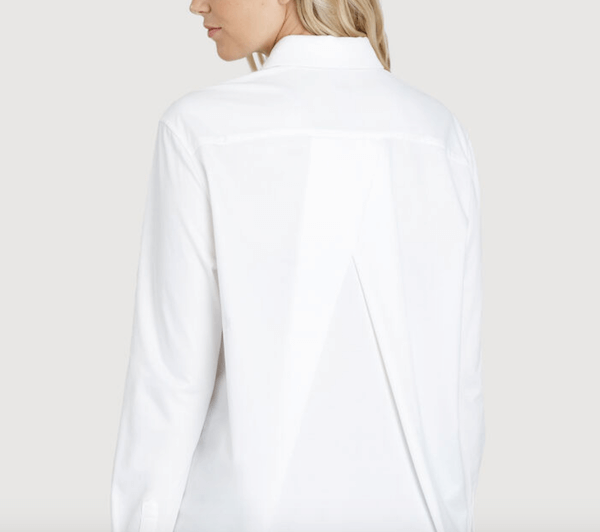 Image via Kit and Ace
This stylish piece takes a twist on the simple white blouse and adds a crossover back pleat. The pleat adds to the piece's flair but also doubles as a way to keep the shirt breathable and moveable. "It's an upgrade to other blouses," the site description reads.
Tips for styling.
If it's a patterned shirt, pair with long black or gray slacks with a small heel.
If it's a solid shirt, choosing a bold color slack can make your outfit all the more interest.
Go for a classic, and tuck your shirt into a pencil skirt.
If you want to get a bit more on the business side, throw a blazer on top.
In the warmer months, try tucking your shirt into a more loose-fitting, light skirt.
If you've got a business casual shirt that flows outward, try a straight or slim cut pant.
Looking for something a little more flashy but still appropriate? Try bright colors tops or ruffles on your sleeves.
French tuck your loose-fitting or flowy business casual shirt to show off a fun or beautiful belt.
If you've got a smaller shirt, opt for high-waisted slacks or trousers — whether wide-legged or slim!
While the term business casual has a different meaning for every company, work environment and event, these business casual shirts have you covered —whether you're feeling formal, fun, serious or a little more relaxed.
--
Zoë Kaplan is an English major at Wesleyan University in the class of 2020. She writes about women, theater, sports, and everything in between. Read more of Zoë's work at www.zoëkaplan.com.