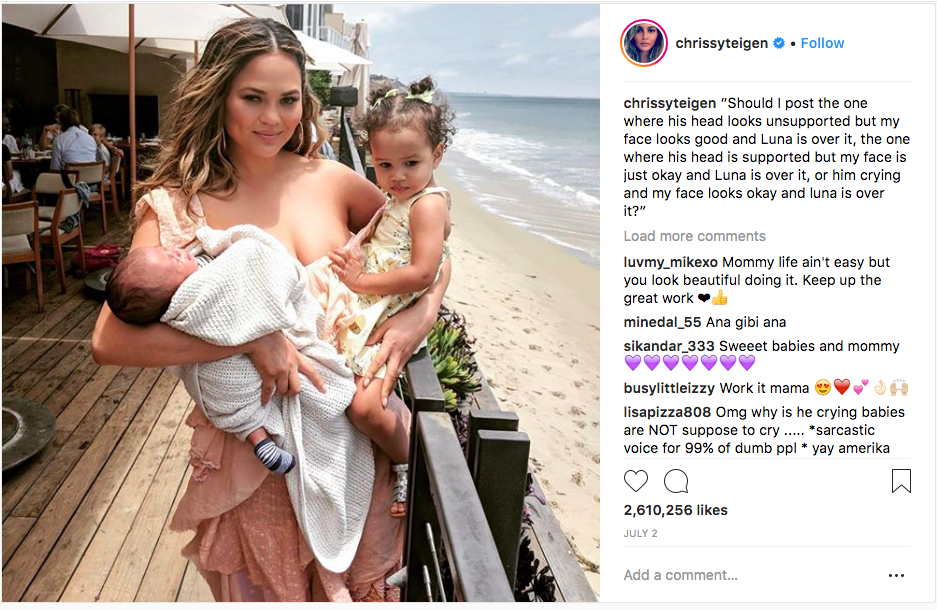 Chrissy Teigen
isn't known for holding back on social media—and that's a big part of what makes her one of the most refreshing, relatable, entertaining celebrities to ever grace Twitter and Instagram. With 10.7 million followers and 18.7 million followers, respectively, the model, TV personality, cookbook author and mom isn't afraid to poke fun at herself, from posting pics in the kitchen wearing "Asian pear underwear" to sharing a side-by-side pic of her and husband John Legend as their not-so-flattering cartoon "doppelgangers."
The mom of two—to Luna, 2, and
Miles
, 1 month—is also not one to keep quiet when a social media user makes some mean comments about her, and her replies are notoriously savage. But her latest clapback may be her best one yet.
It all started when Chrissy posted a photo two days ago on Instagram. In the photo, she's sitting outside on a chaise lounge, breastfeeding what looks to be two babies, while Luna holds up a "privacy" towel for her. The model, who had her hair in a top knot and was only wearing a towel, wrote, "Luna making me feed her babydoll so I guess I have twins now."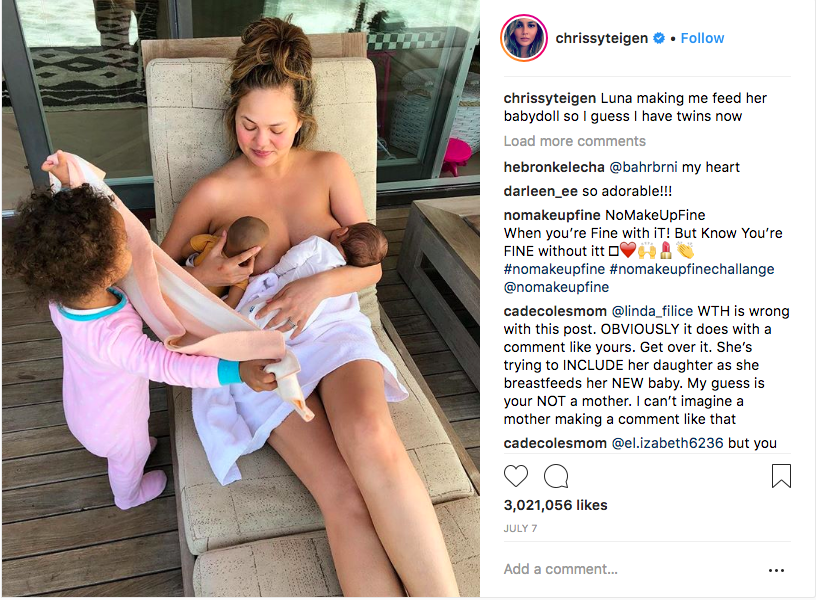 Many found the photo to be cute and praised the model for normalizing breastfeeding. One user wrote, "Thank you for normalizing motherhood and real life! Love to you and your family!" Another wrote, "This is beyond beautiful!!! I am currently expecting, and I'm terrified to even think of breastfeeding in public because of shallow people [who] like to think women only have breast for men and not to feed their babies. You're my favorite mom! Go girl!!"
However, not everyone found the photo appropriate. One user
tweeted
the celebrity, writing, "Menstruating, childbirth and sex are natural too, but that doesn't mean I want to see pics of it and/or celebrities like @chrissyteigen taking a bath or nursing. We get it."
Chrissy, however, had the perfect response. She wrote, "I don't care to see grainy fireworks, Coachella selfies or infinity pool pics, but I let people live. Calm your t***, and scroll on by."

This article originally appeared on Working Mother.
Working Mother is a mentor, role model, and advocate for the country's more than 17 million moms who are devoted to their families and committed to their careers. Through our website, magazine, research, radio and powerful events, Working Mother provides its readers with the community, solutions and strategies they need to thrive.