4.87k
Journalist & travel blogger
So you have a holiday potluck coming up at the office, and you're in the market for Christmas potluck ideas for work. You've come to the right place. We've rounded up 25 of the best potluck recipes that are sure to satisfy any appetite. Dig in, and happy holidays!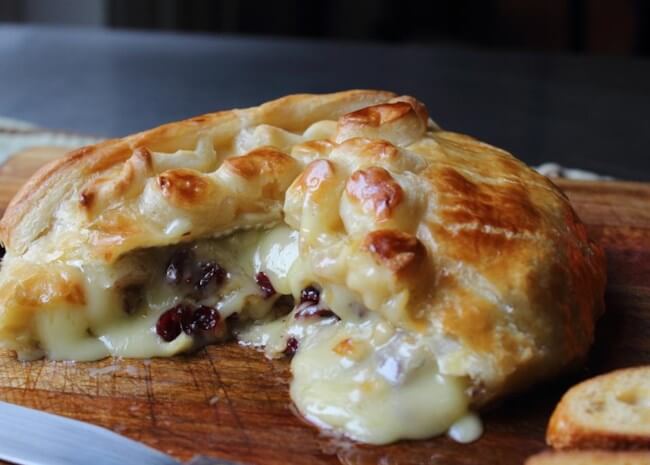 Photo via All Recipes
What's better than Brie cheese at Christmas time (or really any time of the year?). The only answer to that is baked Brie cheese. Stuff this wheel of Brie with walnuts and cranberries and wrap it up in a golden-baked puff pastry. This is the ultimate party appetizer or Christmas potluck plate.
Time: 1 hour, 40 minutes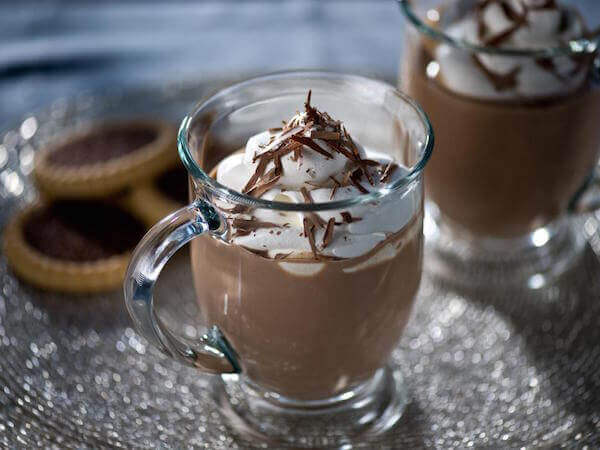 Photo via Food Network
If you're allowed to bring booze to your office Christmas potluck, then consider turning a basic hot chocolate into a hoppin' hot Scotch with butterscotch Schnapps and amaretto. This holiday-time classic is just kicked up a notch, so don't forget the equally classic whipped cream and mini marshmallows (yes, the mini kind are the best kind).
Time: 5 minutes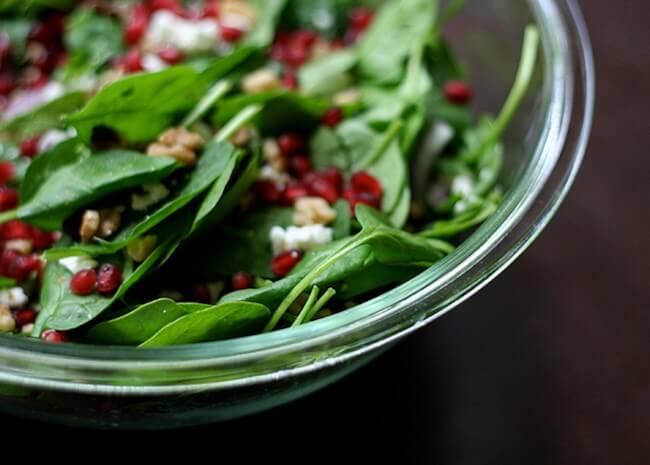 Photo via All Recipes
Toss together a quick and easy salad that looks like Christmas. Thanks to the green spinach leaves and the red pomegranate, this salad is festive and delicious. Bring whatever kind of dressing you desire, but a fruity vinegarette is probably your best bet. Just make sure to bring it on the side in case people at your potluck want to opt for something else.
Time: 5 minutes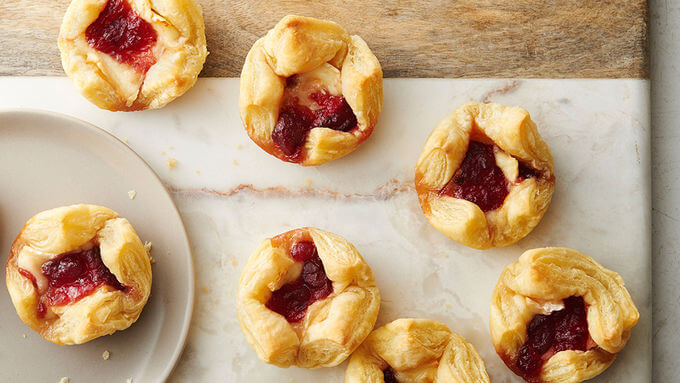 Photo via Tablespoon
These cranberry brie bites are incredibly easy to make (and to eat!). Just stuff golden, puffy, flaky pastries with cranberry sauce and brie cheese and pop them in the oven. No one will ever know that it only took you a few minutes to make!
Time: 10 minutes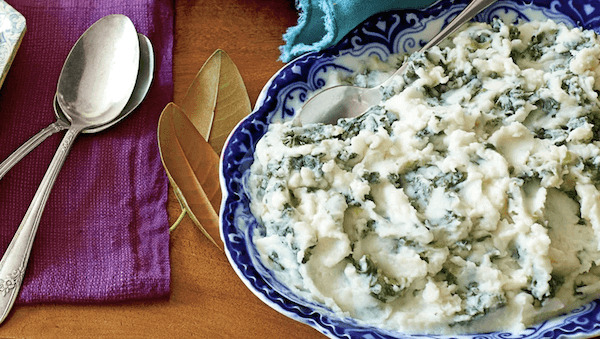 Photo via My Recipes
Mashed potatoes are sort of a staple of every potluck, regardless of the occasion. These mashed potatoes offer a little bit more though, and that's because they're stuffed with sautéed greens for a veggie twist, too. You can use any winter greens, such as kale, collards or cabbage — whatever your holiday heart desires.
Time: 9 hours, 30 minutes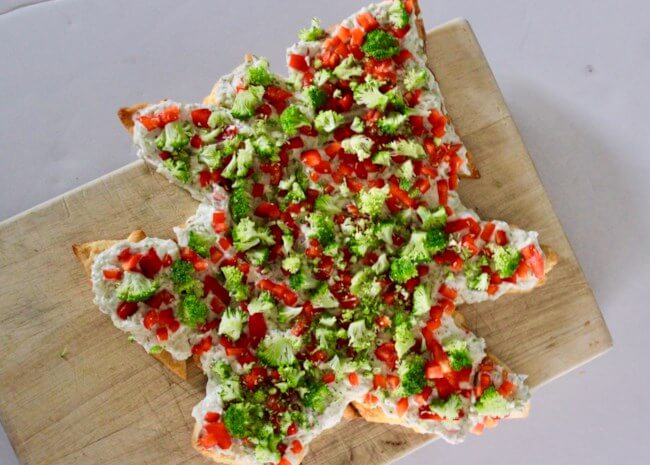 Photo via All Recipes
What better way to get create on Christmas than with a Christmas tree pizza appetizer? This pizza looks like a Christmas tree and, thanks to the toppings (cream cheese, sour cream, chopped broccoli, diced red bell peppers and shredded Chedder cheese), it even boasts all the colors of Christmas, too. Besides, who doesn't love pizza, regardless of what it looks like? You can't go wrong with bringing a pizza to a potluck.
Time: 1 hour, 25 minutes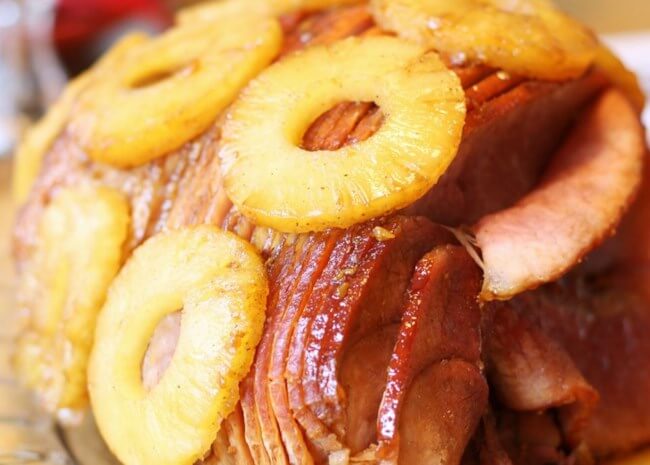 Photo via All Recipes
Baked ham practically screams that it's the holidays, and it's the perfect addition to any Christmas potluck. This baked ham recipe only takes about 15 minutes to prepare before you bake it, too, which means that it'll be as easy for you to make it as it is to satisfy the appetites of people in your potluck. This one is covered in a glaze made from brown sugar, pineapple juice, honey, orange juice, orange zest, Dijon mustard and ground cloves.
Time: 3 hours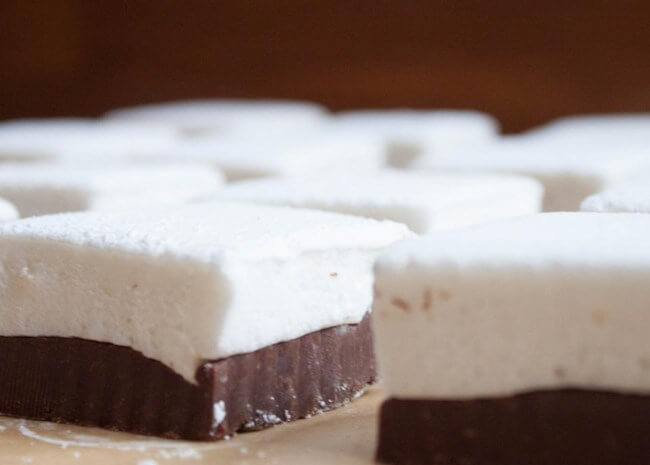 Photo via All Recipes
There's no such thing as a potluck without dessert. Or a Christmas without dessert, for that matter. This layer of homemade marshmallow batter is poured over a pan of fudge. Doesn't that just make your mouth water?
Time: 11 hours, 2 minutes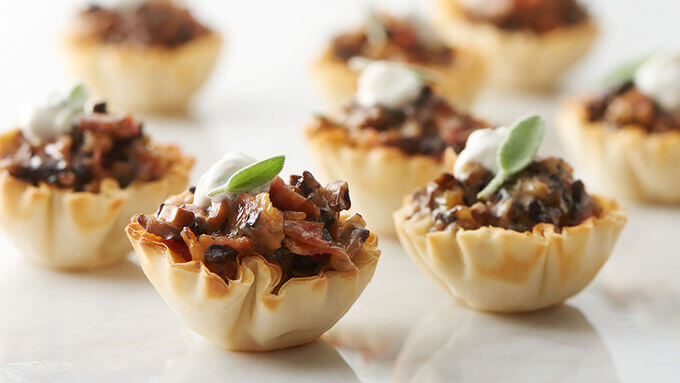 Photo via Tablespoon
Bring something light and easy to transport to the Christmas potluck party at your office, like these crispy phyllo cups full of mushrooms, pancetta, fresh sage and thyme. They look sophisticated despite how easy they are to whip up, and they'll make an awesome appetizer for your colleagues.
Time: 40 minutes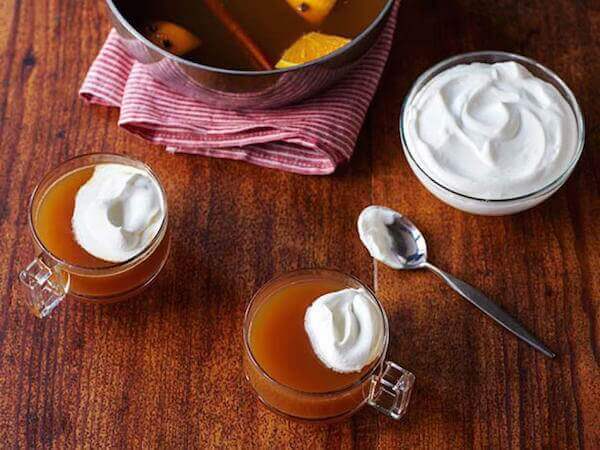 Photo via Food Network
Again, if your office is allowing alcohol at this Christ potluck, you might want to consider bringing a festive Apple Toddy to the table. This one is boosted with Brandy, cinnamon sticks and clove orange wedges. You should serve it warm with a dollop (or more, for those with a sweet tooth!) of whipped cream.
Time: 15 minutes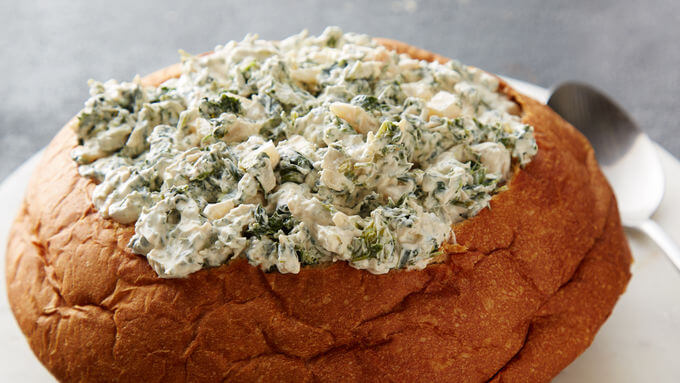 Photo via Tablespoon
Spinach dip. Who doesn't love spinach dip? Espeically when it's served in a warm bread bowl? This is the perfect potluck party pleaser. It's great for dipping and sharing and passing around, except when your colleagues get a hand on this bread bowl, they're not going to want to share.
Time: 2 hours, 20 minutes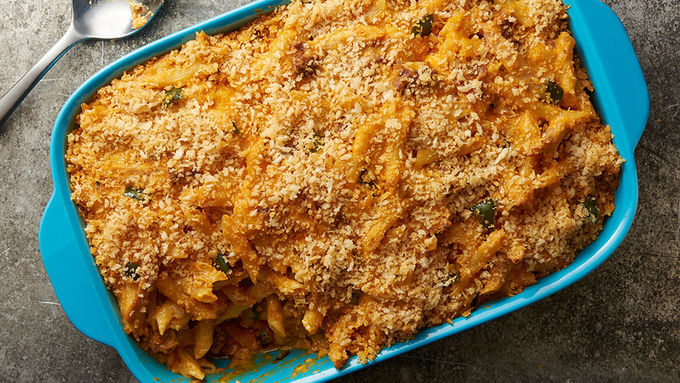 Photo via Tablespoon
Paste bakes are great for bringing to potlucks since they serve such a big number of people. This one is a mac and cheese pasta bake with chicken and chorizo because... yum. And it won't take you much over an hour to make either!
Time: 1 hour, 30 minutes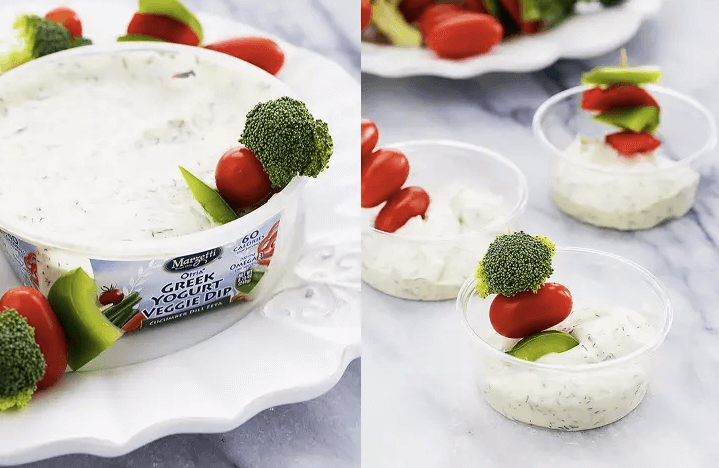 Photo via Forkly
Every potluck party needs kabobs. We didn't make the rules. But it's just the simple truth. So why not make Christmas-themed kabobs with some red and green veggies like cherry tomatoes, brococoli, green peppers and some Greek yogurt for dipping? The office will love your creativity on this one, even though it's super simple (and inexpensive!) to make!
Time: 5 minutes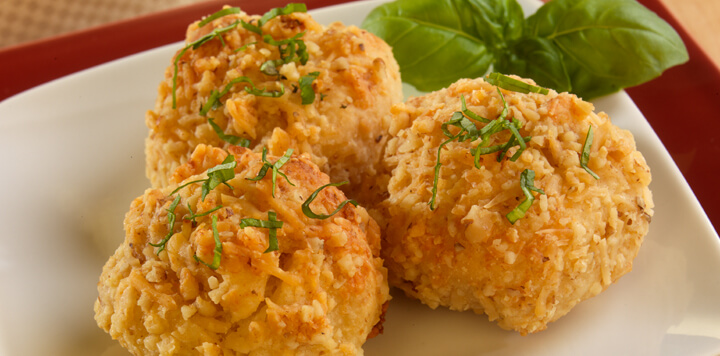 Photo via What's for Dinner
These cheesy and savory bites are a great way to kick off holiday festivities. The ingredients are simple: dinner rolls, white pepper, Asiago cheese, chopped basil, olive oil, minced garlic and finely chopped walnuts.
Time: 22 minutes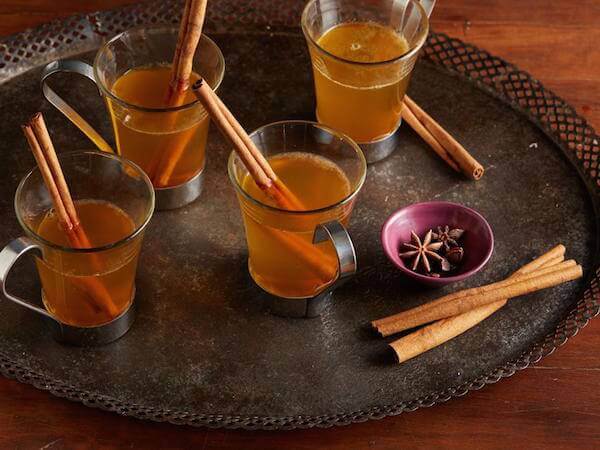 Photo via Food Network
You can't go wrong with warm, mulled cider topped with cinnamon sticks for garnish. It's a winter staple. This drink will go quickly, so be sure to make enough of it.
Time: 20 minutes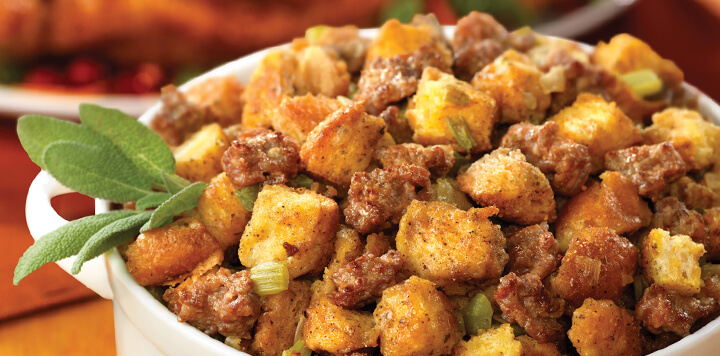 Photo via What's for Dinner
Garlic, sage and fresh vegetables are all you really need to boost this meaty bread mix. Soak it in chicken broth, and this dish is full of flavor that'll satisfy any appetite at the Christmas potluck.
Time: 5 minutes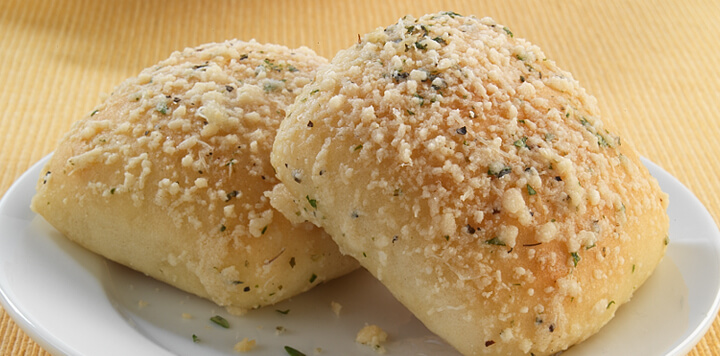 Photo via What's for Dinner
All you need are eight minutes to bake up these babies at home, and then a few more to heat them up once your potluck dinner is being served. They're topped with herbs, garlic and cheese for extra flavor. And they're pefect to go as a side with any of these other dishes that your coworkers will be bringing to this party.
Time: 8 minutes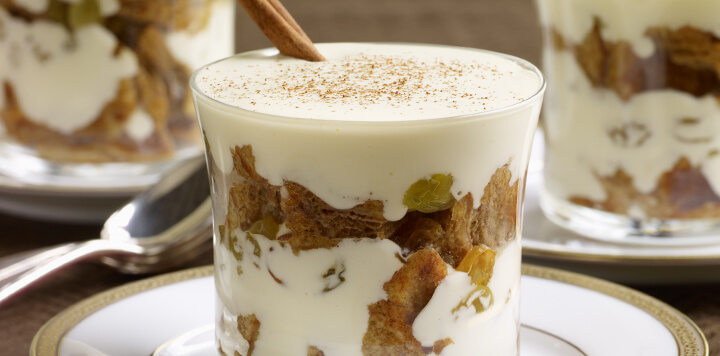 Photo via What's for Dinner
What's a Christmas dinner with Tiramisu to follow? Golden raisins are an unexpected twist to this already rich treat. You can make mini Tiramisus in easy-to-eat, individualized cups, too, so you won't have to worry about coworkers fighting each other over the last bits.
Time: 30 minutes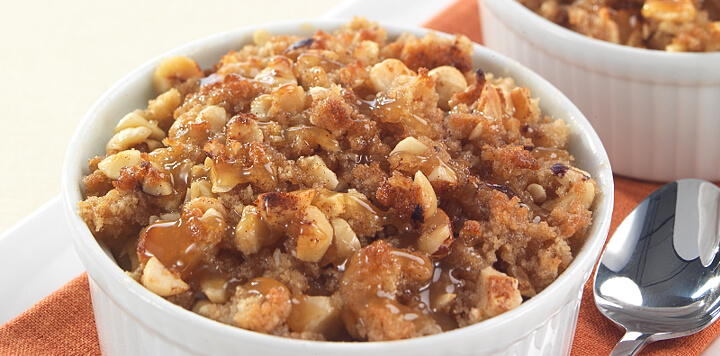 Photo via What's for Dinner
Christmas and caramel apple crisp are basically synonymous. This one is great for toting to the office and sharing with colleagues (if you're going to want to share after you taste this dish!).
Time: 1 hour, 10 minutes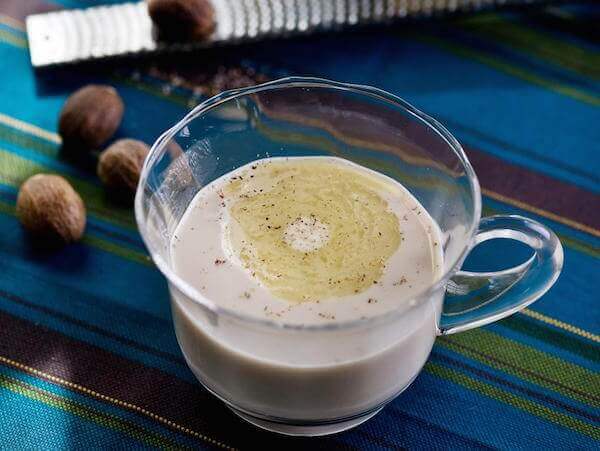 Photo via Food Network
And, again, if alcohol is allowed at your Christmas potluck at work, try a different kind of drink recipe with some hot buttered rum. This warm drink is made with rum, nutmeg, milk, brown sugar and a pat of butter that's perfect for the winter holidays.
Time: 15 minutes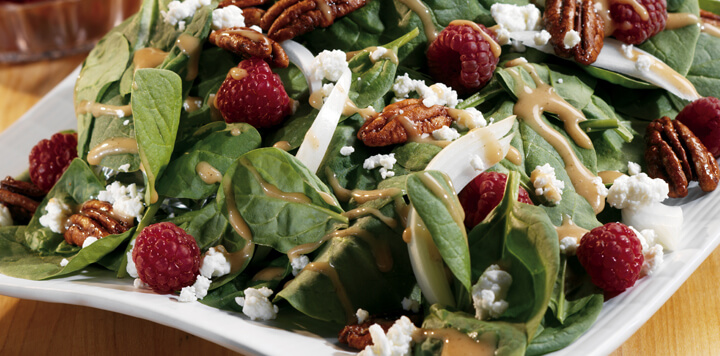 Photo via What's for Dinner
The ingredients of this spinach and goat cheese salad are in holiday theme, as they're red, white and green. Raspberries, spinach and goat cheese make it just as colorful as it is delicious.
Time: 5 minutes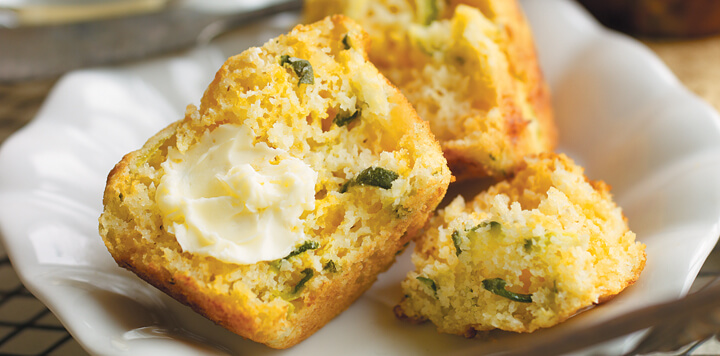 Photo via What's for Dinner
Cornbread muffins make the perfect side for any dish at any potluck. Serve these with honey butter to make them even sweeter.
Time: 5 minutes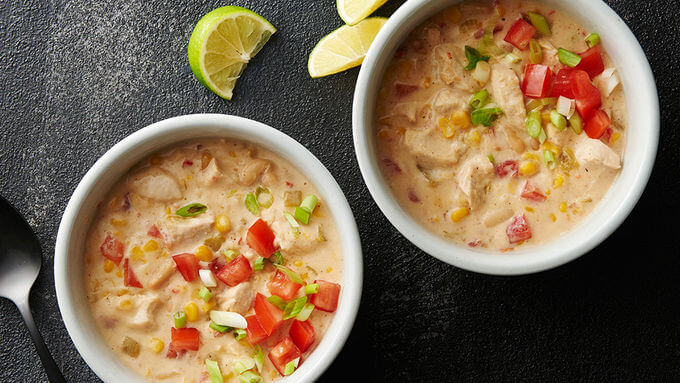 Photo via Tablespoon
Slow-cooked white chicken chili is easy to make because... you're tossing it all in the slow-cooker after just five minutes of prep. It's full of chicken, white beans, corn and green chiles, served with different types of veggie and spice toppings.
Time: 5 hours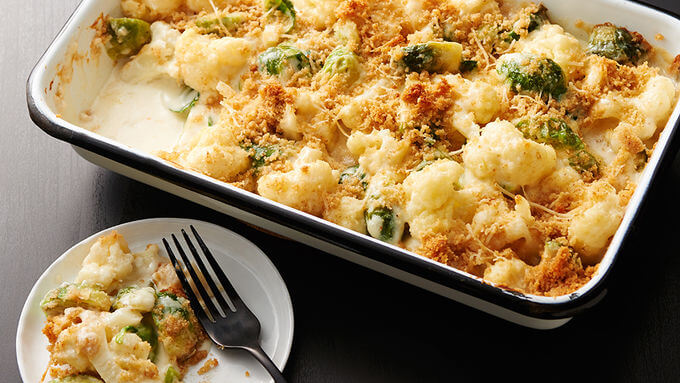 Photo via Tablespoon
Brussels sprouts and cauliflower mix together for a creamy side dish that's with cheesy, creamy and crunchy. This one is not only packed with healthy veggies, but it'll also appeal to the cheese and bread lovers of the potluck crew. Seriously, they'll all be begging for you to make it again for years to come.
Time: 1 hour, 35 minutes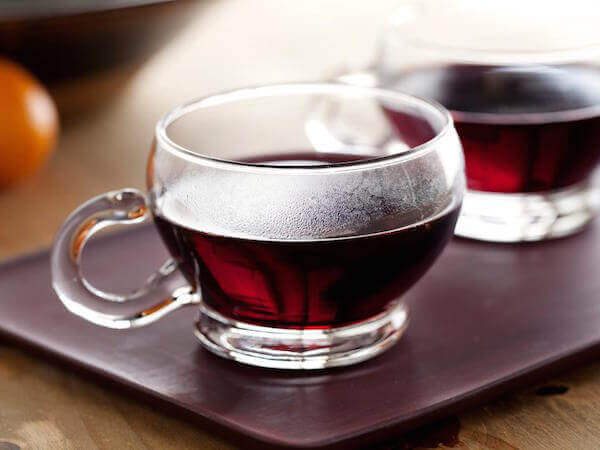 Photo via Food Network
If you can bring alcohol to the Christmas potluck at work, spice up a simple Cabernet by warming it with cinnamon, cloves and navel orange slices. Then just simply serve it hot by the mug. This is another drink that's a classic for the holidays, and it'll likely also go quickly. So make sure you make a big enough batch for your office to enjoy.
Time: 35 minutes
--
AnnaMarie Houlis is a feminist, a freelance journalist and an adventure aficionado with an affinity for impulsive solo travel. She spends her days writing about women's empowerment from around the world. You can follow her work on her blog, HerReport.org, and follow her journeys on Instagram @her_report, Twitter @herreportand Facebook.