Aside from being a city that has amazing food, bars, and architecture, Chicago offers tons of advantages to emerging freelancers. Chicago's flourishing technology scene has fostered billions of dollars over the past few years. Chicago-based software startup Uptake overtook Uber for the title of hottest startup of 2015, and the number of tech jobs has only grown in the years since. The Windy City has become a international hub of innovation thanks in part to its pragmatic, value-driven culture.
To accommodate this rise of freelancers, entrepreneurs, and startup employees, dozens of coworking spaces have popped up across Chicago. If you're based in Chicago and happen fall into one of those categories and are on the market for an awesome new work space, look no further—here are seventeen of the best coworking spaces in Chicago:
River North
Photo via Coalition: Impact
Coalition: Impact offers desks, private offices, conference rooms, and event spaces flooded with natural light, so members have a variety of options to help them launch groundbreaking ideas and develop successful businesses. Located two blocks west of the Chicago stop on the Brown Line, this space provides members with access to rich social opportunities as soon as they step out of the office, like summer concerts at and pop-up cafes.
Location: 405 West Superior Street Chicago, IL 60654
Price: $100+/month hot desk; $300/month dedicated desk
Perks: WiFi, coffee, kitchenette, phone booths, outdoor deck, bike storage, dedicated event space
Hours: 9 AM - 5 PM Monday - Friday, closed Saturday - Sunday
Make Offices provides everything you need to grow your business. This coworking space upholds a professional, authentic environment, and the convenient 24 hour access means there are no need to wait when inspiration strikes.
Location: 350 N Orleans St #9000n, Chicago, IL 60654
Price: $700 +/month private office; $300/ month open desk; $35/day day pass
Perks: Conference rooms, game room, mail collection, fast WiFi, monthly networking events, premium coffee and tea, networking events, massage chairs, craft beer on tap
Hours: 24/7
WeWork provides dynamic environments for creativity and connections, and this location at River North puts members in the heart of Chicago's professional scene. The space is surrounded by luxe shops and Chicago's foremost art galleries, so as soon as you step out after a hard day's work, you'll have the world at your fingertips.
Location: 111 W Illinois St Chicago IL 60654
Price: $450/month dedicated desk; $750+/month private office
Perks: Panels, social events, high speed internet, soundproof phone booths, printing services, micro-roasted coffee, fruit-infused water, wellness room
Hours: 9 AM - 6 PM Monday - Friday, closed Saturday - Sunday
Photo via rent24
Whether you're a freelancer who needs a flexible workspace or a team member of a startup, rent24 offers a high-end atmosphere to get work done. This space provides an awesome work-life balance by providing members with the option to choose between having a seat at open tables or private offices to take care of business as well as a gym to keep health a priority and blow off steam.
Location: 444 N Wabash Ave #500, Chicago, IL 60611
Price: $50/month membership, $250/month private office
Perks: 10% member discount for non-profit organizations, conference rooms, movie rooms, networking events, Grind & Flow gym, WiFi, coffee
Hours: 9 AM - 6 PM Monday - Friday, closed Saturday - Sunday
Buena Park
Human Citizen Workplace is a neighborhood coworking space that on supports, promotes, and connects its members by providing concierge services and various networking opportunities. This encouraging setup is sure to stimulate your work, goals, projects, and passions.
Location: 4101 N. Broadway Chicago, IL 60613
Price: $165/month membership; $315/month dedicated desk + 24 hour access
Perks: Business concierge, member meetups, gourmet coffee, community kitchen, yoga mats, board games, 10% student or non-profit organization discount
Hours: 9 AM - 8 PM Monday - Friday, 10 AM - 6 PM Saturday - Sunday
Ravenswood
Platform's flexible seating options and reserved spaces the provide a little slice of solitude tucked away inside the big city hustle and bustle. Located steps away from the Montrose Brown Line and Ravenswood Metra, the space is surrounded by unique coffee shops and Margie's Candies, so that afterwork pick-me-up is just mere footsteps away.
Location: 4422 N Ravenswood Ave, Chicago, IL 60640
Price: $225/ month flex desk; $375/month dedicated desk; $750/month private office
Perks: Secured entry, coffee, outdoor patio, printing, wireless internet,
Hours: 24/7
East Loop
This Coalition Space began as a hub for professionals working in the energy industry. Though the space continues to maintain a sustainability-focused attitude, their community now includes companies of all stripes. Located across the street from Millennium Park, Coalition Space: Energy occupies the penthouse suite of the historic Gage Building on Michigan Avenue., offering panoramic views of the park and Lake Michigan.
Location: 18 South Michigan Avenue, Floor 12, Chicago IL 60603
Price: $150/month flex membership; $450/month dedicated coworking space; $750/month private office; $35/day day pass
Perks: Business class printing, networking events, coffee, bike storage, private phone booths, fiber-fast internet, secure lobby
Hours: 24/7
Logan Square
Photo via Logan Share
The cleverly-named Logan Square offers one of the most distraction-free work environments in Chicago. Upon stepping out on their lunch hour, professionals enjoy a mix of family businesses and trendy operations.The flexible team bays and moveable project boards help members work creatively in ways that work best for them while the 45 feel of north-facing windows provide unparalleled natural light for as long as the sun is out.
Location: 2864 N Milwaukee Ave, Chicago, IL 60618
Price: $325/month dedicated desk
Perks: Private phone booths, napping areas, bike storage, showers, scanning services, kitchenette, reservable event space
Hours: $24/7
Community-focused and member-supporting, Second Shift offers a bright, comfortable, noise-controlled open workspace and also provides members with the option of plenty private spaces to choose from. Second Shift promotes a diverse, professional community and maintains focus on driving positive social impact in the Logan Square neighborhood and as voted one of Chicago's best coworking spaces in 2017.
Location: 3432 W Diversey Ave Floor 2, Chicago, IL 60647
Price: $385/month dedicated desk; $165/month community seating
Perks: private conference rooms, coffee and tea, private phone booths, member events, board game collection
Hours: 24/7
Ampersand offers a highly professional, congenial environment that fosters hard work. Walking distance from some of the city's best restaurants and nightlife, this space is right near the Fullerton #74 and Kimball #82 bus lines, a ten-minute walk from the Logan Square CTA Blue Line Station, and offers ample parking in the area. Need some fresh air? Move your work to the 2,000 square foot roof deck and get cracking!
Location: 3317 West Fullerton Ave, Chicago, IL 60647
Price: $195/month shared desk; $395/month dedicated desk
Perks: Sit-stand desks, lockable file cabinets, conference room, mail services, printing services, kitchen, rooftop access, bike parking, private phone booths
Hours: 24/7
The Loop
Across from Chase Plaza, Novel offers both private office space and a vibrant coworking atmosphere. This original flagship is mere steps away from the El and brings you closer to clients, prospects, and entertainment. Maintain your focus by making use of the fully-functional espresso bar and unwind with a local beer on tap before heading out to take a stroll around Millennium Park at the end of the workday.
Location: 73 W Monroe St, Chicago, IL 60603
Price: $99/month shared desk; $199/month dedicated desk; $399+/month private office
Perks: espresso bar, beer on tap, direct fiber internet, mail service, event space, bike racks
Hours: 24/7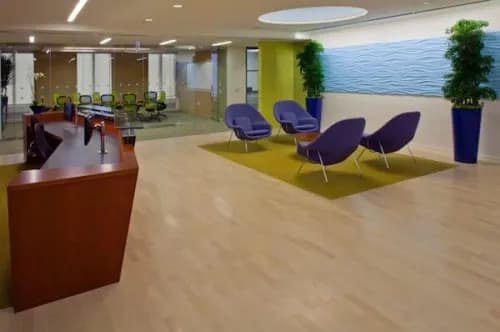 Photo via Carr Workplaces
Carr Workplaces provides luxury hotel concierge-level service in a coworking setting. The community managers provide a hospitable experience and act as team extensions, and the AON Center location offers a breath-taking view of Lake Michigan and Navy Pier.
Location: 200 East Randolph Street Suite 5100 Chicago, IL 60601
Price: $299/month touchdown desk; $440/month dedicated desk
Perks: 24/7 security, 7 on-site restaurants, on-site convenience store, community and networking events, community cafe, high-speed internet, on-site fitness center
Hours: 24/7
West Loop
Surrounded by modern restaurants and art galleries, Industrious is situated in a core of creativity and culture in West Loop. The short walk from the CTA blue line makes commuting a snap, and the daily lunch service and weekly member happy hours give professionals a chance to relax and unwind after working in their elegant office spaces.
Location: 600 W Jackson Blvd #100, Chicago, IL 60661
Price: $369 shared desk; $684 private office
Perks: Unlimited free printing, local snacks, fast internet, coffee bar, relaxation rooms, happy hours
Hours: 8:30 AM - 5 PM Monday - Friday, closed Saturday - Sunday
Wicker Park
Free Range Office welcomes creatives and professionals from all walks of life to converge in their home-like ambience and ditch their isolating home offices. Located in the hip, residential neighborhood of Wicker Park, Free Range offers seven different membership options to accommodate a large assortment of lifestyles. The space provides a productive place to focus, and access to the fully stocked gourmet kitchen isn't half-bad, either.
Location: 2141 W. North Ave., 2nd Flr Chicago, IL 60647
Price: $180/month mobile access; $385/month dedicated desk; $425/month office pod
Perks: Meeting space, private phone booths, complimentary coffee and free Wi-Fi, color printing, outdoor terrace, gourmet kitchen
Hours: 9 AM - 5 PM Monday - Friday, closed Saturday - Sunday
South Loop
Located on the would-famous Michigan Avenue, workVault caters to self-employed creatives, freelancers, and independent professionals. Private meeting rooms, open coworking spaces, and chic venue space provides members with the chance to truly reach all of their business goals. The high loft ceilings and vivid lighting provide a dynamic work environment in the heart of the city.
Location: 1420 South Michigan Avenue Chicago, IL, 60605
Price: $500/month dedicated desk; $1,000+/month private office
Perks: Wireless internet, food and beverage amenities, event space discounts, conference room access, private filing cabinets
Hours: 24/7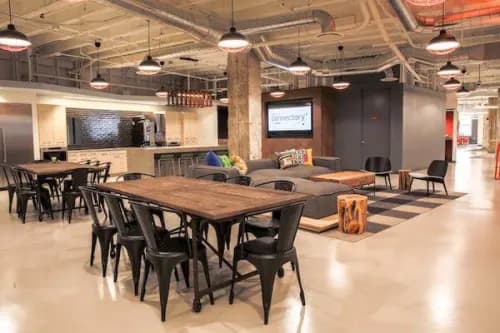 Photo via ChicagoConnectory
The Chicago Connectory opened in 2017 with the express goal of creating a hub for the Internet of Things community to collaborate, developed between Bosch and 1871. Though collaboration remains one of Chicago Connectory's guiding principles, the space now functions as an incubator for startups of all types. Members enjoy events and panels in the historic Merchandise Mart location.
Location: 222 W Merchandise Mart Plaza Suite 570, Chicago IL 60654
Price: $300/month open seating
Perks: high-speed WiFi, mentor network, IoT workshops and programming, conference rooms, kitchen, free coffee
Hours: 24/7
CoGen provides spacious, fully furnished workspaces and a wealth of amenities to help members maximize their professional opportunities. Their notable number of membership options provides flexibility for busy schedules. The convenient South Loop location is one block from the Roosevelt 'L' stop with access to red, green and orange line trains.
Location: 1132 S Wabash Ave. #200 Chicago, IL 60605
Price: $99/month flex 5; $299/month full-time
Perks: high speed internet, wireless printing and scanning, complementary coffee and beverages, conference rooms, standing desks, biweekly happy hours, rooftop access
Hours: 24/7

--
Kayla Heisler is an essayist and Pushcart Prize-nominated poet. She is a contributing writer for Color My Bubble. Her work appears in New York's Best Emerging Poets anthology.