Laura Wheeler was raised in a multiracial family in the small town of Ware, located in Hertfordshire, England. Growing up, Wheeler recalls being told that she looked "too exotic" for her name or that she wasn't "really" half-Chinese.
But after moving to the much larger city of London at age 18 to attend the London School of Economics, her world changed. The diversity at LSE helped reinforce her identity and passions — which continues through today.
"I'm passionate about diversity, equity and justice," shares Wheeler. She acts on this passion in multiple aspects of her personal and professional life. For instance, when she was working long hours in a previous role and not feeling emotionally fulfilled, Wheeler started volunteering at a Good Samaritans helpline, a group with which she has now volunteered for 16 years! This work is an important part of her life and was the catalyst for her psychotherapy training; it helped her complete part of her master's degree, encouraged her to start volunteering as a therapist and led to her most recent role at the Royal Academy of Dramatic Art, where she supported acting students.
Wheeler's passion for DE&I is also not only accepted but encouraged at her current organization, Capital Group. As a senior manager of Investment Operations, Wheeler says, "It's a privilege that I am encouraged to use my voice, my identity and my experience to help make the landscape more welcoming and inclusive for those who come after me."
"It's been wonderful to bring my whole self to work and be able to teach and discuss. And it's a joy, honor, and privilege to talk about my identity and bring that into the workplace — the part of me that isn't always visible to others," she tells us. "I appreciate a firm that encourages associates to be open, to share and to celebrate their differences and what makes them unique." For her part, Wheeler is paying this support forward by leading the way and empowering her team of 20 associates.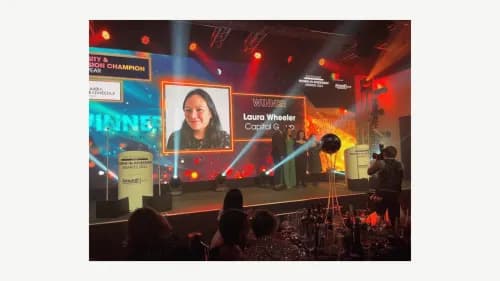 Laura Wheeler winning an award for her work at the Women in Investment Awards 2022. Photo courtesy of Capital Group.
She also participates in Capital Group's associate resource community LEAP (Leading and Engaging Asian Professionals), of which she helped start Capital's Europe chapter. Through her participation in LEAP, Wheeler has brought in external speakers and recently hosted an event to build awareness of British colonialist history. As Wheeler is very intent on bringing her whole self to work, this includes representing both her Chinese and British heritages. Thanks to her passion and Capital Group's support, Wheeler has helped to foster a culture that's supportive and inclusive for all people.
In this article, Wheeler shares everything from a glimpse into her role to her best advice, how Capital Group has supported her (including through two maternity leaves) and how associates are at the center of "the fabric of our organization here at Capital Group."
To start, what do you find most rewarding and challenging about your work?
I really like the people-development aspect of being a manager. I get a lot of fulfilment from work. I love to help people find meaning in their own work, as well as help them achieve their personal and professional goals. The challenging aspect is keeping work and life separate. I'm not great at switching off and I definitely can take my work home with me mentally. Something that has helped me with this is hearing from senior management that they sometimes do this too! So maybe I shouldn't beat myself up so much about it.
What advice do you have for someone new to your industry?
Be curious. Poke around and get to know the fabric of the role and the organization. Write down all your questions and periodically go through them to tick off what you've already answered or categorize them into buckets. Then, figure out how you want to go about tackling your questions. Start to figure out what your strengths are and what is unique about you that you can bring to the role. You deserve your place, and the world is your oyster.
What people, resources, and tools do you rely on to get work-life balance?
I'm very lucky with my support at home. My children are five and three years old, and we are expecting a third baby this year! And, like any working parent, I have to be extremely organized to keep everything running. Sometimes I drop the ball and it can feel like the whole house of cards falls down, but I try to accept that I've done my best. I've got affirmations around the house like "It's OK to make mistakes." This is true for me and my children!
I also talk to my partner a lot about the mental load and how we can divide tasks. In terms of tools, we have an old-fashioned, pen-and-paper annual wall chart to keep track of events and birthdays, which we found works best for us after trying out multiple other formats. We also keep talking about what we are finding difficult and what we can do to adjust. For example, I find weeknight mealtimes stressful (when cooking used to be my favorite activity), so my partner and I decided that we don't need to eat together every night, nor plan meals for each other during the week. That took off a lot of the burden I was feeling! We also used to tidy up the house every night when the children were in bed — only for them to wreck it the next morning! Easing up on our expectations has definitely reduced our workload during the week.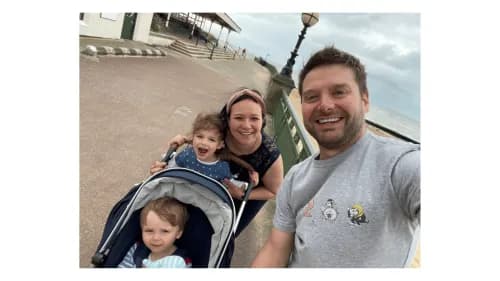 Laura Wheeler and family. Photo courtesy of Capital Group.
What about the company culture at Capital Group? What's your favorite aspect of it and how does your company help you succeed?
I've heard two people say recently that "a bad day here is still better than a bad day anywhere else." I wholeheartedly believe that. The structure, the history and the ethos of this company make sure that throughout the fabric of the organization, you know you are valued, people care and you are important.
Looking back on your career, what would you say has been your most valuable career mistake?
I didn't ask for help when I needed it and thought it would show weakness or my inability to do the job.
I went into a new role where I was supposed to be a dual manager. However, the other manager left and I felt that I needed to show I could handle the role really well. I wanted to project that everything was under control and would be OK, and I was focused on trying to appear cool and calm. The reality was it was a very challenging team with some deep issues and challenges. I remember one day when multiple people were in tears, and I told them "We'll be OK. It's OK." At that time, I realized that I wasn't being authentic with them; I wasn't being authentic with myself. Things were not OK.
Looking back, [I think] no one would have been able to do what I'd been tasked to do, and I could have communicated it to my bosses without feeling like I was complaining. I ended up burning out, which is not a good outcome. I vowed never to let that happen again!
Now, I share the mistakes I make, and I strive to be authentic — more open — and to know that it's OK to show vulnerability. It's important for me to think about how I want to show up every day and what kind of person I want to be.
How can others find a role that they're passionate about, like you have?
You don't need to turn inward and just think about what the right role in life is for you. You need to actually go out and try different things and have experiences to find out what is right for you.
What about advice for others who are looking for their passion or voice at work?
I was at a career crossroads some years ago and I read Herminia Ibarra's Working Identity. It's not an overstatement to say that book changed my life! It completely changed how I thought about my career and what I wanted out of it. I have been happier and more fulfilled as a result and more secure in my choices. I have learnt a lot from Bruce Daisley, who writes a lot about workplace culture.
Overall, what is your number one piece of advice for women who are moving into or want to move into leadership roles?
If you don't feel confident, find your cheer squad that will help remind you of your many strengths and abilities. We need to build each other up! Find your safe space to download, to offload and help you identify what you need to keep going.
Finally, what's the most memorable piece of career advice that you've ever received?
You may never be amazing at the competencies that you are less than great at — and that's OK. Work to minimize the impacts of those competencies and accept they may never be your strong points, which is perfectly fine! No one is perfect. On the flip side, there are probably many competencies that are more your strengths, and it's very rewarding and fulfilling to focus on those. Let those really be your north star.
---
Fairygodboss is proud to partner with Capital Group. Find a job there today!