"I think being authentic and bringing your whole self to work is easy at Northwestern Mutual because of the environment that we offer," shares Kisha Keeney, Senior Director of Diversity & Inclusion at the company.
"We're the type of culture that embraces difference and also lifts up difference. I've been able to grow my career here and I've grown as a person."
Northwestern Mutual has been helping people and businesses achieve financial security for more than 165 years. The company has earned the highest available financial strength ratings awarded to any U.S. life insurer and they're one of the most financially strong companies in America! But, above all else, the company believes in putting people first, doing the right thing and creating a culture of respect. These are the principles the company was founded on and continue to be at the center of their priorities.
Curious what it would be like to work at Northwestern Mutual? Read on to learn more about their supportive culture, focus on diversity and top-of-the-line benefits.
A culture focused on professional development.
At Northwestern Mutual, careers are about choices, not chances. To help each employee navigate those choices, the company provides support and resources to enable employees to take charge of their growth and development. Self-inventories, including the Caliper assessment, help identify skills and drive clarity around likes, dislikes, strengths and development areas.
Online coaching and mentorship opportunities—both within and outside of the company's award-winning Employee Resource Groups--also support growth. An extension of that focus, the Project Uplift roundtable series enables employees to connect in small groups with senior leaders for purposes of visibility and exchange.
Collaboration is encouraged
As a company built on relationships, Northwestern Mutual promotes collaboration. If you ask a colleague to connect over lunch or coffee, in nearly every instance they will say yes. This networking philosophy includes people on your team but also those outside your team, your department or even your same level. With multiple locations and remote employees, Northwestern Mutual is intentional about extending their collaborative "lunch culture" to all employees by supporting and fostering opportunities to gather virtually.
"We believe in the power of relationships and employees are actively encouraged to get to know others across the organization for purposes of connection, understanding, learning and growth," Vice President of Talent Acquisition and Senior HR Business Partner Kelly Culler tells us. "It's one of those intangibles that defines who we are as a company."
This deepens a culture of belonging, where everyone is able to do their best work. And the culture and employees are stronger because of it.
Making DE&I a priority
A significant part of this culture of belonging is the company's strong focus on DE&I. "We're dedicated to supporting and promoting diversity not just within our company, but within our communities and partnering with other businesses and suppliers," says Vice President of Diversity & Inclusion Amy Hanneman. "Our vision, our growth, our commitment to our clients and to each other requires that we continue to be inclusive and innovative."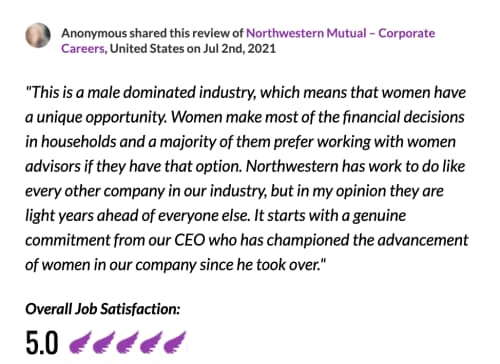 An anonymous review on Fairygodboss.
The company puts a strong emphasis on diversity and inclusion through measures like encouraging people leaders to have formal diversity and inclusion goals as part of the company's established annual goals.
This focus isn't new. Since 2010, the company has followed a 15-year D&I roadmap to guide their diversity and inclusion work. In 2019, Northwestern Mutual doubled down on their commitment to women in the workplace and created the Women's Initiative to ensure Northwestern Mutual is the choice for women to join, stay and grow. An ecosystem of women and ally groups — including the Women's Employee Resource Group, Women in Technology, Visible Intentional Black Excellence (VIBE), Women's Field Association and Male Allies, and more — work together to advance women and maximize synergies.
And, Northwestern Mutual is seeing real results. More than 40% of leadership roles in their corporate offices are filled by women, an increase of 57% over the last three years. And, according to their Q4 2021 employee survey, 91% of employees agree that "my manager values diverse perspectives and an inclusive environment."
Benefits and opportunities galore!
Northwestern Mutual also seeks to promote wellness for all employees and offers a network of Total Rewards as personal and unique as our employees. Among NM's meaningful and impactful benefits, the company offers 12 weeks of paid parental leave, along with financial assistance for those pursuing adoption/surrogacy services. Northwestern Mutual also provides 80 hours of paid caregiver leave for employees to give assistance to family members with health issues.
Behavioral and mental health benefits include an on-site EAP counselor; access to Talkspace, an online therapy service, and additional therapist and coaching offerings.
Plus, Northwestern Mutual's on-site concierge program helps with everything from running errands to buying gifts, while Bright Horizons offers access to networks of babysitters and nannies, along with financial discounts on background checks, nanny placement fees and tuition discounts. Their college coach service helps families plan for college, reviews essays, compares colleges and ultimately, helps families understand financial planning resources.
And every employee is eligible for the company's Annual Incentive Plan (AIP), an annual incentive award based on the company's and the employee's own performance. Northwestern Mutual has delivered payouts at or above the target 20 times in the last 21 years.
Does this sound appealing to you? Well, Northwestern Mutual is hiring! Browse current job opportunities via the link below.
---