1.16k
You never know where your career will take you, so that's why it's important to familiarize yourself with multiple ways to display your qualifications. Functional resumes are resumes that pull focus towards your abilities and skills as opposed to past job experiences, which the more commonly used reverse chronological resume highlights.
The more tools you have at your disposal, the more fruitful your job search will be. Knowing when and how to use a functional resume can make you a more viable job applicant.
Who should use one?
Most commonly:
When you have employment gaps
When you're changing careers
When you're starting your career
Those who have significant gaps in their employment history are ideal candidates to use the functional resume, as the format better displays skills and experience than specific positions held. Using a functional resume instead of a reverse chronological resume can also come in handy if you're making a change from one career path to another.
Likewise, someone just beginning their career could come across more favorably by using a functional resume.
However, keep in mind that the reverse chronological resume is the standard that is favored by recruiters, so functional resumes should only be used in rare instances such as those previously mentioned.
How to write one
There are a variety of ways that you may choose to arrange your functional resume. One positive of using a functional resume is that you can adjust the sections and layout to best highlight your own accomplishments and skills.
That said, there are common guidelines that are often used that may then be tailored as you see fit. Your functional resume should include:
1. Your contact information
2. A summary of your career objective
3. Your areas of expertise with examples
4. Your educational background
5. Your employment history
Contact Info
Include your current city, phone number, professional email address, and LinkedIn link if you have one (which you definitely should!). As with any type of resume, feature this information first so that recruiters and managers can quickly and easily see how to reach out for an interview!
Career Objective
Give a brief overview that summarizes your professional goals and outlines your past experience. Provide recruiters with a sense of what you've accomplished and what you hope to continue doing in your career. There are different headings you can use, but you should ultimately communicate what you have accomplished and what you hope to accomplish in your next role.
Areas of Expertise + Examples
List specific skills that you possess such as language proficiency, software, or soft skills.
The most important thing to remember is that the skills that you list should be tailored specifically for the job for which you are applying or clearly be a transferable skill. If you are applying for a job in sales, listing expertise in PhotoShop will take away attention from more relevant skills, such as familiarity with HubSpot.
When you list out skills, it's crucial that you are able to provide specific examples of how you have employed these skills. This is important for both hard and soft skills listed. Rather than simply stating that you have strong communication skills, include instances of leading team meetings and supervising large teams. Providing evidence of how you have used mentioned skills in the past gives employers a sense of how you would be able to use them at their company.
Educational Background
The placement of your educational background information can be determined by how long you have been in school and how closely related your achievements are to the job for which you are applying.
For example, if you studied literature and are applying for a job as a financial advisor, you may want to leave out a summary of your thesis or the poetry contests you've won but include brief descriptions of the accounting courses that you passed with high grades.
Information that may be included in your Educational Background section should include:
Your school's name
Degree earned
GPA (if you are a recent graduate and the GPA is favorable)
Academic achievements (if related to job)
Additional relevant certifications
Employment History
Though it could be said that one of the benefits of using a functional resume is to distract from employment gaps, it is still necessary to include places of employment on the resume. However, you may use creativity to downplay this section.
You may include it at the bottom instead of at the top, so that those reviewing have a chance to view information that is not history before making judgments only based off of positions held.
If you are transitioning to a new career, the employment section can be an ideal opportunity to show growth within a company. If you've only had experience at one or two companies, highlight the different positions you've held to convey a sense of upward motion and increased levels of responsibility.
What if you have no experience?
Functional resumes are ideal to use if you have little or no experience in the position for which you are applying. One reason why they are a good choice is that you are able to emphasize what skills you have gained that can be transferred to the position.
Your lack of experience can be more easily camouflaged than if you were to use a chronological resume. Emphasizing your career philosophy in the objective section is also more crucial if you lack experience. This means that you describe why you want to do the work, why you are a good fit for the position and organization, and demonstrate that you are ready and willing to learn. Emphasizing the education section or adding a section for volunteer work can also help highlight dedication and aptitude.
Examples of functional resumes
Example 1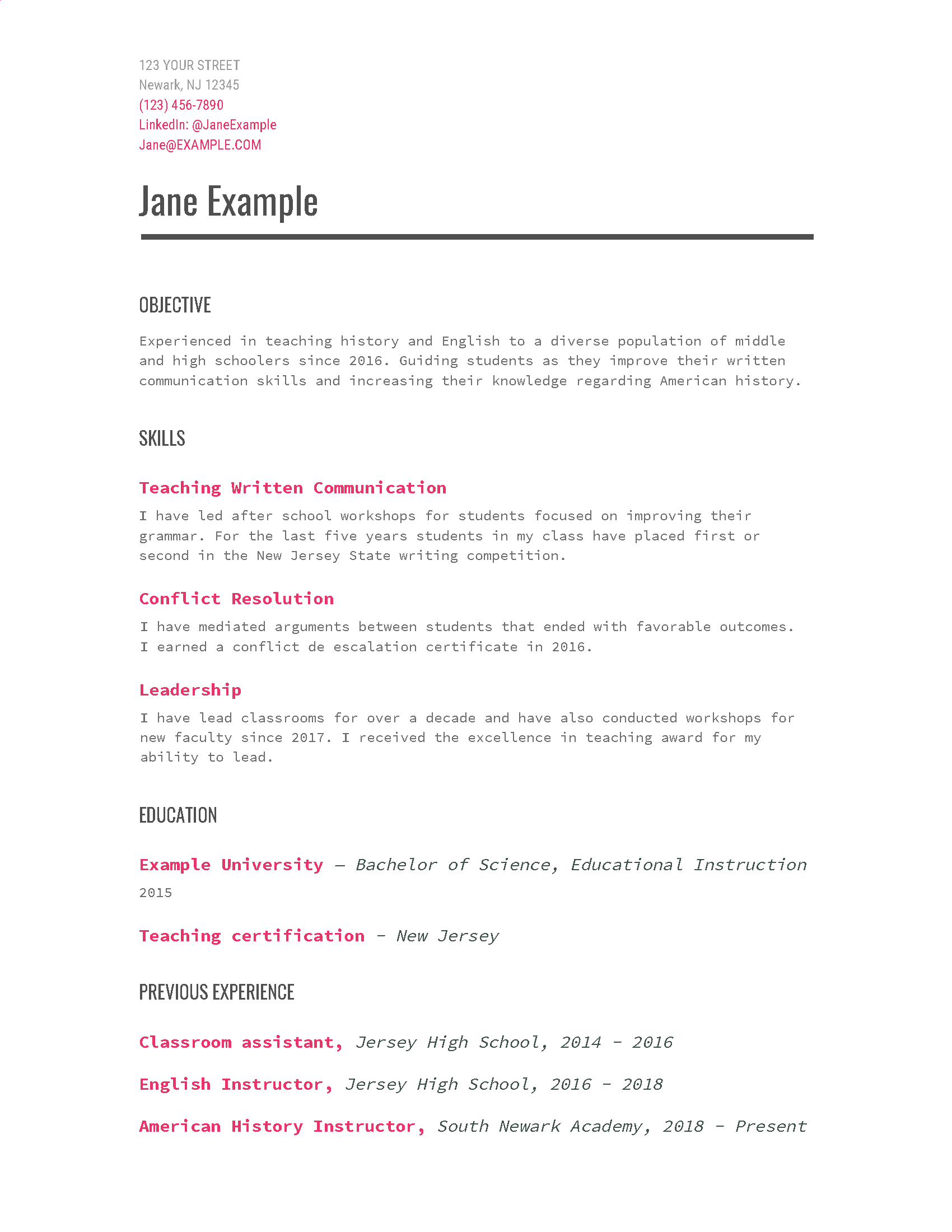 Example 2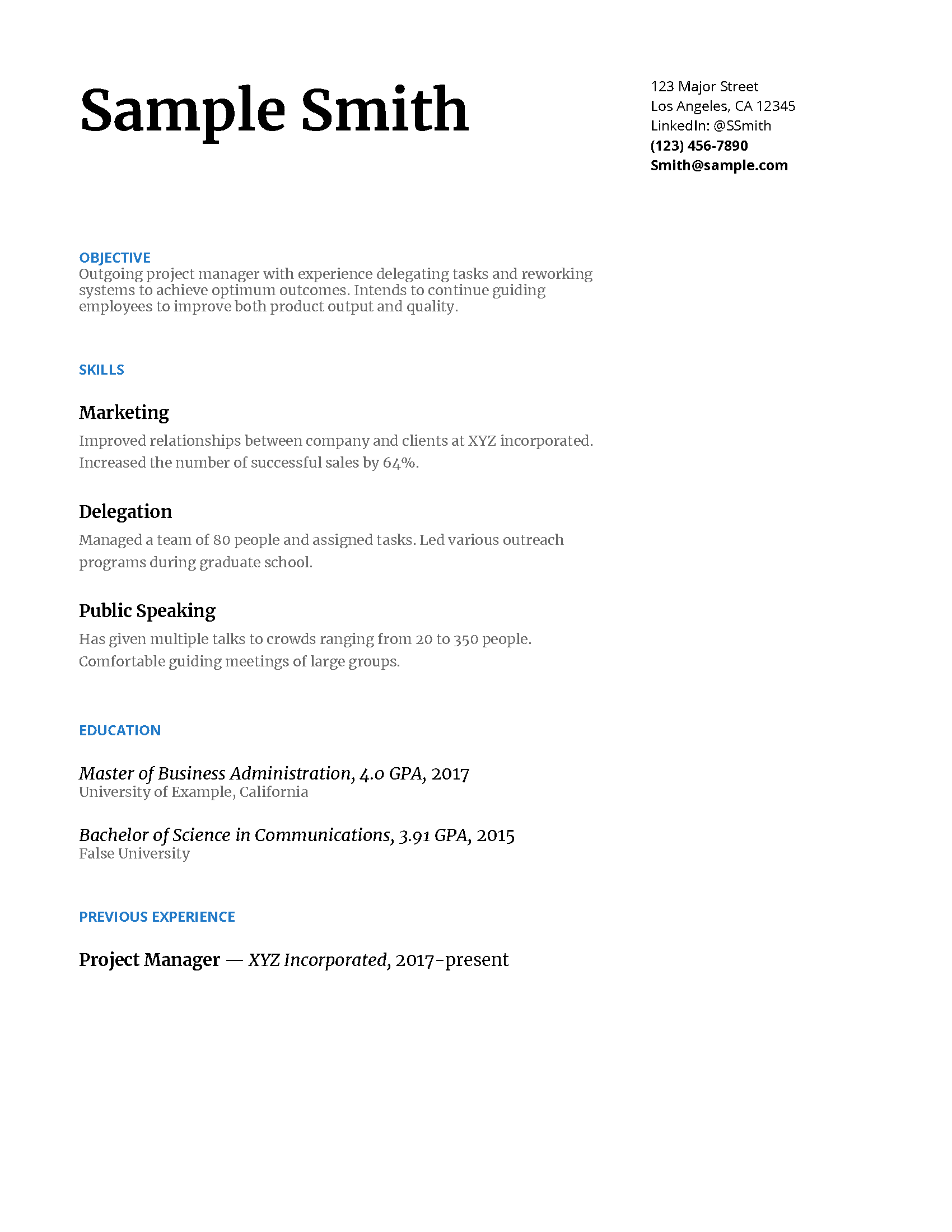 Example 3
FirstName LastName
(123) 456-7890
222 Main Street
Rochester, NY
OBJECTIVE
Outgoing project manager with experience delegating tasks and reworking systems to achieve optimum outcomes. Intends to continue guiding employees to improve both product output and quality.
Skills and Abilities
Marketing
- Improved relationships between company and clients at XYZ incorporated resulting in X client renewal rate.
- Increased the number of successful sales by 64% year over year.
Delegation
- Managed a team of 80 people and assigned tasks.
- Led various outreach programs during graduate school.
Public Speaking
- Has given multiple talks to crowds ranging from 20 to 350 people.
- Comfortable guiding meetings of large groups.
Education
Master of Business Administration, (Optional: year graduated)
University of Example, State
Bachelor of Science in Communications, (Optional: year graduated)
Example University, State
Any Additional Degrees or Certifications
Previous Experience
Project Manager — XYZ Incorporated, 2017-present
--
Kayla Heisler is an essayist and Pushcart Prize-nominated poet. She is a contributing writer for Color My Bubble. Her work appears in New York's Best Emerging Poets 2017 anthology.