GE has a strong history of going above and beyond to prioritize gender diversity, and in May 2016, the company opted to take its efforts a step further. Leaders at the organization were hoping to amplify their work in attracting and retaining top female talent, and they decided to partner with Fairygodboss to do just that.
Why did GE make this choice? Because at Fairygodboss, we vowed to share GE's story with our community by providing insight into why GE is such a wonderful place for women to work. We promised to promote GE's brand to a broad audience of engaged, qualified women (we reach 3 million women each month), and we committed to identifying top female talent for key positions within GE. And we delivered.
Data from Fairygodboss shows that women search for jobs differently than men. Women seek out information about culture, policies and attitudes towards women
before they apply
. By partnering with Fairygodboss, GE was able to communicate its employer brand promise in a way that resonated well with its target female job applicant.
How, exactly, did Fairygodboss make it happen?
Fairygodboss hosts official employer pages for all of our employer partners. While tens of thousands of companies have pages on our site that include anonymous employee reviews and data on parental leave policies, GE and our other partners are able to add their own messaging to their page (specifically explaining "what women should know about working at General Electric"), as well as profiles on women who work at the company.
GE's official employer page garnered
over
7,000 views
from engaged female jobseekers this past year.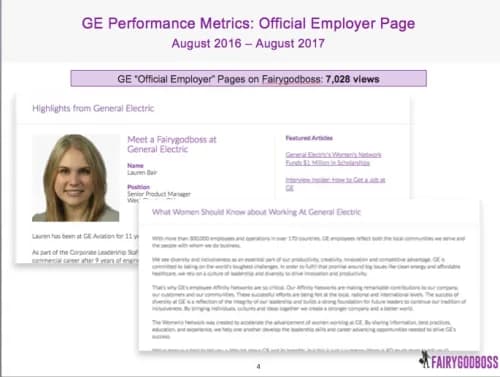 We advertised GE's high-priority jobs — and helped to fill some of them!
GE, like our other employer partners, used Fairygodboss to help advertise for jobs they wanted to fill. We listed these jobs both in our general
jobs database
and on
GE's page
. Within the past year
,
nearly
7,000 women
viewed GE's job openings on Fairygodboss.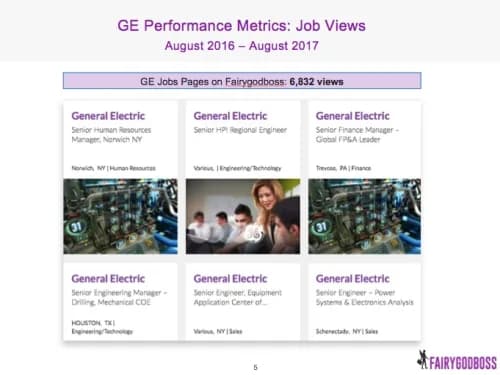 We promoted GE and its jobs through newsletters and social media.
Over the course of the year, Fairygodboss gave GE some extra love by promoting the company, its women-focused initiatives, and its jobs in numerous newsletters and social media posts. These promotions were viewed nearly
119,000
times in newsletters and more than
120,000
times on social media.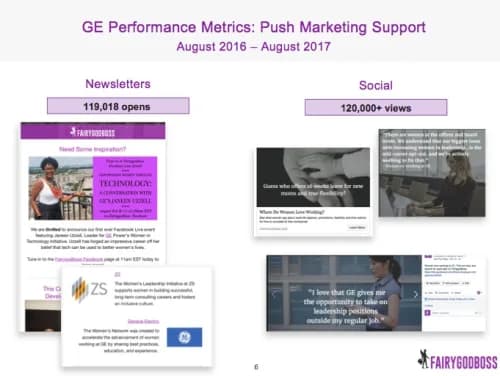 We wrote original sponsored content and editorial articles featuring GE — and shared it like crazy.
Fairygodboss wrote original content to shed light on what, specifically, GE is doing to work toward gender equality. Our editorial team interviewed employees to include relevant quotes and anecdotes in the articles, and, for sponsored pieces, gave GE full control over the final approval process before publishing.
We promoted these articles like crazy on social media and in newsletters, and also linked to them from GE's page on our website.
Here's a selection of the articles we wrote for GE:
5 Reasons Women Love Working at GE
GE Hope New Goals Will Narrow STEM Gender Gap
Grand Central's Ceiling Just Got a Seriously Feminist (and Stunning) Makeover
Meet One of the Young Engineers Who's Pioneering 3D Technology
This Fortune 100 CEO's Secret to Success is Super Applicable
Fairygodboss of the Week: Beena Ammanath
We also included GE in various listicles, including:
These 30 Companies Ranked as the Best Places for Women to Work in 2017
27 Reasons Women Love These Companies
The articles Fairygodboss published for GE were read by
86,000+ women.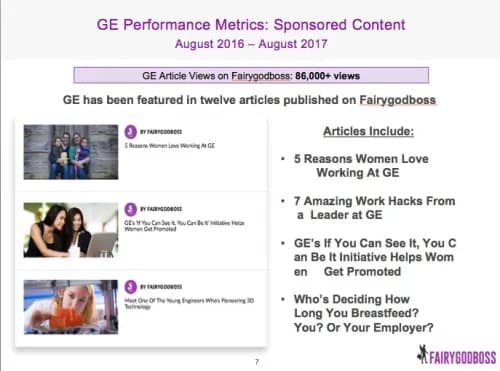 We aim to provide red carpet customer service.
Our customer success team scheduled monthly calls with GE to discuss monthly metrics and to ensure GE was taking full advantage of the partnership. Calls were also scheduled to plan for sponsored content articles, and the Fairygodboss team was readily available to hear any questions or concerns from our contacts at GE.
And in May 2017, GE renewed its partnership with Fairygodboss. Shaunda Zilich, GE's global employment brand leader, explains why: "Fairygodboss has over-delivered on our expectations every step of the way," she says. "We see a strong ROI from our partnership in terms of employer brand and qualified applications to our posted jobs."
Fairygodboss' other employer partners — among them IBM, Salesforce and OnDeck — report similar results. "Fairygodboss helps IBM package and share our story in an authentic and relevant way," says Amber Grewal, global VP of Talent and Onboarding at IBM. "They help us attract women using social and content tactics that have amplified our in-house efforts and furthered our gender-diversity strategy. The data that they are able to provide – and their customer service – are both fantastic."
Cindy Robbins, EVP Global Employee Success at Salesforce, says her company has benefitted from working with Fairygodboss because of our mission to increase transparency. "At Salesforce, we promote an open, transparent culture and we encourage candidates and employees to share their feedback," she explains. "A critical step to closing the gender wage gap was increasing transparency, and platforms like Fairygodboss are essential to advancing the conversation about gender equality and pay equity," she says.
OnDeck's SVP of People Operations, Lorna Hagen, says that Fairygodboss has been a critical resource in connecting OnDeck with top talent. "In the tech space, the
competition
for qualified female talent has never been greater," she says. "Fairygodboss has a strong proposition that allows employers like OnDeck to reach ambitious women and speak directly to the topics and issues that they consider when choosing a job."
To put it plainly, the Fairygodboss partnership program pays off. Period. We work tirelessly to reach our overarching goal — improving the workplace for women by increasing transparency — and there's no better way to do this than to partner with like-minded companies that are eager to hire and retain more women.
If you are interested in learning more about how Fairygodboss can help you attract top female talent to your company,
contact us here
.