Twenty days, 20 selfies and 20 T-shirts: Alyssa shares why she decided to document the stories behind her Capital One swag and how she found the courage to amplify her voice throughout the process.
It was a Friday morning and Alyssa slipped on a Capital One T-shirt and jeans. She didn't think much of the outfit—it was typical for her to wear a company shirt—but Alyssa soon realized she had worn a Capital One shirt every day that week.
She began taking stock of the dozens of company T-shirts, bags and other swag she owned and considered documenting the stories behind them. As she brainstormed, Alyssa received an email that Capital One's Tech organization was actively recruiting an influx of top talent. An idea erupted.
"I thought, why not share some photos of these cool shirts I own on LinkedIn with a post about why I love working at Capital One," said Alyssa, a software engineer for Capital One Tech. "It was a spur-of-the-moment decision with lasting effects."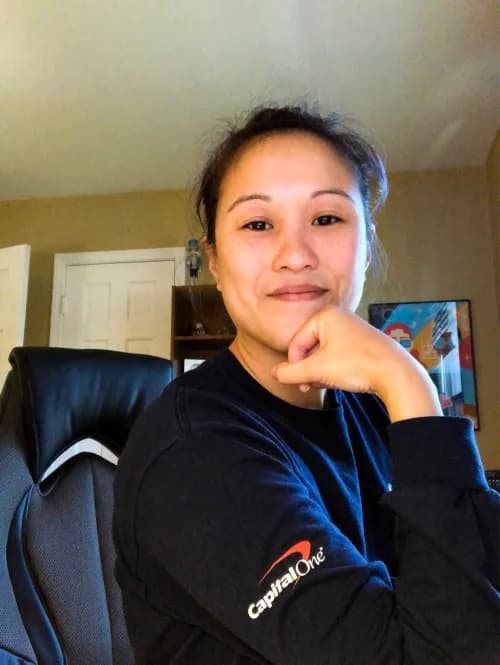 Alyssa in a Capital One shirt. Photo courtesy of Capital One.
In November, Alyssa posted a selfie to LinkedIn. She wore a gray and pink baseball T-shirt with "Women in Tech," our Business Resource Group (BRG) for women technologists and allies, printed on it. With the post, she wrote about her love of Capital One's culture and the conversations, connections and mentorships that form in Women in Tech.
For the next 20 days, Alyssa uploaded a selfie with Capital One swag, the backstory of the item featured and a highlight of working here.
Connecting others to benefits and resources
Alyssa made impromptu decisions about what Capital One item she'd model and what about our culture she'd write about during the first few days of the series.
Her first week covered our cutting-edge technology, professional certifications and Capital One Coders, a program in which our technologists connect with students to explore mobile app development, web design, artificial intelligence, cybersecurity and other emerging technologies.
"Capital One gives us all sorts of resources to grow into our careers," Alyssa said. "I had too much content to highlight. There are things I can take advantage of every day that help my career development."
After the first week, Alyssa began spending more time being more thoughtful when planning her series. She didn't want to repeat any themes. She wrote about our students and grads programs, health and wellbeing benefits, our commitments to doing good and her involvement with Origins, our Asian and Pacific Islander BRG.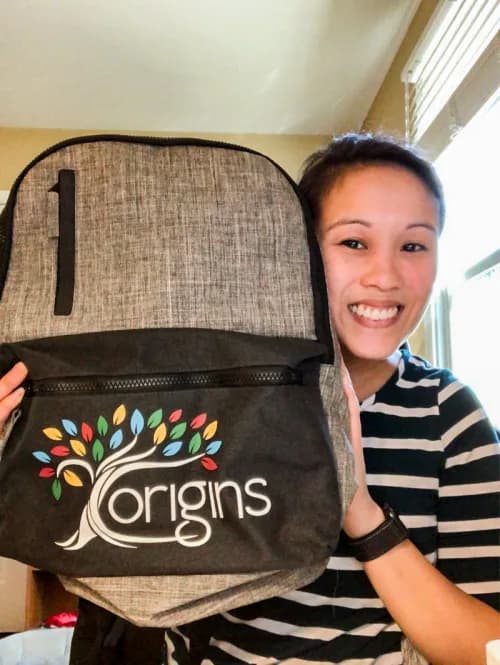 Alyssa with Origins swag. Photo courtesy of Capital One.
Overall, Alyssa received 3,241 likes on her posts and would wake up some days with 60-plus LinkedIn messages, comments and notifications in her inbox. Two of her most popular posts were about Capital One eliminating overdraft fees for our customers and being a woman in tech.
"Capital One is striving to be a more inclusive workplace from leadership down to entry-level associates," Alyssa said. "While there is still room for growth, it's great to see Capital One take diversity, inclusion and belonging so seriously."
Pride in promoting herself
Alyssa, a self-described introvert, said the series gave her the courage to network with people from different backgrounds and experiences both inside and outside of Capital One.
For now, she's mulling over a future series as she caught herself unintentionally wearing a Capital One jacket and drinking water and coffee from two company mugs. Follow along on LinkedIn to learn more about Alyssa's experiences (and more of her swag).
"My pride for working at Capital One has only grown since starting here four years ago," Alyssa said. "I hope my series inspired some others to join us. There's a culture here that invests in you."
--
Fairygodboss is proud to partner with Capital One. Find a job there today!