Yolanda Swan has worked at the same company for 20 years, but not because she's afraid of change. In fact, she says she's "constantly learning and being challenged," and that's one of the things she loves most about being a Managing Director at Accenture. After earning a BS in Computer Science, she initially joined the firm as a programmer, but she says she's "never done the same thing over and over;" rather, she's shifted between development, architectural design, performance engineering, and content services.
Swan credits much of her success to the fact that she's consistently had mentors to help her navigate her career. At Accenture, she explains, "the people you work with become more friends and family than just coworkers."
And while mentorship can sometimes feel like an abstract concept that's never really prioritized in anyone's daily office grind, Swan's experiences prove that this simply isn't the case where she works. At Accenture, she's forged mentorship relationships both formally and more casually, and she notes that the company's been particularly effective in fostering those bonds through employee resource groups that bring together women, moms, and people of color, among other support groups.
"From a mentee perspective, I remember vividly that I was part of a women's network in Accenture's architecture group," she recalls. "There aren't necessarily a lot of women in that environment, [but] we had a women's networking group that helped me develop casual mentoring relationships with several partners." Those relationships became crucial, Swan says, when she came back from maternity leave after having her first child.
"I reached out to several of them and they helped coach me when I had this new dynamic to juggle. I wanted a new project where I wouldn't have to travel constantly, but still wanted to be challenged. Someone said, 'Yes, I have a role for you in town, and you can adjust your schedule as needed.'"
Swan describes this as a "pivotal moment in her career," as the shift in position led her to join the digital product team, where, just six months later, she was promoted to be the overall program lead.
This door was opened in large part due to Swan's relationship with a mentor, and she doesn't take that lightly. In fact, she makes it her mission to pay it forward. "I'm a woman of color, I also have a family — two little boys and a husband — and I've been with the firm 20 years. People ask me, 'How do you do it?' And I want to make sure they understand how I balance it, so I'm always looking for opportunities to mentor," she explains.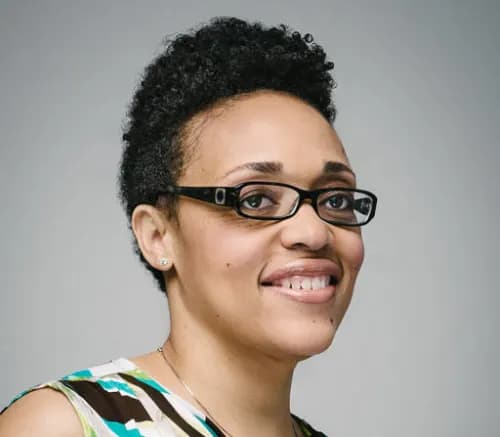 Yolanda Swan
Of course, mentorship may not seem like a pressing need for many employees. But Swan articulates one reason why it should be: in many cases, mentors can turn into sponsors, who proactively advocate for employees and take tangible steps to advance their careers.
Swan, for example, didn't think twice about serving as an informal sponsor for Jessica Hartley, another Accenture employee whom she's mentored. Hartley, who had once been part of Swan's team, reached out to her network when she was applying for a new role within the company. Swan happened to know the lead for the group to which Hartley was applying, so she put in a good word.
"When I spoke to [the group lead], he said, 'I'm so happy to have your recommendation,'" Swan recalls. "I can speak on [Jessica's] behalf and also coach her in the background. I'm more privy to things that are going to impact her career, and I'm going to be part of those discussions about those who are ready for the next level."
Swan adds that now that she has a seat at the table, she tries to make sure leadership is always looking to advance the careers of women and minorities, specifically.
Like Swan, Hartley cannot overemphasize how much mentorships have shaped her career. She's been with Accenture for six years, moving between digital marketing, digital content strategy and employee experience roles. And just a couple of weeks ago, she landed her latest job — the one Swan recommended her for — as a business development director.
"One of the things that was most exciting to me about coming to Accenture was the possibilities and the potential," Hartley says. "Most of the people you meet here — if they've been here for five or seven years — whatever door they came in is probably slightly different, or in some cases very different [from what they're doing now.] It's fascinating for me to hear them share their story of how they started out."
While Swan has helped to accelerate Hartley's career in a major way, the two don't view their relationship as a formal arrangement; rather, they consider themselves friends. Hartley explains that she and Swan initially connected in part over their shared experiences as working moms and women of color in corporate America. While Hartley feels fortunate to have had several effective male mentors throughout her career, she says that she and Swan "were really able to connect on another level. That, to me, was so important and impactful."
Perhaps equally important to having mentors within your team is having external mentors who work in different departments or even at different companies. They can help you weigh pros and cons of various decisions with an unbiased perspective, Hartley suggests. At Accenture, she's been lucky enough to work with colleagues who voluntarily offer this kind of support; she hasn't necessarily needed to seek it out.
She recalls one occasion, for example, a couple of years ago, when she happened to be seated across from Ellyn Shook, Accenture's Chief Leadership and Human Resources Officer, at the Grace Hopper tech conference. "We chatted about family, life, and kids, and then turned the conversation to work. She said, 'How are you doing?' And I was very honest. I said, 'I love working for Accenture and I love my team,'" Hartley remembers, but she did reveal that she was looking for a less travel-heavy role.
Shook told Hartley to put time on her calendar, the two met to discuss options, and soon after, Hartley transitioned into Accenture's Employee Experience team — an internal focus team that helps business units within Accenture to change the way they provide experiences to their people. Hartley is so grateful to have found a new role, without having to move companies, where she was able to use her skillset in a new and different way.
If Swan's and Hartley's experiences have you itching to find a new work environment — specifically one that encourages employees to help one another through career transitions, or to advocate for each other's progress — you'd be wise to take a look at the job openings at Accenture. They're hiring all over the country in numerous departments, and no matter where you wind up within the firm, you'll be well-positioned to forge connections that will be critical to your career!
--
Fairygodboss is proud to partner with Accenture. Find a job there today!