What Is International Women's Day?
International Women's Day is a day each year that celebrates women and their strive for social, economic and cultural gender equality, as well as the notable impact women all over the world have made toward achieving this goal in history.
While many governments, organizations, institutions and women's groups recognize and celebrate the day, no one group is responsible for carrying out the holiday. The day calls on people everywhere to continue the work of women in history who have dedicated their lives and risked their safety and careers for achieving equality.
The Best Quotes to Help You Celebrate International Women's Day
1. Amelia Earhart: "The most difficult thing is the decision to act, the rest is merely tenacity."
2. Susan B. Anthony: "Cautious, careful people, always casting about to preserve their reputations can never affect a reform."
3. Hillary Rodham Clinton: "Always aim high, work hard, and care deeply about what you believe in. And, when you stumble, keep faith. And, when you're knocked down, get right back up and never listen to anyone who says you can't or shouldn't go on."
4. Malala Yousafzai: "I speak not for myself but for those without voice. Those who have fought for their rights. Their right to live in peace, their right to be treated with dignity, their right to equality of opportunity, their right to be educated."
5. Melinda Gates: "I tell my daughters to have their voice in this world, and it became clear I needed to role-model that."
6. Michelle Obama: "Do not bring people in your life who weigh you down. And trust your instincts. Good relationships feel good. They feel right. They don't hurt. They're not painful. That's not just with somebody you want to marry, but it's with the friends that you choose. It's with the people you surround yourselves with."
7. Margaret Thatcher: "In politics, if you want anything said, ask a man. If you want anything done, ask a woman."
8. Rosa Parks: "I have learned over the years that when one's mind is made up, this diminishes fear. Knowing what must be done does away with fear."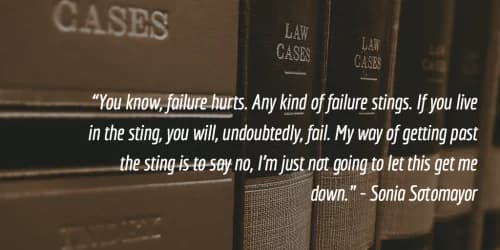 9. Sonia Sotomayor: "You know, failure hurts. Any kind of failure stings. If you live in the sting, you will, undoubtedly, fail. My way of getting past the sting is to say no, I'm just not going to let this get me down."
10. Oprah Winfrey: "Real integrity is doing the right thing, knowing that nobody's going to know whether you did it or not."
11. Margaret Mead: "Never doubt that a small group of thoughtful committed citizens can change the world. Indeed, it is the only thing that ever has."
12. Sheryl Sandberg: "We can each define ambition and progress for ourselves. The goal is to work toward a world where expectations are not set by the stereotypes that hold us back, but by our personal passion, talents and interests."
13. Dolly Parton: "If you don't like the road you're walking, start paving another one."
14. Madeleine Albright: "It took me quite a long time to develop a voice, and now that I have it, I am not going to be silent."
15. Audre Lorde: "When I dare to be powerful, to use my strength in the service of my vision, then it becomes less and less important whether I am afraid."
16. Eleanor Roosevelt: "You gain strength, courage and confidence by every experience in which you really stop to look fear in the face. You are able to say to yourself, 'I lived through this horror. I can take the next thing that comes along.'"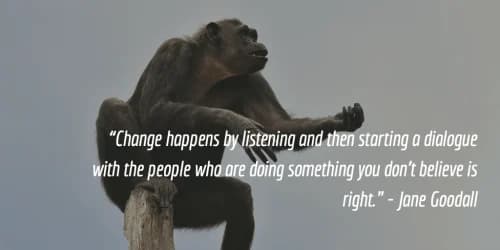 17. Jane Goodall: "Change happens by listening and then starting a dialogue with the people who are doing something you don't believe is right."
History of International Women's Day
The day celebrating all women everywhere began in the early twentieth century. In 1908, 15,000 women in New York City marched to fight for voting rights and better pay in the workplace. And in 1909, the first National Women's Day in the United States was observed, and continued to be observed on the last Sunday of February until 1913.
Clara Zetkin, the leader of the Women's Office for the Social Democratic Party in Germany, proposed an International Women's Day at a conference for working women in 1910. The holiday was then observed the following year in 1911 on March 19. The date was changed to March 8 in 1913 and has remained the same ever since.
In 2011, President Barack Obama declared March 2011 as "Women's History Month," calling on all Americans to honor the accomplishments of women in history. And Hillary Clinton, the then-Secretary of State, helped create the "100 Women Initiative: Empowering Women and Girls through International Exchanges."
International Women's Day has a list of corporate partnerships that includes Amazon, MetLife, Eaton, Oracle and more.
While women in the past were fighting for the right to vote, workplace equality and higher pay, today, women are fighting for greater reproductive rights, equal pay, better discrimination laws and more.
Why Is It Important to Celebrate this Day?
International Women's Day is important now more than ever, given the divisiveness in the world today. While many people will try to tell you inequality does not exist and that the gender wage gap is a myth, the fight for equality has not yet been won. Women everywhere experience discrimination due to their gender, and women of color experience said discrimination in larger and more dangerous ways. This day is important to recognize the great progress toward equality that has been made, the women who have worked to bring about these cultural changes, and, most importantly, acknowledge the work that still needs to be done.
Upcoming International Women's Day Dates
International Women's Day is celebrated each year on March 8. It is an official holiday in a number of countries, including Afghanistan, China, Cuba, Russia, Nepal, Uganda and more. And in certain countries, it is celebrated in a similar way to Mother's Day in the United States, where children honor and acknowledge their mothers and grandmothers. While in others, it is known as a day to celebrate women everywhere who are working toward a better world for all.